Executive Summary
Meritor (NYSE:MTOR) has taken steps for long-term growth and has set financial targets to achieve in fiscal 2016. Its growth path based on four key growth areas, i.e., operations, customer value, product cost, and management team, is expected to achieve long-term growth targets. It has won new business as its components are announced or selected as standard equipment for major fleet manufacturers. It will face headwinds in relatively smaller markets of Europe, China, and India, but North America will drive upside growth. Therefore, I recommend buy.
Understanding the Business
Meritor is headquartered in Troy, MI, and it is a supplier of integrated systems and components to original equipment manufacturers and aftermarket for trucks, buses, and other commercial vehicles. Its product portfolio includes brakes, axles, undercarriages, drivelines, and suspensions solutions. The company principally operates in four regions: North America, Europe, Asia Pacific, and South America. It reports revenue in two segments, truck and industrial segment, and aftermarket and trailer segment. In the truck and industrial segment, it serves primarily medium and heavy-duty trucks, off and on-highway vehicles, defense, construction, buses, and coaches. Aftermarket and trailer segment provides new and remanufactured brakes, axles, and other components to manufacturers and the aftermarket.
The distribution of revenue according to segment and geography is as follows: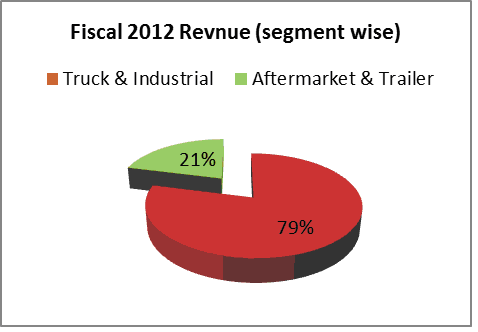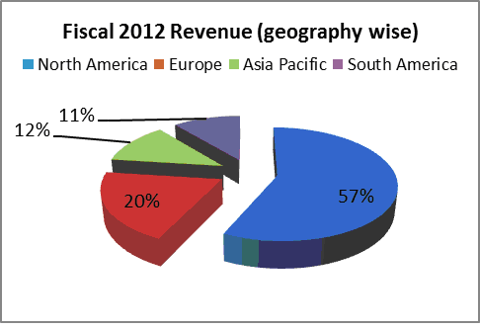 Source: Meritor's website
M 2016: It will achieve long-term growth targets with its key strategic movements
Meritor has four-pronged growth plan named M2016 that provides a strategic path of growth in next three years. M2016 is a step ahead toward providing value to customers, employees, and shareholders. The company has defined its goals and objectives based on the four key areas: operational excellence, customer value, product cost, and the management team. It has quantified its goals, which they are expected to achieve by the end of fiscal 2016.
Growth Targets and Path to achieve them
It has set three targets:
1. Achieve 10% EBITDA margin for fiscal 2016
2. Reduce its net debt in the range of $400 million to $1.5 billion, which will include liabilities of retirement benefits
3. Increase the revenue by $500 million per year, mostly from organic growth
Targets will be achieved through the following path:
Consolidation will improve operations and margins: The company has taken steps to achieve these growth targets and it is moving in the right direction. It has focused on improving its operating performance by divesting itself of low-performing businesses. In the second quarter of fiscal 2013, it has consolidated its North American remanufacturing business, where it had remanufactured commercial truck components. It has transferred its operations from a manufacturing facility in Canada to Plainfield, IN. In China, the company has transferred its on-highway production facility at Wuxi to a joint venture facility in Xuzhou. This consolidation is now completely integrated and its consolidation efforts are expected to improve efficiency across the board, which ultimately will help it to achieve 10% EBITDA margin.
Re-focused customer value: Meritor has dropped its light vehicle busines, so that it can focus on its value proposition in terms of offerings. Its value proposition now will be manufacturing, engineering, and testing premier axle and brake products. The company will provide higher quality products; deliver it on time, along with improved service. It also will use price increase options to offer products and solutions at right price. In the third quarter, its volume, mix, and pricing have helped it to achieve additional benefits of $21 million. This is good indicator of benefits from focus on its value proposition.
Source: Meritor presentation
Reduced product cost: The company has focused on reducing the product cost and created a purchasing team to work with suppliers. It has increased its EBITDA by $9 million in the third quarter fiscal 2013 due to low net material cost. It also has implemented structural cost reduction measures and increased inventory reserves in second quarter. The team also will look for "best country" for sourcing and technical innovation in coming years. Its purchasing team will play a major role in reducing the cost of goods sold and further improving the bottom line.
Debt reduction: Meritor specifically has mentioned debt reduction as its one of the key targets. It has taken the initiative to improve its debt maturity profile and repurchased $167 million in 2015 notes and issued $275 million in 2021 notes. This will help it extend the credit facility to at least fiscal 2017. Apart from debt, it also has started reducing pension liabilities by paying voluntary lump sum amount to eligible participants with accrued benefit in the U.S. retirement plan. The company is confident enough with its strong liquidity profile and recent closure of Suspensys sales transaction that it will look to elevate some additional long term maturities.
Meritor is on the path to achieve the growth targets it has set for fiscal 2016. It has reported EBITDA of 8.8% in the third quarter fiscal 2013 and looks good to achieve debt reduction and revenue growth targets.
New business wins will drive high volume and revenue growth
Meritor has won some major business recently, which will help it to grow its revenue going ahead. The company's EX plus air disc brakes are selected as preferred equipment by Volvo Trucks North America for its Volvo and Mack trucks. Its trailer components also have been announced as standard equipment for Vantage Trailers. Its vocational suspensions also are used by major fleet manufacturers.
In South America, it will look to increase its supply of rear axles to bus and truck makers. It will supply rear axles to MAN articulating buses and extra heavy trucks, new Ford heavy trucks, and Mercedes Benz micro buses. Its new plant in Brazil will supply axles to DAF for extra heavy trucks. I believe these new businesses will bring incremental revenue for the company in the next few quarters or so. If we analyse U.S. industry trends, U.S. truck freight ton miles will increase in calendar year 2013. U.S. trailer shipments from the factory also are forecast to increase in fiscal 2013. These industry trends are in line with company assumptions for revenue growth in aftermarket and trailer segment.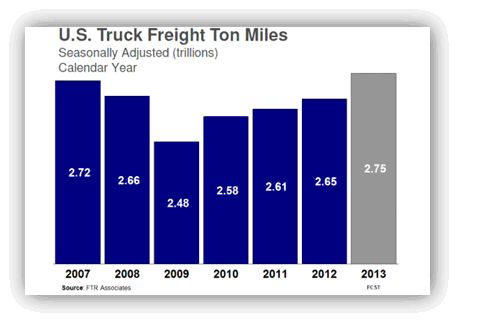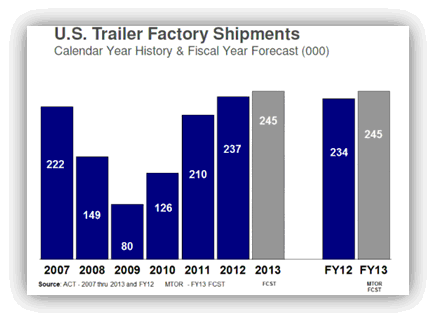 Source: Meritor Presentation
Risks:
Expectation of production slowdown from summer shutdown in Europe
Meritor has to face some macro headwinds in Europe. Europe region will see a seasonal slowdown in truck production due to normal summer shutdown. Heavy duty truck production in Europe is expected to be down by 10% in the fourth quarter fiscal 2013 and demand from Euro-6 pre-buy tailwind will also be moderated.
Target market under pressure in China and India
In China, demand from off-highway segment is under pressure and there is expected to be a headwind in growth at least in the next two quarters. Production in the construction segment in China is expected to be down by 15% YOY and more so in the addressable crane and mining segments. China is planning to invest in large high-speed rail projects, which can be a positive factor for the company. In India, demand in the mining sector has shown some recovering prospects, but the overall economy is under pressure and it is expected to remain under pressure until the 2014 general elections. But, Meritor will look to increase its product portfolio and customer base in India for long-term growth.
Valuation
Meritor is looking for a long-term growth target of 10% EBITDA margin by fiscal 2016 and $500 million annual revenue growth. It is currently trading at forward P/E of 10.88 and EV/ EBITDA multiple of 8.97. In the third quarter fiscal 2013, it has reported EBITDA of $87 million ahead of consensus of $69 million. It has taken measures to reduce the cost of goods sold, operating cost, and other legacy costs that will definitively have positive impact on its bottom line.
Conclusion
Meritor has taken a long-term growth path to achieve M 2016 targets. It is taking corrective steps of consolidation of facilities, re-focused value position, cost reduction, and debt reductions to achieve EBITDA and revenue growth targets. It has seen significant growth in its EBITDA of the third quarter, which has remained way above consensus. The company has succeeded in getting new businesses in the last two quarters as its components are selected as preferred equipment by fleet manufacturers. The U.S. truck freight ton miles and trailer shipments are expected to increase going forward but the scenario in Europe, China, and India is not as good in the short term. Still, it will look for long-term growth opportunities in these markets.
Source: Google Finance
Meritor's stock price has increased by 73% year to date compared to 18% growth in S&P 500. I believe its stock price has reacted very positively on announcement of its long-term growth targets. It will move stronger as company gets closer to target, which seems more likely given its sustainable growth path. So, I recommend it as a buy, looking at its growth prospects in the future.
Disclosure: I have no positions in any stocks mentioned, and no plans to initiate any positions within the next 72 hours.
Business relationship disclosure: GS Analytics is a financial research firm providing customized research services to US hedge funds. This article was written by Khusvendra Amaliya, one of our Research Analyst. We did not receive compensation for this article (other than from Seeking Alpha), and we have no business relationship with any company whose stock is mentioned in this article.