Executive Summary
SunOpta (NASDAQ:STKL) has grown through acquisitions in the past and at the same time it has invested in some non-core businesses. It is now focusing on growth as a pure play natural and organic food company. The company recently has expanded its value-added production facility, which will help it to increase its production of high-margin packaged and consumer products. Its re-sealable products are gaining traction and it will produce more such products to drive margin growth. The company also is looking to acquire new customers in ingredients segment and testing new products in the segment. It also has a strong balance sheet to support its future growth plans of facility expansion and acquisitions. So, I believe it will drive top line and bottom line in the future and I recommend a buy for it.
Understanding the Business
SunOpta is involved in sourcing, processing, and packaging of natural and organic food products. It is vertically integrated company, which follows Field-to-Table model (see diagram below) to turn raw materials into ready-to-eat packaged goods. The company has facilities across the globe and it is involved in doing business in 60 countries and has 5,000 growers across the globe. It has decided to focus on three growth strategies, i.e., becoming a pure play natural and organic food company, aggressively grow value-added packaged foods and ingredients portfolio, and leverage integrated platform. The company operates in two business segments of SunOpta Foods and Opta Minerals. SunOpta Foods is its core business, but it also has holdings in two non-core business Opta Minerals and Mascom Corporations. It has history of growth through acquisitions, but at present it is looking to consolidate its non-core offerings and focus on its foods business.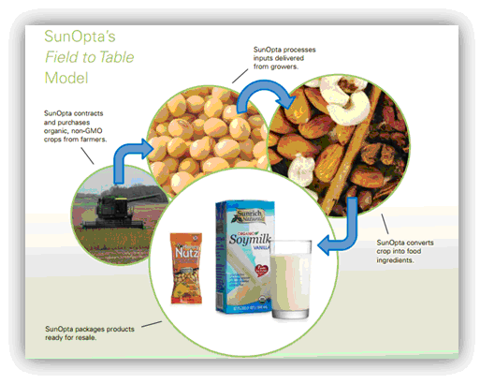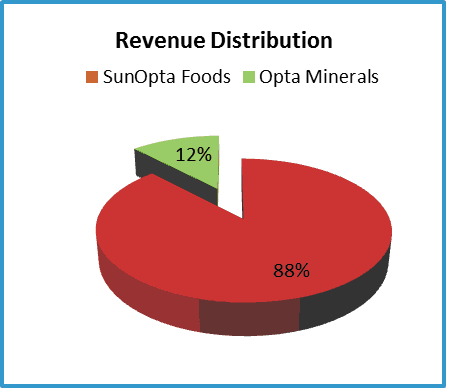 Source: Company Reports and SEC Filings
Re-sealable pouch with increased processing capabilities will drive revenue growth
SunOpta entered into the pouch business in late 2011 and it has benefited a lot in the last two years from its pouch offering in the consumer product categories. The company has seen 9% growth in the SunOpta foods revenue in 2nd quarter fiscal 2013. This growth was driven by packaged aseptic non-dairy beverages and re-sealable pouch products. It is strategically expanding its processing capabilities of consumer packaging and ingredient packaging facilities. These categories are high-growth, high-margin categories and the company is looking to explore opportunities with new format of pouches in 2nd half fiscal 2013. These new pouches will be helpful with convenience of one fruit per pouch and one year of shelf life, which attracts adults and kids with its value proposition.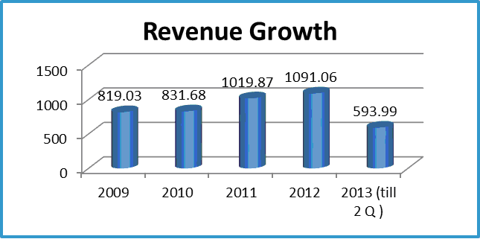 Source: Company Reports
In the 2nd quarter fiscal 2013, it has expanded the value added processing capability in three facilities. It has spent around just $1.7 million in pre-tax acquisition and startup cost for two new pouch filling lines in its Allentown, PA, facility. This has increased production capacity to ~140 million units from 100 million, with strategic production at both east and west coast of the United States. The company also has installed new multiple-serve fillers in its aseptic beverage operations facilities in Modesto, CA, and Alexandria, MN. These investments will help it to come up with new innovative pouches, which will be used for organic dairy and nutritional products. The first two pouch lines in Pennsylvania have helped it double the pouch revenue in the last quarter. It is expected to benefit from these investments because 50% of new capacity has been pre-sold in Pennsylvania. It can add two more lines at the Pennsylvania facility going forward in 2014 and drive revenue growth in the next year or so.
Investing and divesting for future growth as pure play natural and organic food company
SunOpta has identified three core strategies to move forward and become a pure play natural and organic foods company is one of them. It is investing and divesting in its business accordingly for future growth. In January 2013, the company acquired a grain handling and processing plant in Silsitra, Bulgaria. This acquisition was funded by existing its credit facility and deal was finalized at EUR 3.2 million. This facility is strategically positioned in protected and chemical-free areas of Bulgaria, where many farmers grow organic seeds of sunflower, flax seed, corn, and soy beans. This has helped it to have a steady supply of organic raw material for value added processing. SunOpta also has upgraded its citrus juice plant and constructed a new cocoa plant in the Netherlands, which are expected to be complete by the 3rd quarter. These are some of its investments to increase its capacity and markets for growth and it will look capitalize on it in the future.
Because it is investing to increase its foods processing capacity and acquisition, it is also divesting its some non-core business in order to move toward a pure play natural and organic food company. In 2011, it disposed of its interest in Colarado Sun Oil Processing LLC, an oil refinery in Colorado. It has also sold off its Purity Life, Canadian natural health products distribution business in a $13.4 million deal in the last fiscal year. It owns 66% interest in the Opta Minerals and it can be a possible option to divest going forward. SunOpta will look forward to shift its product mix toward high margin core food operations with high priority on health and wellness.
Strong Balance sheet will help company to grow through large investment in future
The company has grown through acquisition in the past and it has used existing credit facility to fund acquisition-related expenditures. It is planning to spend about $35-$40 million for fiscal 2013, which mostly will be related to capacity expansion. As we see the current debt situation of company, it is in quite better situation with its revolving credit facilities. Opta Minerals has amended its credit agreement and increased the revolving term credit facility to Canadian $20 million in April 2013. At the end of 2nd quarter fiscal 2013, it has debt of $183 million and out of it $60 million is in the minerals business, which it is looking to consolidate. It has around $100 million in its available capacity to go for further growth options through acquisition or capacity expansion. If we see company's debt to total assets ratio, it is relatively low at around 0.26 and the company has potential and opportunity to use its strong balance sheet situation for investments and drive growth in future.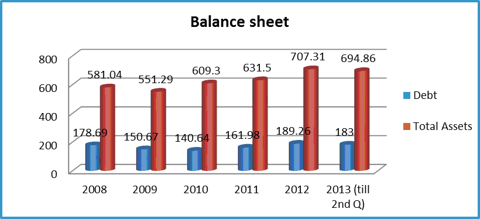 Data Source: Google Finance and Company Reports (Amount: in millions)
New products in pipeline will help it to acquire new customers
The company is adding new products to its pipeline with focus on adding new customers to drive growth. It is testing new fiber products in the Louisville, KY, facility and investing in research and development to offset the weak demand in cereal and bread products. Though it will take longer lead time in the complete process of developing, testing, and acceptance of new products, it will continue to invest in pipeline for new customer acquisition. The Ingredient group's revenue and operating margin has increased by 7.3% and 13% respectively in the 2nd quarter due to new products and increased customer base. It has also closed down an office in Massachusetts and relocated it to an existing office in Minnesota. This will have positive impact on the bottom line as it will save about $1 million annually.
Valuation
SunOpta has targets of 8% operating margin and 10% EBITDA margin by the end of fiscal year 2015. It is currently trading relatively cheap at forward P/E multiple of 18.27 compared to peers Annie's (NYSE:BNNY) at 32.58 and The Hain Celestial Group (NASDAQ:HAIN) at 23.07. Its growth targets can be a bit on higher side to achieve from 4.3% level of fiscal 2012, but it can still reach close to the goal with recent processing capacity enhancements and new products.
Conclusion
SunOpta has invested in the expansion of three processing facilities that will help it increase the sales of re-sealable pouch products. Its facility expansion at Allentown, PA, has helped to increase production capacity by 40%, and 50% of this incremental production has been pre-sold. The company is moving toward pure play foods business in the last two years and divesting its non-core business. It is testing new products in the ingredients segment to make a good pipeline of products to drive growth in future. It has a strong balance sheet situation where it has enough funds to invest in facility expansion and small acquisition for growth.

Source: Google Finance
SunOpta's stock price has increased by 69.95% year to date, compared to 25.53% growth in NASDAQ. It has gained momentum after acquisition in Bulgaria in January 2013 and I believe it can go up further because the company recently has expanded its production capacity. I recommend it as a buy, looking at it future growth prospects.
Disclosure: I have no positions in any stocks mentioned, and no plans to initiate any positions within the next 72 hours.
Business relationship disclosure: GS Analytics is a financial research firm providing customized research services to US hedge funds. This article was written by Khusvendra Amaliya, one of our Research Analyst. We did not receive compensation for this article (other than from Seeking Alpha), and we have no business relationship with any company whose stock is mentioned in this article.