Executive Summary
Destination XL Group (NASDAQ:DXLG) is investing in the new-concept DXL stores and has plans to complete the business transformation from current Casual Male XL stores by the end of fiscal 2016. It has launched an ad campaign to promote DLX stores, which has helped it to attract new customers and increase brand awareness. It will be introducing new brands in its stores in the second half of the current fiscal year and develop and introduce another ad campaign. It will look to increase its direct sales after discontinuation of its catalogue business. The company has growth potential, looking at its investment, for long-term growth. So, I recommend it as a buy.
Understanding the Business
Destination XL Group is specialty apparel retailer, providing apparel to big and tall men. The company operates Destination XL®, Casual Male XL®, and Rochester Clothing stores, along with a direct online sales business. It has an integrated website that covers all brands and extensions under its portfolio. The company has two operating segments, retail business and direct business. Its retail operations are present in the United States and London, England, and it also serves markets in Canada and Europe through its direct channel. It offers about 2,000 styles, private label brands, and cachet brands. The company is in the midst of a transformation, where it is moving toward new DXL stores from traditional Casual Male XL stores. The number of stores by the end of the second quarter fiscal 2013 and segment-wise contribution to comparable sales in the last quarter is as follows:
New brands and prolonged new advertisement campaign will boost sales growth
The company will come up with new brands to attract targeted customer groups, which is a $3.5 billion to $4.5 billion market. This is a younger customer base that demands and has the capacity to spend on brands. At present, DLX has 30 brands, compared to 8 Casual Male brands. In the third quarter fiscal 2013, it is planning to launch new brands, like Brooks Brothers, Peter Milllar, True Religion, Bills Khakis, and Adidas Golf in its stores.
Apart from introducing new brands to attract new customers, it also will launch a second advertisement campaign by the end of September 2013. This ad campaign will be on the air for about five weeks. The company has increased its marketing budget for fiscal 2013 after discontinuation of its catalogue business. This campaign will be broadcast on network TV (FOX, CBS, ABC, and NBC), in addition to cable channels of used in the first ad campaign. The company has a lot of opportunity in the waist-measurement range of 41 inches to 46 inches, with 35 million people included in this segment. It receives only 20% of revenue from this segment when around 50% of the U.S. population has a waist size of 40 inches or more. It will look forward to increased revenue share from this segment with introduction of new brands and increased marketing spend in the fiscal 2013.
Note: 1) Amount in millions and Boxes are indicating expenses as % of sales
2) 2013 data is estimated
DXL store growth will drive revenue growth with increased brand awareness and visibility
Destination XL Group has taken a key step in the fiscal 2012 and has decided to move toward the DXL stores concept. The company will close all of its traditional Casual Male XL stores and completely roll-out DXL stores by the end of fiscal 2016. DXL stores are aesthetically pleasing stores, designed to meet the need of its big and tall customers, offering a combination of Casual Male XL stores and Rochester clothing stores. These stores are a one-stop shop opportunity for the large and tall males. It opened 32 DXL and closed 70 Causal Male stores in fiscal 2012. According to recent company's guidance, it plans to open 55-58 new stores and close 100-105 Causal Male stores in fiscal 2013. It will close all of its Casual Male stores by fiscal year 2016 and have opened 215-230 DXL stores to complete the transformation.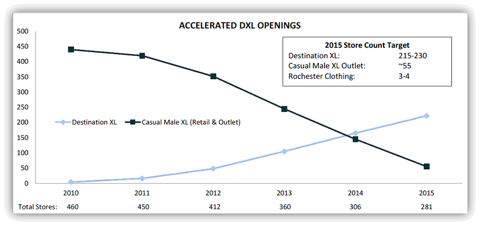 Note: 2014 and 2015 are estimated as per the company guidance
In fiscal 2013, the company analyzed its DXL stores' key matrices and it came to the conclusion that most of its customers were not aware of the brand. So, to create brand awareness, it launched a national marketing campaign. "No Man's Land" in second quarter fiscal 2013. This was a very successful ad campaign because it has been able to increase its comparable sales by 28.8% in the second quarter compared to 17% for same period last year. This growth was driven by increased DXL awareness from 13% to 18%, increase in DXL traffic by 6.4%, and increase in new customers by 26.1%. So, the company will look to increase its top line in second half fiscal 2013 and onward with the increased number of DXL stores, increased brand awareness, and continuously increasing new customers.
Shift of focus toward online sales from catalogue business will drive growth in long term
The company wants its catalogue customers to move toward its direct online sales. Its sales from catalogue business were down by about 50% in the second quarter, so management decided to eliminate the catalogue. It will save about $2 million from catalogue business and use it for an additional week of ad campaign and increase the reach of the campaign. This elimination has created a drag in the top line but has helped it to improve margins from direct business. Its operating margin has gone up to 26.2% in the second quarter fiscal 2013 compared to 24.9% for the same period last year; and it is expected to go up to 30% for the current fiscal year. Direct online sales are more profitable than its retail sales and the company has increased its digital marketing efforts to increase margins.
Bearish Arguments:
Competitors are present in major part of targeted customer base
The company is going to focus more on 41--inch to 46-inch waist sizes, but people in this waist sizes of 41 and 42 inches have options with other retailers, such as Nordstrom (NYSE:JWN), Macy's (NYSE:M), and J.C. Penney (NYSE:JCP). These stores also have options in the major part of targeted waist size by the group. So, it would be difficult to capture market share from competitors in the 41-inch and 42-inch sizes, where other retailers are present.
Margins can be under pressure
The Company is investing in new DXL stores and has growth plans to drive top line growth with increased advertising and marketing, but it has risk of impacting its margins in the short term. Its SG&A expense also will increase due to cost associated with pre-opening and cost from delay of closures.
Valuation
Destination XL Group has reported EPS of $0.03 in the second quarter fiscal 2013 due to sales decline from discontinued operations and higher SG&A. It is currently trading at a slightly high forward P/E multiple of 44.13 and EV/EBITDA multiple of 15.07. I believe it has taken steps to drive its top line growth and that will reflect in the bottom line in the long term.
Conclusion
Destination XL Group has taken the key step of closing traditional stores and fueling the growth with DXL stores. At present, DXL stores are a small part of total stores, but going forward in the next two year they will play a very important role in the company's overall growth. It has launched a very successful advertisement campaign in second quarter fiscal 2013 and it has planned another ad campaign for September-November 2013. It also will launch new brands in its stores in the second half fiscal 2013 and look to attract more customers after increased brand awareness and visibility from its first ad campaign. It also has closed down its catalogue business and it will focus on improving its online sales. This will also help it to improve its margins because direct sales have better margins than retail sales.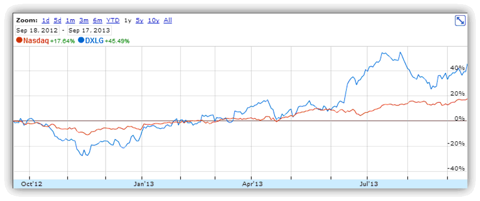 Source: Google Finance
The Destination group's stock price has increased by about 45% in the last one-year period, compared to 17.64% for NASDAQ. It has long-term growth potential because the company is investing for long-term growth. I recommend buy for long-term growth.
Disclosure: I have no positions in any stocks mentioned, and no plans to initiate any positions within the next 72 hours.
Business relationship disclosure: GS Analytics is a financial research firm providing customized research services to US hedge funds. This article was written by Khusvendra Amaliya, one of our Research Analyst. We did not receive compensation for this article (other than from Seeking Alpha), and we have no business relationship with any company whose stock is mentioned in this article.