I considered a more thoughtful headline for this article, but since I am about as confused as anyone else, a bit of hyperbole seemed to be in order. To begin, I want to point out that I view the market reaction to the now infamous May taper announcement as exactly what should be expected for this point in the economic cycle.
Since May, the yield curve has been steepening. Here is an image showing the rising yields and expected forward yields for the Treasury curve.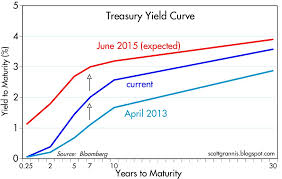 Source: The California Beach Pundit
When analyzing this graph, consider how the bond market prices future interest rate expectations. A steepening yield curve is discounting higher interest rates and economic growth, whereas a flattening curve does the opposite. When the curve inverts, bond market investors are pricing in a reduction in short-term interest rates because they are paying a premium for longer dated bonds. An inverted yield curve anticipates that the Fed will lower interest rates in response to a weakening economy, while a steepening yield curve is anticipating that the Fed will raise interest rates in response to a strengthening economy.
The bond market has, since 2011, been discounting incredibly dire predictions of the future state of the economy. Thus rising interest rates should be a welcome sign, banks will be more willing to make loans at higher rates and the economy should accelerate as a consequence. While higher mortgage rates could slow the housing market, they are still very low historically.
The Federal Reserve's announcement came concurrently with higher levels of consumer confidence, higher industrial production and the lowest levels of unemployment claims since 2006. While it is debatable how much of this has already been discounted by a rising stock market, the fact that economic expansion is accelerating does not seem to be in doubt.
Consider the following graphs. Consumer confidence while still subdued has moved toward levels last seen before the 2008 recession.
Claims for unemployment insurance reached a level as low as any recorded in the past two economic cycles. No recession in the past forty years has begun prior to a spike in unemployment claims.
Employment Situation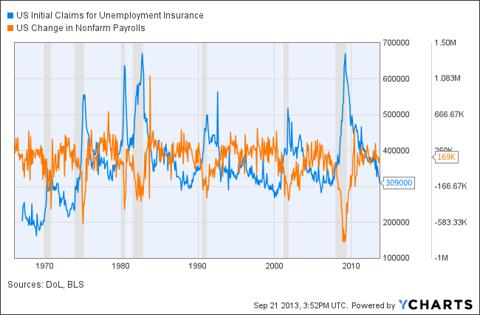 Finally, industrial production surveys show continuing and even accelerating expansion.
Industrial Data: Volatile, but Improving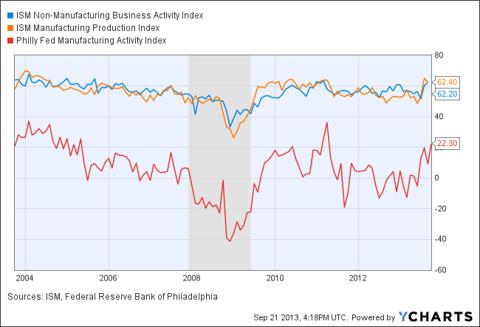 Therefore, the direction of interest rates implied by the bond market appears to be completely logical for this stage of the economic cycle. The Fed's taper announcement in May simply moved investors to act.
Thus, Bernanke's announcement that the economy is not strong enough to taper bond purchases seems very confusing. It is not clear that a better time to taper bond purchases will be forthcoming soon. Since the market was already anticipating a reduction, it is not surprising that the market nearly retraced all of its gains. What worries investors is that a failure to taper amounts to a de facto interest rate cut. In essence Bernanke is stating that the economy is weaker than he thought, not the type of announcement that sustainable rallies are built upon.
The chart below shows how increasing short-term interest rates are normal for this stage of an expansion. Dialing down stimulus before interest rates can rise is normal and healthy. Conversely, it is when interest rates are cut that investors should be fearful. Interest rate cuts provided useful market timing signals in two out of the last three recessions. Tapering bond purchases amounts to the start of a reversion to more normal conditions, a welcome sign.
A Steepening Yield Curve is Often Bullish, a Flattening or Inverted Yield Curve is Often Bearish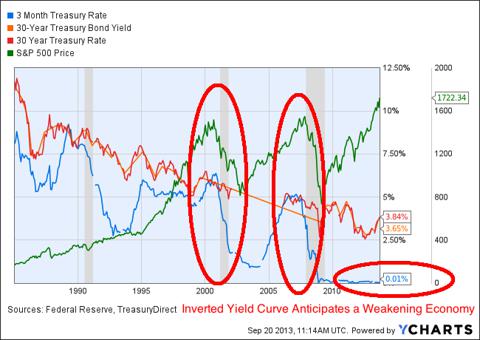 Conclusions
It is expected that rising interest rates prompted the Federal Reserve to delay the reduction of its bond-buying program, however, while Bernanke wishes to support the prices of bonds, his efforts seem misguided. Bonds have sold-off due to improving economic conditions and uncertainty about the future course of monetary policy. Neither has changed, thus it seems likely that bond investments and bond-proxies will remain poor investments moving forward. Vehicles such as the iShares Barclays 20+ Year Treasury Bond ETF (NYSEARCA:TLT) or bond proxies such as REITs and MLPs probably do not offer a desirable mixture of risk and reward moving forward. For investors requiring an income stream today, more desirable names in this space include: Kinder Morgan Energy Partners (NYSE:KMP) and Realty Income (NYSE:O). However, diversifying with higher dividend paying stocks that are better insulated against rising rates is warranted. Good choices would be Altria (NYSE:MO), Toronto-Dominion (NYSE:TD) and Royal Dutch Shell (NYSE:RDS.A).
For investors with a long time horizon, stocks that return capital to shareholders through repurchases could prove more desirable. Better valuations and potential for growth can be had while avoiding the crowded trade of income investing and the uncertainty of rising interest rates. Attractive investments in this space include: Aetna (NYSE:AET), DaVita HealthCare (NYSE:DVA), International Business Machines (NYSE:IBM), Intuitive Surgical (NASDAQ:ISRG) and McKesson (NYSE:MCK).
Industrials also are a sector that should be overweighted due to an improving economic outlook and the relative cheapness of stocks in the sector. Deere (NYSE:DE), Trinity Industries (NYSE:TRN) and Precision Castparts (NYSE:PCP) are desirable investments in this sector.
Disclosure: I am long IBM, MCK, MO, TD, PCP. I wrote this article myself, and it expresses my own opinions. I am not receiving compensation for it (other than from Seeking Alpha). I have no business relationship with any company whose stock is mentioned in this article.
Additional disclosure: I may also initiate a long position in ISRG within the next 72 hours.