In my previous article, I discussed how Con-way's (NYSE:CNW) valuation appears full even if it is successful in improving its LTL pricing through various initiatives. On Monday, Old Dominion freight Line (NASDAQ:ODFL) updated its freight and pricing expectation. This has considerably increased risks to Conway's pricing improvement thesis and makes it a conviction sell. Here's a look.
ODFL announced that it expects third quarter tonnage per day growth rate to be 7-7.5% against an expectation of 6-6.5% earlier. However, it expects revenue per hundredweight (an indicator of pricing) to now increase in a range of 3-3.5% as compared to previous expectations of 4-4.5%.
On the face of it, this news appears to be a mixed one but in reality this ignites one of the worst possible risks for Conway - another pricing war in the LTL (less than truckload) industry. I know many of those who track the LTL industry closely will find it difficult to digest that ODFL, which has maintained its pricing discipline even in the toughest times, has decided to give away some of the pricing increases to gain market share. But it isn't too difficult to figure out why this strategy makes sense for ODFL.
Below is ODFL's revenue per terminal versus other LTL peers.
| | | | |
| --- | --- | --- | --- |
| Company | Freight Service Centers as of last fiscal year end | Last Fiscal freight revenues (NYSE:MN) | Average Revenue Per Service centre |
| | 370 | 4,516 | 12.21 |
| CNW | 303 | 3,393 | 11.20 |
| ODFL | 218 | 2,110 | 9.68 |
ODFL expanded its service centers from 138 in the end of 2004 to 218 currently. However, the company decided not to fill its terminals by low quality tonnage at the rock bottom prices during the last recession. Its terminals now have about 20-25% excess capacity (see average revenue per center data above and excerpts of earning's transcript below).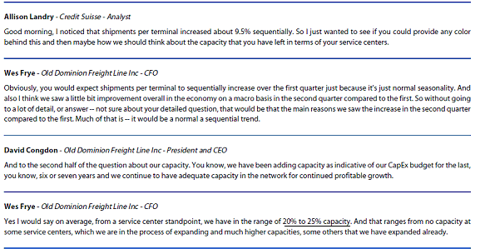 Source: Thomson Reuters, Last Quarter Earnings Call transcript
The company plans to fill excess capacity in its terminals at 15-20% incremental margins over the long term.
"We believe that we are far from exhausting our ability to produce additional operating leverage in our business and to achieve further gains and efficiencies. As a result, we continue to be confident that given increased density and yield in a stable operating environment, we should produce incremental margins in the 15% to 20% range over the long term."

David Congdon - Old Dominion Freight Line Inc - President and CEO
However, the company is doing much better than it had planned and has earned over 30% incremental margins from additional tonnage in the last two quarters. In all fairness, given the current environment and the kind of incremental margins ODFL is seeing, it makes sense for the company to use every possible step which it can adopt to gain more tonnage at a fair price. In fact, even if the company keeps taking more tonnage at the existing rates (without any price increase) on unsaturated routes, it is likely to make in excess of 20% incremental margin which is above its long term target.
In a nut shell, ODFL successfully avoided going after low priced tonnage during the recession and given very high incremental margins it is getting on new tonnage currently, it makes sense for it to go aggressive in terms of pricing to acquire new customers. If we go by the company's latest press release, it appears that it has just started doing the same.
This is a big negative for Conway which is counting on pricing discipline and favorable LTL environment to achieve its 10% operating margins target by 2016. As discussed in my previous article even if the company is able to achieve its operating margin target, its stock will not go much higher than $48 considering it is a cyclical company and by 2016 we would be in 7th year of the current bull run. Apply an annual discount rate of 10% and you will get around $36 price target for this year.
But the above scenario was before ODFL's Monday press release. Now with the ODFL showing signs of going slightly more aggressive on its pricing, it appears that the company's 10% operating margin target is becoming increasingly difficult to achieve. Also note that ODFL has updated its guidance just around a month after its earnings call. Its August tonnage has increased 8.6% versus July's tonnage of 6.2% while the pricing has decreased. This is a recent event and is not factored into buy side numbers yet. As they slowly understand what is happening Conway's stock is likely to drag lower. Conway's third quarter commentary and tonnage/pricing data is likely to act as a downside catalyst for the stock. Conway's stock has moved from $32 in May to current $40 plus levels primarily on the assumption of favorable dynamics and pricing discipline in the LTL industry. I won't be surprise if the stock drops to that level again post the company's next earnings release and commentary.
In addition to LTL business, Conway's truckload business is also likely to see some additional pressure if we go by Werner's (NASDAQ:WERN) third quarter guidance update which is again a negative.
What are the risks?
I don't think there are any significant risks on shorting Conway given the fact that its valuations appear full at the current price as I explained in my previous article. Further, only one sell side analyst, Ben Hartford of Baird, has come up with an update on Conway in the last two days lowering estimates post ODFL's release. But even he has focused on logistics and truckload segment while lowering estimates and expects "freight (LTL business) to continue to show operational progress given its ongoing initiatives".
On the buy side, it appears that a few analysts/fund managers are considering the derivative impact of ODFL's announcement on Conway which explain Tuesday's sell off. But this is just the start and there is significant downside still left in the stock.
Disclosure: I have no positions in any stocks mentioned, and no plans to initiate any positions within the next 72 hours.
Business relationship disclosure: GS Analytics is a financial research firm providing customized research services to US hedge funds. This article was written by our Industrial Analyst. We did not receive compensation for this article (other than from Seeking Alpha), and we have no business relationship with any company whose stock is mentioned in this article.