Precious Metals Weekly Market Wrap
Gold and silver prices rose and then fell on news from the Federal Reserve last week and this process is likely to both continue and intensify now that the central bank has surprised markets by delaying the start of tapering its $85 billion per month money printing effort. After the Fed policy decision was announced on Wednesday, the gold price saw its biggest one-day move higher since June 2009, but most of those gains were given back on Friday when a central bank official suggested that tapering could come as soon as next month.
One consequence of the Fed's newly dovish outlook was a much weaker dollar and this could play a key role in how precious metals trade in the period ahead since these two assets often move in opposite directions. A government shut-down looms on October 1st and the debt ceiling must be raised just weeks later, so there is a possibility of a late-2011 style loss of confidence in Washington lawmakers that could lead to a loss of confidence in the U.S. currency. As was the case two years ago, this could roil financial markets in 2013, but boost precious metals.
After last week's big moves, the outlook for precious metals is more uncertain than it's been for many months and at least one prominent investment bank has cited the combination of a weak dollar and near-term U.S. debt concerns as possible catalysts for higher metal prices this fall. But, one aspect about this market now seems clear - volatility has returned.
For the week, spot gold declined just over two dollars, from $1,327.90 an ounce to $1,325.60, and silver dropped 2.1 percent, from $22.27 an ounce to $21.80. Gold is now down 20.9 percent for the year, some 31.1 percent below its record high of over $1,920 an ounce just over two years ago, and the silver price has fallen 28.2 percent in 2013, now 56.0 percent below its record high near $50 an ounce in early 2011.
The Federal Reserve said on Wednesday it would wait for more evidence of improvement in the U.S. economy before beginning to rein in its asset purchase program and, in the hours that followed, this sent the gold price up nearly $60 an ounce and silver jumped almost 10 percent. Some analysts noted that this move higher was largely short-covering rather than the much more bullish development of establishing new long positions, and this view was lent a good deal of credence when metal prices plunged two days later.
The move down on Friday was prompted by St. Louis Fed President James Bullard who said the central bank decision was a "close call" and that the Fed could begin to scale back its bond buying program in October if incoming data point to an improving economy. After gold and silver were little changed on Thursday while traders digested the surprise decision by the Fed, it seemed markets were looking for a catalyst to prompt a reversal and Bullard's comments filled the bill.
As shown below via StockCharts, after the prior week's big move down, the two outsized moves on Wednesday and Friday have ushered in a new period of heightened volatility following months of relative calm.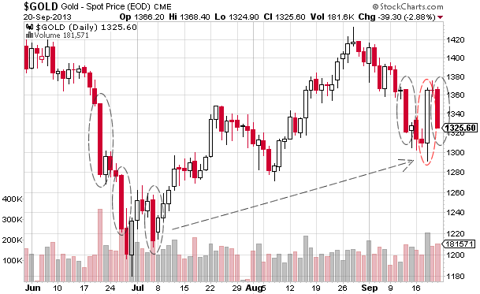 While many see Fed tapering as a question of "not if, but when," what happened last week suddenly raised the possibility that the central bank won't be able to reduce its stimulus effort for some time to come.
Just talking about doing so over the last four months has been a key factor in the disappointing economic data (largely as a result of fast rising interest rates) and this makes the interaction between the Fed, financial markets, and the U.S. economy all the more unpredictable in the months to come. Suddenly, calls for the next Fed move to be an expansion of stimulus, rather than a reduction, seem more credible and this would be wildly bullish for precious metals.
Another bullish factor for gold and silver was the withdrawal of Larry Summers from the race for Fed Chairman. This leaves current Fed Vice Chair Janet Yellen, widely considered to be far more dovish than Summers, as the likely successor to Ben Bernanke when his term comes to an end in just four months.
But developments in Washington could be the most important driver for precious metals in the weeks ahead as House Republicans were determined to remove funding for "Obamacare" in a government funding bill on Friday, despite this bill having no chance of passing in the Senate. There are just six working days left before the government's spending authority runs out on October 1st and this could precipitate a government shutdown that would quickly erode confidence in the U.S. dollar.
Beyond that looms a fight over raising the debt ceiling in mid-October and, if past is precedent, a last-minute deal will be reached to avert this potential crisis as well, however, that is by no means guaranteed. Most analysts do not expect an outcome similar to the summer of 2011 when a debt ceiling standoff led to a threatened U.S. debt default causing the dollar and equity markets to plunge as the gold price soared. But it's worth remembering that most analysts didn't predict the events of two years ago either.
All of this has resulted in some investment banks suddenly turning bullish on gold again, notably Goldman Sachs, per this Business Insider report:
The FOMC unexpectedly decided not to taper the rate of its asset purchases, preferring to wait for further confirmation of improvement in the US economic outlook. This announcement, as well as Bernanke's press conference, was more dovish than most had expected, pushing gold prices to $1,365/toz. The decision, combined with the upcoming debt ceiling debate, leaves risks to gold prices as skewed to the upside in the near- term, in our view.
Goldman remains bearish over the long-term, expecting metal prices to decline at year-end and in 2014, but their expectation for improving economic data to "solidly confirm a reacceleration in U.S. growth and warranta less accommodative monetary policy stance" is much less convincing today than it was prior to last week's Fed meeting that was accompanied by sharply lower projections for U.S. growth from Fed economists.
JP Morgan opened a long position in gold after last week's developments as detailed here, however, ETF investors were unmoved.
Holdings for the popular SPDR Gold Shares ETF (NYSEARCA:GLD) rose by one tonne on Thursday and then fell by two tonnes on Friday in what was a clear sign of disinterest, that is, given how much the gold price moved up and then down late in the week. This follows relative stability in these holdings over the last two months, but it's worth noting that, per this Bloomberg report, overall gold funds saw their biggest inflows in 11 months for the week ending September 18th. Lastly, the iShares Silver Trust ETF (NYSEARCA:SLV) saw a hefty inflow of 105 tonnes on Friday as cost-sensitive buyers took advantage of lower prices.
The Fed's surprise decision not to act last week has injected a whole new set of uncertainties into precious metals markets and about the only thing that now seems more certain is that more volatility lies ahead.
Disclosure: I am long GLD. I wrote this article myself, and it expresses my own opinions. I am not receiving compensation for it (other than from Seeking Alpha). I have no business relationship with any company whose stock is mentioned in this article.