My favorite dry shipping stocks have been on fire along with the Baltic Dry Index. The Baltic Dry Index is up around 63% in the last month alone. In reaction in the same timeframe, Genco Shipping & Trading Limited (NYSE:GNK) has risen 116%, Star Bulk Carriers (NASDAQ:SBLK) has risen 53%, DryShips (NASDAQ:DRYS) has risen 74%, Navios Maritime Holdings (NYSE:NM) has risen 20%, and Diana Shipping (NYSE:DSX) has risen 12%.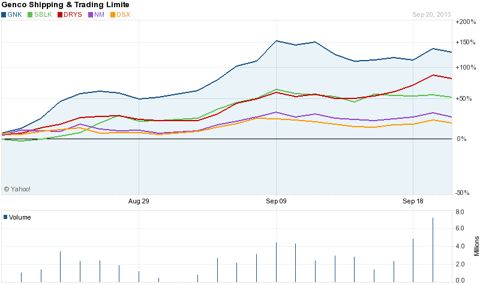 My favorite of the group is Genco Shipping & Trading, as I've been stating since my first article on dry shipping. The number one reason for this, quite simply, is Genco a low-cost leader of the pack, and I think most dry shipping investors don't even realize this. For starters, from its Q2 conference call on August 1:
Genco's status as one of the lowest cost operators in the industry is reflected in our low breakeven levels, which enhance our ability to operate in an uncertain rate environment as we remain focused on effectively managing the company through the current drybulk shipping cycle. We expect our daily free cash flow expense rate to be $10,388 and our daily net income expense rate for Genco consolidated to be $16,669.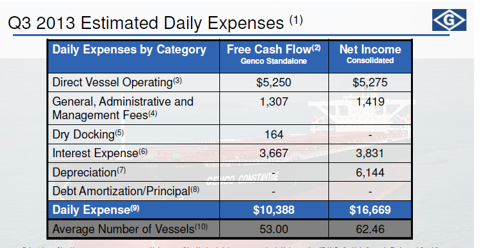 Genco operates 53 drybulk carriers, including 9 Capesize, 8 Panamax, 17 Supramax, 6 Handymax, and 13 Handysize drybulk carriers. This comes out to a cash cost of $550,564 per day and total expense (including depreciation) of $883,457 per day. For purposes of this analysis, I will excluded Genco's ownership in Baltic Trading since it's a noncontrolling interest. I believe excluding depreciation costs is more useful in analysis for investors because not only does it not affect cash flow, but Genco's fleet is quite young. As of the filed 10K, the average age of its fleet is 7.8 years vs. the average age of the world fleet of 10 years. Since Genco depreciates its ships on a straight-line basis over 25 years, this means on average having to replace its fleet is over 17 years away, which probably seems like a lifetime away for most investors. Even its oldest ship was built in 1997 with still 9 years of estimated useful life.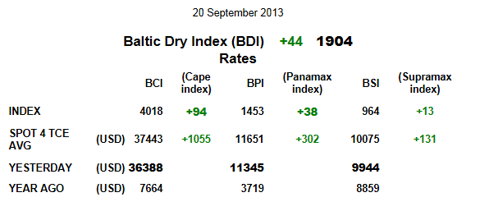 Assuming Genco operates at the current rates, and rates stay at the current levels, Genco is raking in cash. The average daily rates for Capesize is $37,443, Panamax $11,651, Supramax $10,075, and Handysize $7,943. dollar. If you multiply each of Genco's ships by the corresponding daily rate, it comes out to $336,987 + $93,208 + $171,276 + 150,917 = $752,388. While this leaves Genco around a 15% increase in rates shy of a GAAP net income, the free operating cash flow (which includes all interest expense) is significant at $201,824 per day and $73,665,760 per year. If Genco were to use the cash flow to pay down its debt, it would be debt-free in 15 years, including reduced interest at the current rate on principal paid.
Bears will be quick to point out that Genco is in violation of its debt covenants, which are to be tested in March 31, 2014. Genco has been actively negotiating either a waiver or new finance terms. It's hard to imagine it won't be successful with its creditors, or with third-party refinancing if need be, given the increased cash flow that is happening. This doesn't even begin to factor in what many analysts believe, which is that 2014 will see higher rates, and 2015 even higher rates. If that happens, Genco could presumably be completely debt free by the time even its oldest ship hits the 25 year age mark. Bear in mind, if the analysts are wrong and rates take a turn for the worst and plunge, Genco could find itself in deep trouble again and in no position of power to negotiate with its creditors. A lot could happen, good or bad, between now and March 2014. In the meantime as of this writing, Genco will continue to rake in cash.
Disclosure: I am long GNK, NM, SBLK. I wrote this article myself, and it expresses my own opinions. I am not receiving compensation for it (other than from Seeking Alpha). I have no business relationship with any company whose stock is mentioned in this article.