NanoString: An Exciting Small Cap Story With A Strong Growth Outlook
The Life Science Tools and Diagnostics sector is important for diversification of any biotechnology portfolio. The stocks are less volatile than biopharmaceuticals and less driven by momentum players because the companies are more dependent on financial metrics especially revenue growth. NanoString Technologies (NASDAQ:NSTG) develops, manufactures and sells products for both life science research and diagnostic testing markets.
Company Overview
NanoString was incorporated in Delaware in 2003 and is headquartered in Seattle, WA. In 2008, the company launched its first commercial instrument system, the nCounter Analysis System, a system currently used by life science researchers who are performing cancer research, biomarker validation and screening, and validation of nextgen sequencing data. NanoString is pursuing a distributed model where local labs purchase/rent nCounters and run the test themselves. The company's diagnostic business is focused on the Prosigna Breast Cancer Assay, which incorporates 50 genes to test for a patient's risk of recurrence for breast cancer and classify the tumor's intrinsic subtype. Earlier this month, the company announced that it has received FDA clearance for Prosigna. The clearance occurred sooner than expected, and the test appears to have been awarded a label which allows designation of both risk category as well as risk score. The management reiterated plans to commercially launch Prosigna in 1Q14 with an initial launch to higher volume labs possible in late 2013. While the life science business currently provides a solid base, the primary driver over the next few years, from both a growth and sentiment perspective, is expected to be the ProSigna Breast Cancer assay.
The Company's Products:
1. NCounter System
The nCounter system is NanoString's simple-to-use genomic analysis platform that is the foundation for both the Life Sciences and Diagnostics businesses. Among other things, the multiplexing system is rapidly replacing older analog technologies (microarrays, PCR) while being complementary for next-gen sequencing, for areas including gene expression analysis, miRNA and copy number variation analysis.
The primary competitive advantage for nCounter is that the system does not use enzymes or amplification, which simplifies the workflow, minimizes the possibility of human error and does not require specialized staff to operate, which lowers the total cost of analysis. Since being launched, the nCounter system has seen rapid adoption in cancer biomarker discovery and validation, and the company now has an installed base of over 140 systems in genome centers and smaller academic labs. The system, which, among other things, is used to validate next-gen sequencing discoveries and translate them into clinically actionable information for drug and diagnostics development, is able to profile up to 800 genes simultaneously and requires only a small amount of tissue as a sample. Another benefit of the system is the simple workflow, as the machine only requires 15 minutes of technician handson time, including five minutes to add the buffer, CodeSet and sample to a strip tube before leaving it for 12 hours/overnight (for hybridization), followed by another five minutes to set up the prep station by placing the strip tube onto the automated Prep Station with reagents and consumables, before an automated 2.5-3 hours to purify the sample and a final five minutes hands-on time taking the cartridge from the Prep Station and placing it into the Digital Analyzer before the last 3-4.5 automated hours to count the gene expression.

2. ProSigna Breast Cancer Assay
NanoString secured an exclusive worldwide license to the PAM50 gene signature from Washington University, a life sciences customer, in 2010 which is the foundation for the Prosigna assay. Prosigna provides an assessment of a patient's risk of recurrence (ROR) which is a prognostic score that predicts the probability of cancer recurrence over ten years. It also provides the patient and physician with the intrinsic subtype classification of the tumor, something that the competition does not offer and is a distinct competitive advantage. In a head-to-head study vs. Genomic Health's (GHDX) Oncotype DX, Prosigna assigned 26% fewer patients to the intermediate risk profile and almost double the amount in high risk. Results can be available in two days vs. 10-14 with Genomic Health's test.
Prosigna is an IVD platform that enables local clinical labs to decentralize high-value cancer testing which offers them an economic incentive. In the U.S., the company will seek a similar reimbursement level to Genomic Health and initially follow that model with expectations of reimbursement immediately when the test is approved. Decision impact studies showing the chemotherapy expense and usage decrease with Prosigna are key to reimbursement in European countries.
The company plans to conduct future clinical studies to evaluate Prosigna's ability to guide physicians and patients in making additional treatment decisions (appropriate chemo regimen, duration of adjuvant endocrine therapy, whether to use adjuvant radiation therapy) in Hormone Receptive (HR+) early-stage breast cancer.
Competition
NanoString competes with a number of established life sciences research companies when selling nCounter, including Affymetrix (AFFX), Agilent (A), Bio-Rad (BIO), Exiqon (OTC:EXQNF), Fluidigm (FLDM), Illumina (ILMN), Life Technologies (LIFE), Luminex (LMNX), Perkin Elmer (PKI), and Qiagen (QGEN). There are also several earlier-stage companies, including RainDance and Wafergen Bio-Systems, developing competitive technologies. However, the competition in the diagnostics market is far more important to both the longer-term growth profile and investor sentiment, with the greatest competition to ProSigna being Genomic Health's Oncotype Dx and Agendia's (privately held Dutch biotech) Symphony. Let's take a close look at these competitors.
Genomic Health is the current market leader, with >95% market share in the breast cancer testing market. The primary competitive advantage Genomic Health uses to market its test is the ability to predict a chemotherapy benefit with a high Recurrence Score (RS) or a lack of chemotherapy benefit relative to risks with a low RS with the downside of what to do with an intermediate RS remaining an ongoing question. The CLIA test, which was launched as a service in 2005, is now included in major breast cancer guidelines (including ASCO and NCCN) for treatment decision making and is widely reimbursed in the U.S.
Agendia offers the Symphony suite of tests for breast cancer, which has shown an ability to predict the risk of breast cancer recurrence in the first five years following diagnosis. Until early 2012, when it introduced a technology to accept formalin fixed paraffin embedded (FFPE) samples, the company was only able to accept fresh frozen tissue, which represents a small part of the market. In terms of the clinical data, Agendia's largest data set was provided by the RASTER outcome study, which included five-year outcomes-based prospective data from 16 centers and 427 patients enrolled between 2004 and 2007. The results showed that over half (51%) of patients were low risk vs. only less than a third (31%) being defined as low risk by traditional clinical parameters. Of the 51% low risk, >97% of patients were disease free at five years which compares to >91% of high-risk patients being disease free at five years. The 29% (87 patients) additional low-risk patients vs. traditional parameters were 98.4% disease free at five years.
The Company's Pipeline
NanoString's pipeline today consists of several additional indications for Prosigna as well as an effort to develop a test around a hepatocellular carcinoma (HCC) signature. The company's efforts to expand the clinical utility of Prosigna are focused on chemotherapy selection, radiation therapy in early stage breast cancer, and ductal carcinoma in situ (DCIS). NanoString has already secured access to tissue samples and outcomes from two randomized, controlled clinical studies that may be used to validate Prosigna to aid in the selection of chemotherapy regimen in breast cancer patients. The company has secured access to tissue samples and outcomes from one randomized, controlled clinical study that may be used to validate Prosigna's ability to identify postmenopausal women with early stage breast cancer who are likely to receive little or no benefit from treatment with adjuvant radiation therapy. NanoString has applied for access to a cohort of DCIS samples which could be used to validate the ability of Prosigna to identify DCIS patients who may be spared aggressive treatment. Finally, in April 2013, the company secured an option to acquire an exclusive worldwide license for a 186 gene signature that could be used to determine the prognosis of patients diagnosed with HCC, or with hepatits C-related early-stage cirrhosis. NanoString plans to assess the feasibility of developing a diagnostic based on the HCC gene signature for use on the nCounter.
Financial Outlook
On June 26th, 2013 the company listed on NASDAQ in an IPO of 5.4 million shares. The company plans to use the proceeds of the IPO ($50.2M) primarily to support the launch of Prosigna in the U.S. Management feels the test is highly differentiated and wants to be in a position to fully capitalize on the commercial opportunity. Along with the commercialization of Prosigna, some of the proceeds will also be used to complete the development of the Gen3 system which will come in at a lower price point than the current nCounter level and open up a much larger addressable market. In order to capitalize on the new system, the company plans to devote some capital to expand the sales force.
The company ended the second quarter with approximately $61 million of cash and equivalents (including IPO proceeds). NanoString's outlook for 2013 includes: Total revenue in the range of $29.5 to $31.5 million, representing an approximate increase of 28% to 37% over 2012.
Summary: Reasons to Buy the Stock
nCounter's differentiated attributes (superior multiplexing, workflow ease, no amplification, FFPE capability) support a healthy life science tools segment growth rate w/ attractive high margin consumable pull thru.
Prosigna, the company's breast cancer molecular diagnostic assay, has a differentiated clinical profile which should provide for share gains.
The company's distributed approach to molecular diagnostic testing allows local labs to participate in attractive economics of Prosigna assay and will help drive adoption.
the addressable market for Life Sciences is the >$28B currently spent by researchers on tools and related consumables, including $1.2B spent on gene expression profiling products. The molecular diagnostics market is expected to grow to $6.2B in 2014, and within this, NanoString will initially target the breast cancer segment, for which there are estimated to be 235K newly diagnosed cases in the U.S. this year.
J.P Morgan analysts have initiated coverage of NanoString with an "Overweight" rating and a price target of 14$ a share, represents potential upside of 30% from where the stock is currently trading.
Potential Risks
The competitive landscape of genetic tools companies offering solutions for downstream validation analysis is quite intense. Risks remain that competitor's technological improvements and price performance exceed that of the nCounter, leading to slower growth than expected. As price and ease of use of next gen sequencing continues to improve, this technology also needs to be closely watched as an increasing competitive threat.
There is always uncertainty with reimbursement for new technologies and tests; if NanoString is unable to obtain coverage at adequate levels, the market acceptance of ProSigna would be negatively impacted.
While the company is currently well capitalized after raising $50.2M in the IPO, it is burning a significant amount of cash each quarter and will likely need to raise cash through equity or debt at some point in 2014; this may dilute shareholders and could be done on unfavorable terms.
The Bottom Line
As a life science company moving into diagnostics, NanoString can leverage several trends, including a migration from analog to digital multiplex analysis, and the need for new clinically relevant content in areas like breast cancer analysis. With steady growth in the life science business today, the company is expected to outgrow peers, aided by an expanding installed base of nCounter systems, increased consumable pull-through and, ultimately, adoption and acceptance of Prosigna and other follow-on tests. Moreover, gross margins are poised to expand as high-margin consumables become a larger part of the Life Sciences revenue mix and Prosigna revenues begin to ramp following FDA approval. That said, at the current valuation, NSTG is poised for growth.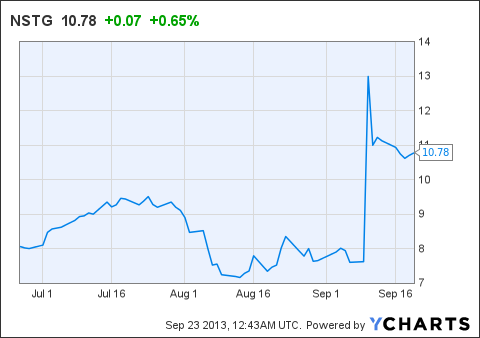 Disclosure: I have no positions in any stocks mentioned, and no plans to initiate any positions within the next 72 hours. I wrote this article myself, and it expresses my own opinions. I am not receiving compensation for it (other than from Seeking Alpha). I have no business relationship with any company whose stock is mentioned in this article.
Additional disclosure: Biomed Group is a group of investment professionals and writers. This article was written by Amit Cohen. This information is not to be construed as an offer to buy or sell any security mentioned on this article.
This article was written by
Biomed Group is an independent research group, with a goal of providing investors with real-time information and exclusive specialised research on biotechnology stocks, so that they can make informed investment decisions.