Editors' Note: This article covers a micro-cap stock. Please be aware of the risks associated with these stocks.
For those of you who have been following Mark Gomes and I, it is time to start asking yourself some questions.
Are you comfortable with the size of your position relative to the rest of your holdings?
Do we go straight up from here?
Even if you were late to the party and only joined last month, you are still seeing substantial gains in your position.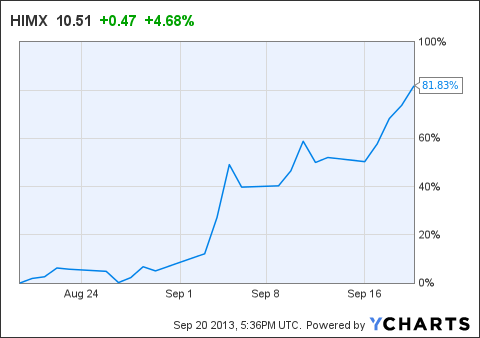 In my last article I suggested we should be trading about $12 for the end of the year. Last week Oppenheimer decided to agree with us.
"Himax Tech target raised to $12 at Oppenheimer on better LCoS outlook

. Oppenheimer raises their HIMX tgt to $12 from $9 based on a more upbeat 2014 outlook for its LCoS products. Their 2014E non-GAAP EPS per ADR share is raised from $0.61 to $0.78. The change reflects their higher growth expectations for HIMX's non-display business, most notably the LCoS (liquid crystal on silicon) products. Their revised LCoS shipment estimates are driven by their more bullish outlook for Google Glass and other wearable electronics in 2014. At the same time, they also lower projected revenues from large-size display driver ICs to reflect a cautious view on the TV market."

9:00 AM ET 9/5/13 | Briefing.com
Since I started covering Himax at $1.58 there have been opportunities to accumulate shares. I never traded out more than 25% of my position and only to accumulate at lower levels.
I do feel that we will make it to $12 comfortably. I will be using this time ($10.80 - $12) as an opportunity to unload 50% of my position. I currently feel that we are technically overbought. I do not believe that anything goes straight up and feel that it is time to conserve some of those gains.
Mark Gomes covered the uncertainty surrounding Q3 forecasts in his article last month. I anticipate that the next earnings results will be in line. Given the growth demands investors are currently placing on the stock I predict a pull back. I am expecting a 25 -36% pull back and will look to enter in between $7.80 - $9.98. Personally I will not be accumulating share relative to my current position. I will be consolidating my position and putting gains to work elsewhere.
I still see HIMX finishing the year above $12 and continuing to grow for years to come. I will just be playing with the houses money.
(MIMV.OB) Mimvi, Inc.
This is one of the areas I have started putting money to work and intend to increase my position with a small part of my gains from Himax. So what do they do?
"Mimvi, Inc., formerly Fashion Net, Inc. is a development-stage Company. The Company is a technology company that develops advanced mobile apps, algorithms and technology for personalized search, recommendation and discovery services for the mobile application and social networking industry. Its personalization technology automates the organization of content connected to mobile applications and social networking applications. The Company has developed cognitive computing technology, which is the basis for its personalized search and recommendation platform. Mobile applications are the new Websites and mobile devices are the new browsers. In April 2013, Mimvi Inc acquired FanAppic. In May 2013, Mimvi Inc acquired AndroidRays. Effective July 2, 2013, Mimvi Inc acquired Adaptive Media Inc."
What is most important about the way Mimv handles search? Well, to put it simply, it's a bit like AI (artificial intelligence) for an app. The apps learn from you based on your preferences while using other apps, surfing the web etc. This means that when you search for something you only get the stuff you are actually looking for. The big money in mobile advertising is video. Mimvi's search algorithms will ensure your latest products are not displayed next to bad porn when searched for. Mimvi has a bright future.
The Microsoft (NASDAQ:MSFT), Google (NASDAQ:GOOG) search wars have been raging for some time. Mimv is part of Microsoft's strategy in this war. Last year Microsoft made a significant investment in Mimv. It was covered on SA by Maltzberger in 'Microsoft And The Raiders Of The Lost App.". I do love that title.
So one year on and what has changed?
Let's start with the new CEO. Since taking over he bought up 24% of the company in his first month. This makes him the single largest shareholder. He has a true vested interest in the company doing well.
Then there is the news this week.
" Thursday, Sep 19 10:44 AM

Mimvi to change name to Adaptive Media

The change reflects the mobile, video, and online advertising orientation of the new entity and is expected to become official in Q4.
Mimvi subsidiary Adaptive Media reports 1H 2013 revenue."
Normally I do not like it when a company changes its name. In this case I am willing to make an exception as the rebranding better reflects the new direction this company is taking.
"Tuesday, Sep 17 10:20 AM

Mimvi subsidiary Adaptive Media reports 1H 2013 revenue

Mimvi (MIMV.OB) subsidiary Adaptive Media generated revenue of $757K from May 2012 through June 2013. Revenue during the 2012 period was $143K, climbing to $613K during 1H 2013. (PR)
CEO Qayed Shareef: "[W]e expect revenues to continue growing in the second half of this year and beyond ... In the two-and-a-half months since we closed the transaction with Mimvi, we've completed the audit, restructured the Mimvi business, eliminated a tremendous amount of legacy costs ... [W]e are actively expanding the number of partners in Adaptive Media's Supply-Side platform, and we see some very encouraging trends on the demand side."
Mimvi posts Q2 EPS of -$0.04, revenue of $27k."
So focus on the line "Adaptive Media generated revenue of $757K from May 2012 through June 2013." and you have to ask yourself what Mimv paid for Adaptive media.
"Tuesday, Aug 137:07 PM

Mimvi posts Q2 EPS of -$0.04, revenue of $27k

Mimvi (MIMV.OB -6.7%), a developer of mobile search/recommendation algorithms, reports Q2 EPS of -$0.04 (-$0.01 prior year) and revenue of $27K ($0 prior year).
Net loss of $3.25M was mostly the result of acquisition-related expenses related to the purchase of Adaptive Media, a mobile content monetization firm.
New CEO Qayed Shareef, who came on-board in Q3 with the acquisition of Adaptive: "As of July 1, it's a different Mimvi, and you will see a line in the sand with respect to financial and operational performance."
On the possibility of dilution: "Our goal is to achieve this [financial independence] in the first half of 2014. We are mindful that all financings dilute our shareholders, and as our largest shareholder, it impacts me the most." Shareef owns 24.4% of shares outstanding."
With 118M shares outstanding Adaptive Media cost about 0.03 per share. Which means Mimvi would have reported (-$0.01) the same as the prior year without doing the acquisition. In addition to the extra $1.4M in revenues there are also significant cost savings being realized. As stated Adaptive Media is a "mobile content monetization firm." It seems like Mimvi finally wants to make some money out of their space aged search. I can see EPS of $0.06 - $0.08 for FY2014 and have a price target of $1.20 over the next 12 months. I wonder if that is what new CEO Qayed Shareef meant by, "Our goal is to achieve this [financial independence] in the first half of 2014."
The Technical.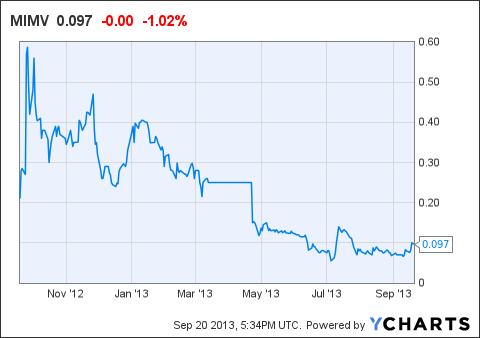 The buying by the new CEO has put a long term double bottom in place(July and August). Entry at this point with a stop below 0.05 limits downside risk to 50%.
Conclusion
Himax is currently a little over bought but has room to continue to grow in the future.
Mimv is extremely speculative with a good risk to reward ratio. I do urge caution as any investment in Mimvi could result in a total loss. I currently hold approximately 5000 shares at a cost basis of $0.07. Hardly anything and will not add to this position until we have a break above 0.21. I will consider adding then, only on a subsequent pullback.
Disclosure: I am long HIMX, MIMV.OB. I wrote this article myself, and it expresses my own opinions. I am not receiving compensation for it (other than from Seeking Alpha). I have no business relationship with any company whose stock is mentioned in this article.