Walmart (NYSE:WMT) announced plans to accelerate growth with investments in emerging markets. Will they deliver shareholder value in the process?
Walmart already has a significant presence in international markets. As of September 30, 2009 Walmart had 4,300 stores in the United States. International units totaled 3,859 or 47% of stores.
"We're stepping up growth in our international operations to take advantage of growing economies and opportunities in emerging markets, such as China and Brazil," said CFO Tom Schoewe.
The company expects 1% to 2% growth this year. Next year is expected to increase to 4% to 6%, inline with historical revenue growth levels.
In the long-run earnings and prices are highly correlated. Just look at a long-term chart of the S&P500 and the corresponding earnings chart. The market tends to over shoot the up and down swings in the short term but over time earnings always drive the price in a regression to the mean.
Walmart has consistently grown revenues and profits for the last decade but the market has taken this growth and continued to lower the multiple on earnings. Market saturation of stores in the U.S. has led many to stay away from the stock but WMT may be worth a second look with the focus on international markets and their urban strategy.
The chart below shows the market cap and EPS for the last decade.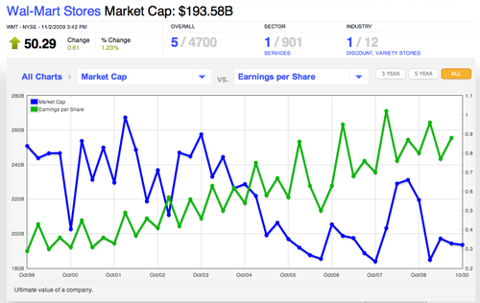 The chart below shows the declining multiple the market is giving WMT over time.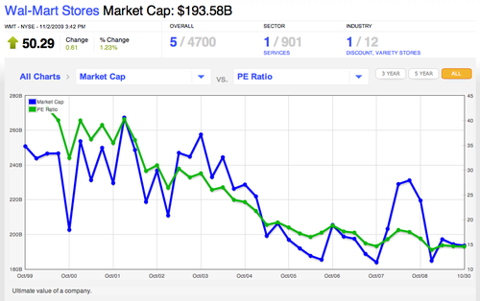 Walmart has grown revenues from $40 billion a quarter in 1999 to over $100 billion a quarter currently but the market cap decreased from $250 billion to $194 billion during this massive growth.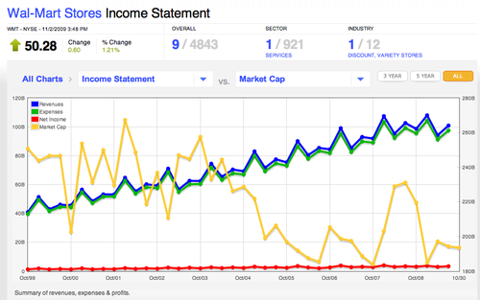 Analysts have been hyping Amazon.com (NASDAQ:AMZN) recently on the notion that they are taking share as everyone goes online to buy goods that are traditionally sold at Walmart and Target (NYSE:TGT). It does appear that Target is losing the online battle but Walmart is not losing share to Amazon based on Compete.com metrics. Amazon is bigger online but the YoY change in traffic is +23% for Amazon.com and Walmart.com.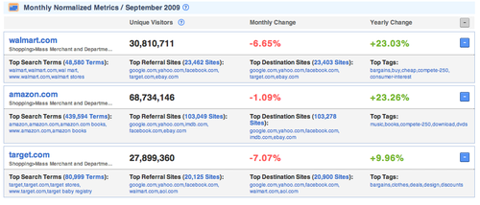 Also, keep in mind the relative size of the firms. See below the revenue for Amazon.com, Walmart and Target.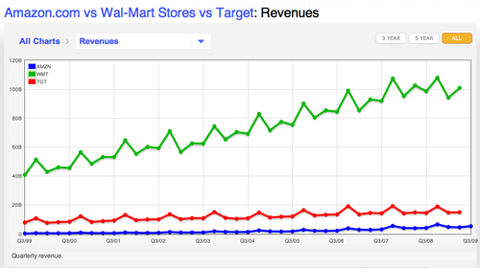 The market has discounted Walmart over the last decade. With an attractive dividend yield over 2%, earning yield near 7% and consistent growth and profit margins we would be a buyer of WMT on any major market pull backs. Our proprietary models value WMT in the $59 to $65 range. We would be an aggressive buyer in the mid 40's.
Disclosure: No Position