eLong (NASDAQ:LONG) is the second fiddle in the Chinese OTA (online travel agent) market. The company focuses nearly solely on hotel booking over other forms of revenue with small business in advertising, travel insurance, and air travel. The company has the goal of becoming the #1 hotel booking platform in China, and they have a long way to go to catch the leader of the pack in Ctrip.com (NASDAQ:CTRP). Overall, we believe that LONG is a wait and see type play that has some potential catalysts that could pan out for strong growth, but they are still very much in the works. The company at this time with a 32 future PE has priced in a lot of their near-term growth. In this article, we will discuss the company's current catalysts and why we believe that they are currently priced into the stock as well as some insight into developments that could occur to change our overall opinion. Additionally, we will provide an understanding of how these catalysts work within pricing the company, create a bear case and bull case for the company, and provide DCF analysis.
Catalysts
The three main catalysts for eLong at this time are:
1. Movement to a mobile platform
2. Movement into luxury hotels and creating larger inventories
3. Partnership with Expedia (NASDAQ:EXPE)
The main catalyst right now for eLong is their movement into mobile. Over the past five years, the company has worked to become a leading hotel booking agent via their online platforms. In that time, they have seen strong growth rates with their booked rooms in the latest quarter jumping to nearly 6M versus Q2FY2008 when they booked less than 1M rooms. The company now sees 80% of all their booked rooms through their online platforms. Yet, the company is now seeing another shift in how consumers are booking hotels - mobile.
With the explosion of smartphones coupled with Chinese spending habits growing, the company has seen a decline in online bookings when they separate out mobile bookings. For that reason, the company is looking to pounce on their mobile platform - applications and mobile websites. Right now, the company has laid out a five-step mobile strategy:
1. Strong markings of applications for downloads
2. Promotion of mobile websites
3. Expanding mobile teams for marketing and innovation
4. Creating deals and groupbuy discounts to attract users to apps and mobile websites
5. Establish innovation fund to invest in mobile developers and companies
This move and mobile trends are fairly widely known by current investors. The secret is that, in reality, this is not an offensive move at all. Instead, the move is actually quite defensive in its nature and really paints the picture of the growing competitive landscape in the Chinese online travel agent field.
In 2011, eLong had 8% of the market share. By 2012, they held 13%. In Q2 of 2013, though, they only held 9% again. The problem has been the rise of Qunar, Baidu's online travel agent. They have focused mostly on mobile applications and mobile. In 2012, Qunar saw their app downloaded over 16M times. As of May 2013, the company had been downloaded over 34M times. At the end of June, LONG had been downloaded 25M times. They are lagging Qunar, and if we look at the strategies, the question is can the company fend off Qunar as the company is using mobile to dive headfirst into hotel bookings, the one spot that LONG has been able to have a competitive advantage.
We believe that several actions that they are taking are going to keep them competitive as well as provide them some leverage with Qunar. The one to focus in on is their innovation fund, which Expedia and the company have build up to $100M. With that fund, LONG is going to actively invest into mobile start ups, add late financing to other mobile companies, and potentially acquire smaller mobile tech companies. What the company is realizing is that mobile truly is the future, but what eLong does best is work as an online travel agent. BIDU used their knowledge of search/mobile trends to power Qunar, and LONG did not have that luxury. By working towards, getting the best technology, the company has potential to add some interesting features. What those will be is hard to say, and the impact they could have is also hard to say. What we can present today though is that they are making the right moves to get themselves on track to be a leader in mobile. Yet, the move is still "wait and see."
Further, mobile trends are very exciting for LONG, and the entire pie is going to be big enough for several competitors. Right now, there are 450M mobile Internet users in China, which means that there is only 33% penetration of smartphones in China. Further, Internet penetration rates are only at 45%. Therefore, the raw opportunity for growth in these penetration rates is exceptional, and LONG looks ready to take advantage of these opportunities. Further, online travel is far behind those penetration levels as well as a growing middle class becomes more adept to spending disposable income and having it. The key for CTRP is their domestic travel abilities as well as Chinese travelers moving outside of the USA.
One of the main concerns/prospects for the company is their margins moving forward. eLong has been given a reputation by Wall St and investors that they are the budget hotel booker of China, and for that reason, they have lower margins on their volume of bookings. Margins have been lower than their counterpart CTRP thus far in the history of eLong. The company has never been over 10% in operating margin and only been profitable in 4/10 years in operating income. They are in a major growth phase with a lot of marketing, but one move by the company could provide a lot more margin expansion in the future - luxury hotels. In fact, when we did some raw research here at The Oxen Group, we actually were shocked to find out that eLong is actually a better luxury play than CTRP (not a common thought among analysts). In fact, eLong, itself, does not spend much time highlighting their strong luxury hotel numbers.
eLong started out as a company that just focused on budget hotels because they wanted to become #1 in hotel bookings. Given income levels, the company focused in on the major target audience. Yet, the company is moving right along with China's trends in a smart way. In the company's latest quarter, the company noted that they were starting to see volume growth in the 4-star and 5-star hotel segment. The company did not give specifics, though, so we decided to do a bit of digging of our own to see just what the company was offering on the high-end.
We started at the eLong site (English version), and we did a search for every major city to see how many 4-star and 5-star hotels they offer as a percentage. We had to pick a specific set of days, so we tried something much in the future so that availability was good.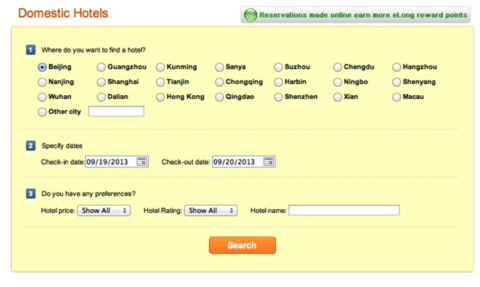 Here is what we found looking at the top 5 destinations:
| | | | |
| --- | --- | --- | --- |
| City | Total # of Hotels | Number of Luxury Hotels (4-star or 5-star) | Total % |
| Beijing | 234 | 107 | 46% |
| Shanghai | 152 | 78 | 51% |
| Guangzhou | 105 | 48 | 46% |
| Shenzhen | 61 | 32 | 51% |
| Hong Kong | 74 | 55 | 74% |
| Totals | 626 | 320 | 51% |
At first glance, these figures are pretty solid. The company now has 50% of offerings in the luxury department. The question is whether or not this is a solid percentage in comparison to competition as well as if this is just a natural effect of the changing dynamic in China. Either way, it's a major positive that not many are talking about. The company still has a budget focus on their site, but they definitely have moved into having much more luxury offerings. We wanted to take this one step further and compare it to what we are seeing at Ctrip.com since the company operates around a 30% operating margin on average.
We chose the same dates for CTRP and same locations to see what we found.
| | | | |
| --- | --- | --- | --- |
| City | Total # of Hotels | Number of Luxury Hotels (4-star or 5-star) | Total % |
| Beijing | 350 | 158 | 45% |
| Shanghai | 255 | 112 | 44% |
| Guangzhou | 133 | 35 | 26% |
| Shenzhen | 111 | 48 | 43% |
| Hong Kong | 90 | 50 | 55% |
| Totals | 939 | 403 | 43% |
Our findings are quite intriguing. CTRP has more hotels, but they have less luxury hotels. CTRP has higher margins as well. Luxury hotels command higher margins, but this finding brings about a different understanding of online travel agents. Costs are generally fixed for these companies once the software is created and the hotel is part of the inventory. Therefore a major advantage of CTRP is their inventory. Two further investigations, therefore, need to occur - where is LONG struggling with margins and what is LONG doing about increasing inventory.
For the margin conversation, LONG's gross margin sits at a very strong 70 - 80% generally. The company has low costs of revenue. CTRP is about the same. CTRP, though, until 2012 had over 30% operating margins. Even in 2012, the company was at 16%. The difference is the % of revenue that is used on SG&A. For CTRP, the company spends roughly 25% of their revenue on SG&A, which would account for marketing to customers, acquiring hotel inventory, and paying out to executives, etc. For, LONG, though, the company is spending roughly 75% of their revenue on SG&A.
The problem is two-part. They are smaller in market share, and they have to spend more to try and acquire customers and grow market share. Additionally, they have to spend more to grow their inventory. This is the MAJOR ISSUE with eLong's margin situation, and what holds us back on shares. The company is in a heavy competition, and they offer less to customers. They have to spend a lot to play catch up, and we have to ask what are they doing to differentiate themselves…not a lot. Luckily, the Chinese market is overall very large and provides tremendous growth that the pie will grow for all.
One positive from our investigation that we do see is that when the company does start to curb their SG&A % of revenue, the company can actually probably manage better margins than CTRP due to a much larger amount of luxury hotels. First, though, they need to grow inventory and manage expenses. When that happens is still a question mark, leading us to our wait and see attitude. We believe analysts and investors should take note of the strong concentration of luxury hotels that eLong offers, and we believe over time this will work out to help grow margins.
Finally, a large catalyst for the company is their relationship with Expedia, and it should help provide the company with positive upside. In the relationship with EXPE, eLong will share their over 30K hotels in China with Expedia. Expedia hopes to increase their Asian hotel booking exposure with eLong. The great part about the relationship is that eLong gets the backing of one of the largest online travel agents. EXPE's goal is to help leverage outbound travelers through eLong, and at the same time, eLong will be able to get a larger inventory of foreign hotels. The companies will also share knowledge and EXPE will provide investments to LONG.
What does this deal add for eLong as far as share value?
Overall, the deal gives Expedia legitimacy, funding, and technology success. EXPE has a lot to offer a growing company like eLong, but we do think EXPE got the better end of the deal. The key for eLong will be outbound travelers. In 2012, there were only 84M outbound travelers in a nation of over 1B people. That rate was up 18% over 2011. Outbound travelers should continue to grow as the rate of their discretionary income grows. With that, eLong can offer these outbound travelers foreign booking, and we believe that this can offer some solid growth as well.
Overall, there are a lot of catalysts to like right now for eLong. The combination of a growing Chinese market and the company taking advantage of mobile opportunities is going to provide a lot of upside. We estimate that these catalysts can provide at least 15-18% growth each year for the next several years on the bear side and 20-25% on the high side. These levels are quite positive, but the question is these growth rates and catalysts are already priced into the stock.
Valuation
To own eLong shares, it is a tad bit expensive. Currently, the company has no PE due to current income being negative (we will discuss further in the DCF analysis). Their future PE is over 30. Yet, in 2014, it will be the first year the company will have had profitability since 2011. When we look at other valuations, the company seems modestly priced for such a strong growth stock. For example, the company only has a 3.6 price/sales ratio and 1.7 price/book ratio. Both of these are decent for a growth stock and sit below competitor Ctrip.com. Yet, investors that get involved need to believe that growth in 2014 to 2015 will create strong upside in earnings in order to get involved. In the next section, we want to discern what the company needs to do as far as earnings to become a strong buy for investors.
DCF Analysis
Revenue growth: Given current trends in China and the company's catalyst, we believe that the low side of CAGR would be around 18% for LONG while on the high side would be 25%. That puts the company's revenue potential for the next five years at $1.7B to $2.3B.
Operating income: The key to the company's future is really their operating margins. Hotel booking companies have the highest margins in the travel industry, and eLong has had limited operating margins throughout their time due to a lot of operating expenses like marketing costs to promote their company. We expect operating margins to come back over the next two years and look for 10% to 15% margins. The company does operate in the lower budget hotel industry, which does limit margins somewhat.
Taxes: We can assume around 25-28% tax rate.
Depreciation: We expect depreciation to remain a small part of their cash flow, as the company's assets are not as strong as an online-based company.
CapEx: Expect capital expenditures to continue to grow as the company seeks acquisitions to help continue to produce the technology they want. We can expect capex to grow to $75-$85M by 2017.
When we run this DCF analysis, on the low-end, we get targets around $10 and on the high end $15. The key is the operating margin. We know that China is going to be a great growth market, but we cannot be sure of the profitability of eLong, and that is a major concern. The company has only been profitable 4/10 years. While we believe the future is bright, there are a lot of questions left to be answered. For that reason, we see the company as a Hold with a wait and see attitude.
Conclusion
There is a lot to like with eLong. The company has great catalysts with mobile growth, China mobile and Internet potential, and their relationship with Expedia. At the same time, the company has some concerns moving forward with margins and some unforeseen profitability. We believe that they have lots of potential, but with a number of question marks…this is a wait and see stock. We need to see how successful their mobile adaption is and if they can get profits online. The company's size as a smaller player hurts their margins, and as they grow with the market, they should start to see margin expansion. Further, we like their luxury makeup, and we believe that the company just needs a couple of years still to position themselves. Right now, though, it's a wait and see stock.
Disclosure: I have no positions in any stocks mentioned, and no plans to initiate any positions within the next 72 hours.
Business relationship disclosure: I have no business relationship with any company whose stock is mentioned in this article. The Oxen Group is a team of analysts. This article was written by David Ristau, one of our writers. We did not receive compensation for this article (other than from Seeking Alpha), and we have no business relationship with any company whose stock is mentioned in this article.