On September 19th Annaly (NYSE:NLY) announced what many expected and mREIT shareholders feared: Another dividend cut. The corporate announcement read:
NEW YORK--(BUSINESS WIRE)-- The Board of Directors of Annaly Capital Management, Inc. (NYSE:NLY) declared the third quarter 2013 common stock cash dividend of $0.35 per common share. This dividend is payable October 31, 2013, to common shareholders of record on October 1, 2013. The ex-dividend date is September 27, 2013.
The expected end of the Fed's edsy money policy as well as continued dividend cuts have left severe marks on Annaly's share chart and are anything else but pretty: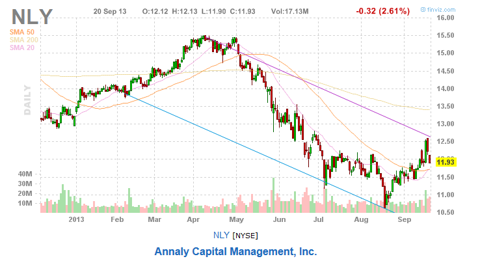 I have previously argued that times for mREIT shareholders are going to get tough as the easy money policy of the Fed comes to an end and cyclical interest rate trends argue for lower dividend payments.
While it came as a surprise that the FED will continue bond purchases and increase the money supply for the time being, it has been very clear throughout the debate that tapering will start fairly soon. Whether tapering starts now or six months from now should not be of much significance for mREIT shareholders. Instead of attempting to time the end of the bond purchasing program shareholders would be well advised to watch the distribution trend that clearly speaks against an investment in Annaly or other mREITs like American Capital Agency Corp. (NASDAQ:AGNC) or Armour Residential (NYSE:ARR).
Across the industry dividend cuts
Annaly's most recent dividend cut to $0.35 a share represents another 12.5% decrease in dividends compared to last quarter (Q2 2013). Annualization would yield a $1.40 dividend per share compared to $2.65 in 2010 (notably one of the best years to purchase nearly all mREITs indiscriminately). Since 2010, however, distributions are down 50% and signal to the shaky segment of mREIT shareholders that the good times are about to pass once and for all. One indicator for this scenario is the sector-wide compression of earnings and resulting dividend cuts. While it is somewhat expected that dividend payments will contract, it is quite stunning to see that those cutbacks are accelerating. And they are accelerating across the board. Annaly's dividend history can be seen below.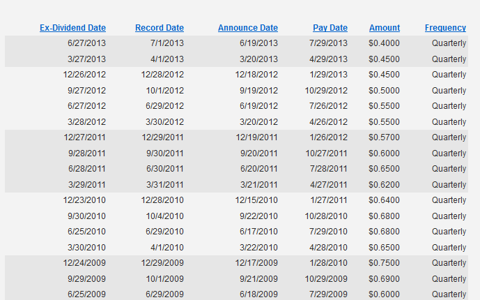 AGNC does not fare much better and also poses an impressive record of dividend cutbacks. Besides Annaly, American Capital Agency Corp. makes a very attractive short candidate based on the same fundamental cyclical headwinds the industry faces.

Armour Residential, another fancied mREIT, attracts investors based on its extremely high dividend (yield of around 20%), which is not a riskless cash flow even though mREIT distributions are often sold as such. ARR shareholders are feeling what dividend cutbacks can look like: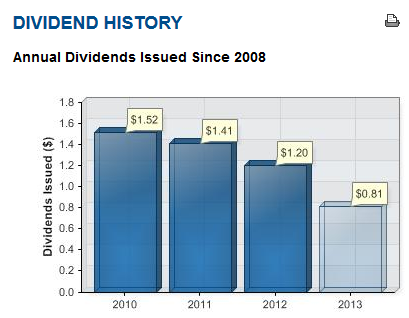 Share performance reflects poor industry outlook
Shareholders of said companies - Annaly, American Capital Agency Corp. and Armour Residential - have already taken serious capital hits with stocks down up to 40%. AGNC and Chimera (NYSE:CIM) performed best in the selected peer group with a record of -15% and around 0% over the most recent two-year period. This is not the kind of performance that underlines the bull's view that mREITs are almost foolproof dividend investments. A comparative chart is provided below: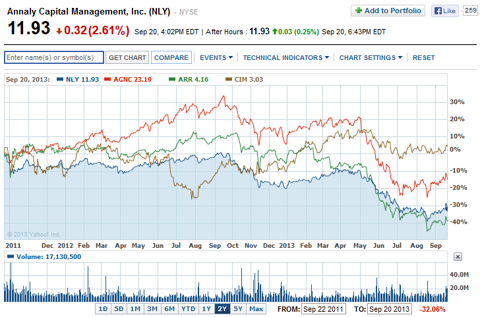 Spread business unsustainable
With almost zero interest rates, mREITs use low-cost leverage to fuel the net interest spread. As interest rates rise, as they are, Annaly's earnings are very likely to decrease further in the coming years. The 30-year bond yield is just about to scratch at the 4% mark and interest rates could increase much more since past bond purchases were unprecedented in both speed and volume. This does not only put more pressure on Annaly's capital structure due to higher cost leverage but also adds to interest rate volatility which is unfavorable for mREITs such as Annaly.
Price/yield relationship
Often overlooked is the price/yield relationship that needs to reflect the underlying risk of Annaly's business model. Lower anticipated distributions will not only shake out a significant part of shareholders who are only in for the dividend, but will also lead to lower share values to keep the distribution stream in proper relation with business risk. This is the dilemma of mREITs: Lower expected earnings lead to lower dividends and, correspondingly, lower share prices as well.
Conclusion
The easy money policy of the Fed will come to an end and it will be sooner rather than later. Scale and scope of the Feds bond purchasing program have been unprecedented and raise questions whether the Fed will be able to extract excess money out of the economy efficiently. In any way, interest rates are poised to go higher compressing Annaly's earnings/dividends further and adding interest volatility to investment risk. Annaly's Q3 dividend reduction is proof of lower expected profitability and investors might want to consider a short position in Annaly to play the cyclical interest rate trends outlined above.
Disclosure: I am short NLY. I wrote this article myself, and it expresses my own opinions. I am not receiving compensation for it (other than from Seeking Alpha). I have no business relationship with any company whose stock is mentioned in this article.