Background
There are some companies that, due to being listed on the OTC markets, do not get the proper attention they deserve. Hopefully, this article will bring to light a promising and relatively young company that I consider to have a bright future. I should preface by saying this is my first article on any company for Seeking Alpha.
Deep Down, Inc. (OTCQX:DPDW) is a provider of specialized services to the offshore energy industry to support deepwater and ultra-deepwater exploration, development and production of oil and gas and other maritime operations. Shortly after the Company's incorporation in 2006, the company went on to acquire ElectroWave USA, Inc., Mako Technologies, Inc., and Flotation Technologies, Inc., all of which operated in the subsea/offshore energy industry. It is worth noting that in December 2010, all of the operating assets and liabilities of Flotation were contributed to a joint venture entity named Cuming Flotation Technologies, LLC ("CFT"). In October 2011, all of the common stock of CFT, its subsidiaries, and other certain assets were acquired by AF Global Corporation for $60 million. Deep Down is currently entitled to 20 percent of future earn-out proceeds from this sale.
Today, Deep Down, Inc. is a fully serviceable company offering subsea solutions to the energy and offshore industries. The Company is lead and managed by its founders, which all have extensive backgrounds in many aspects of the offshore industry. More information on the Company's leadership can be found in the "Management" section of the Company's website, www.deepdowninc.com.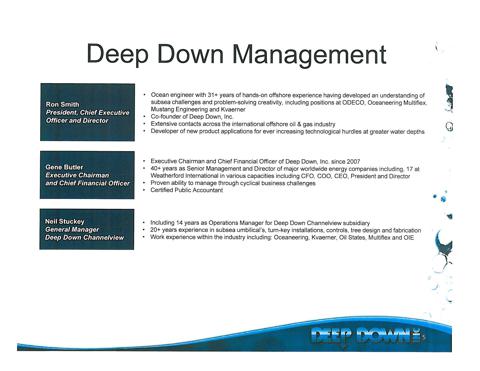 Financial
Beginning in the second quarter of 2012, the Company has experienced consistent growth in its bottom line. However, if you look at its fiscal year 2012 results, you will notice that the Company reported a net loss of $2.5 million, or $0.24 loss per diluted share. For the first nine months of FY2012, the Company reported net income of $1.3 million, or $0.13 per share. The fiscal year loss for 2012 was primarily due to an operating loss of $2.3 million and an impairment write-off of assets of $2.2 million in the fourth quarter for the ROV and topside equipment rental services division. In August 2012, management announced that they would consolidate its ROV and topside rental equipment business with its subsea solutions services operations as part of a cost containment program. The ROV and equipment rental services division had experienced several preceding quarters of unprofitable performance that partially offset its bottom line.
With this division dissolved, the Company was able to reduce its workforce by 10% and reallocate capital and resources to its more profitable core business units. As a result, the Company has seen both EBITDA and net income for the first six months in 2013 increase by 30% and 260%, respectively, over the same period in 2012. EBITDA and net income for the first six months of 2013 were $2.45 million and $1.22 million, respectively (Q2-2013). Additionally, the Company has seen demand for its products and services increase when observing its backlog, which has grown from $10 million in Q1-2012 to $26 million in Q2-2013, an average increase of 32% quarter-over-quarter. Financial highlights from the Company's August 2013 Investor Presentation:
More recently, the Company has made some positive announcements. On June 18th, Deep Down entered into a lease agreement for the lease of a 215,000 square feet warehouse, including yard space and parking comprised of approximately seventeen (17) acres. The Company noted in its press release,
Deep Down will primarily use the facility for fabrication of long-lead custom engineered products, such as its steel flying leads and its non-helical umbilicals, which its customers are requesting for its deepwater and ultra-deepwater needs. Deep Down is expanding its operations and has entered into the Lease because it has recently seen an increase in the physical size and complexity of its customers' requirements, and Deep Down believes it has outgrown its existing capacity at its current locations.
To accompany the capital requirements of additional machines, equipment, personnel, production capacity and working capital, the Company announced on September 11th a private placement to sell an aggregate of 4.1 million shares of common stock at $1.80 per share, for total gross proceeds of $7.4 million. The price was calculated at a slight discount to the 30-day moving average, based on the date agreed upon in mid-August.
Obviously, as is the case with most equity offering, the idea of shareholder dilution sends off a knee jerk reaction to shareholders and the stock price. After the private placement announcement, the stock took a 20% dip but quickly rebounded back above its 1 month average of $2.43. In the world of OTC stocks, the act of dilution is far too common. However, unlike some of these companies, there are several reasons that refute the argument that Deep Down is an illiquid company or is in any type of financial trouble: a) an EBITDA of $2.45 million cannot support a $26 million dollar backlog growing at a quarterly average of 32%. An equity offering was necessary to keep up with growth and prevent a squeeze on its cash, b) the Company has a current ratio of 2.24x and working capital of $7.5 million, c) its cost of debt is only 4%, which speaks to the confidence its creditors have in them, and d) they're showing a healthy profit margin of 8%. Regarding the private placement, Ron Smith, Chief Executive Officer of Deep Down, Inc. stated,
Bringing in additional capital allows our Company to significantly improve the manufacturing process on our core product line, resulting in greater production capacity and increased gross margins. The demand for our services and products has never been stronger. We are bidding on more work and much bigger jobs and our backlog is at a record high. We are now well-positioned to address our multi-billion dollar industry." Gene Butler, Executive Chairman and Chief Financial Officer added, "This financing will significantly improve our overall capital structure and liquidity in our stock by increasing our institutional ownership to over 30% and, places Deep Down in a better position to upgrade to a national stock exchange in the future.

Valuation
There are a few metrics that lead me to believe Deep Down is currently undervalued when measured against its peers. The two companies I have chosen for comparison are in the subsea/offshore energy industry: Dril-Quip, Inc. (NYSE:DRQ) and Subsea 7, Inc. (on the London Stock Exchange).
Taking into consideration the newly issued shares, DPDW should have total shares outstanding of approximately 14.9 million. With a current PPS at $2.50, this sets its market value at approximately $37 million. When observing the ratio of market capitalization to backlog, Dril-Quip and Subsea 7 are very close in comparison at 4.3x and 4.23x, respectively. Applying its average market cap/backlog ratio of 4.27x against DPDWs backlog, this would set its market capitalization at approximately $110 million, or $7.44 per share. Even a conservatively low ratio of 3x would set the PPS greater than $5.
Secondly, a reasonable PE ratio cannot be assigned to the company since TTM EPS is a negative figure. However, we can make a reasonable forecast on FY2013 EPS based on the company's forecast for FY2013 revenues. For the first six months of FY2013 the Company reported EPS of $0.12, or a profit margin of 8%. However, this must be adjusted downward to approx. $0.08 EPS in order to appropriately account for the newly issued shares. As I have inserted above, the company makes a bottom line estimate on revenues of $35 million and a profit margin of 13%. I will be conservative and assign its first six months profit margin of 8% to come up with net income of $2.8 million, or $0.20 EPS. Since Dril-Quip and Subsea 7's PE ratios are too far apart at 32x and 18x, respectively, I will apply the oilfield services and equipment industry average PE of 20x. With this, Deep Down's PPS comes out to right at $4.00 a share. These are very quick and simple valuations but, I think it is reasonably ok to argue that DPDW is currently undervalued at only $2.50 per share and represents substantial upside potential.
Industry Forecast
Providing more evidence to this argument is the outlook for the subsea/offshore industry. A report recently released by Research and Markets states that the subsea power grid system market will grow from an estimated $1,196.6 million in 2013 to $2,365.1 million by 2018, with a CAGR of 11.9% through 2018. The report goes on to state,
The deepwater subsea market is growing and will continue to grow significantly over the next five years, with West Africa, North America, and Europe leading the way in total expenditures. This has created a considerable market for power grids in subsea and power supply equipment, and will continue to expand with the subsea market. This trend makes the subsea power grid system industry lucrative for both grid/components manufacturers and service operators. On account of heavy offshore infrastructure development and shifting focus towards renewable energy sources, the power grid system market in subsea will experience a tremendous increase in demand in the years to come.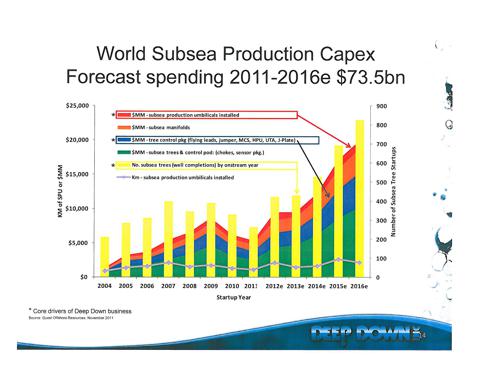 The report is consistent with some of the quarterly and/or annual statements released by some of the largest players in the subsea/offshore industry, such as Dril-Quip and FMC Technologies (NASDAQ:FMI). In Dril-Quip's second quarter 10-Q, the Company provides data for the number of offshore rig counts currently operating and the number of rigs currently under construction. According to ODS-Petrodata RigBase, referenced in the 10-Q, as of June 30, 2012, there were 66 rigs under contract in the U.S. Gulf of Mexico, (35 floating rigs and 31 jack-up rigs) of which 60 were actively drilling (31 floating rigs and 29 jack-up rigs). As of June 30, 2013, there were 71 rigs under contract in the U.S. Gulf of Mexico (37 floating rigs and 34 jack-up rigs). All of the contracted rigs were actively drilling. This represents an 18% increase year-over-year for the number of rigs actively drilling.
Furthermore, Dril-Quip and FMC both make note that the number of rigs (semi-submersibles, drillships and jack-up rigs) under construction impacts its revenues because in certain cases, customers order some of the Company's products during the construction of rigs. As a result, an increase in rig construction activity tends to favorably impact its backlog while a decrease in rig construction activity tends to negatively impact its backlog. According to ODS-Petrodata, at the end of June 2013 and 2012, there were 213 and 180 offshore rigs, respectively, under construction, an increase of 18%.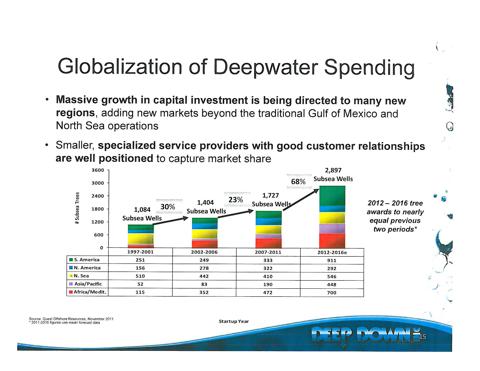 Summary
In summary, there are several compelling indications that support the positive direction Deep Down, Inc. is headed. Whether you look at the industry as a whole, its growing backlog, current expansion plans underway, or its undervalued stock price, there is value in any direction. Once the Company uplists and begins to catch the eye of deeper pocket investors, I strongly believe the stock price will reflect its true market value of the company. I sat and watched Flotek Industries, Inc. (NYSE:FTK) go from a $3 stock to $22 over the past 3 years. I won't make the same mistake with Deep Down, Inc. I would encourage readers to review the August 2013 Investor Presentation released by the Company.
Disclosure
This is not a recommendation to buy or sell any security, and Deep Down, Inc. is a micro-cap company, with incumbent risks associated with investment. All information in this article is public information attainable to anyone. I reserve the right to buy or sell any security mentioned at any time without further notice. I am long Deep Down, Inc.
Disclosure: I am long OTCQX:DPDW. I wrote this article myself, and it expresses my own opinions. I am not receiving compensation for it. I have no business relationship with any company whose stock is mentioned in this article.