This morning, General Motors (NYSE:GM) announced a new debt issuance designed to reduce the position by the UAW (release here):
General Motors Co. announced today it has reached an agreement to repurchase 120 million shares of its Series A Preferred Stock from the UAW Retiree Medical Benefits Trust (UAW VEBA) for a total cash consideration of approximately $3.2 billion or $27 per share.

UAW VEBA currently holds 260 million shares of Series A Preferred Stock, with an additional 16 million shares held by Canada Holdings. The shares have a liquidation preference of $25 per share and accrue cumulative dividends at a rate equal to 9 percent annually.
Initial details of the issue are:
| | |
| --- | --- |
| Issuer | General Motors Co |
| Expected ratings | Ba1/BB+/BB+ |
| Corporate Credit Rating | Baa3 (NEW!!!) / BB+ / BB+ |
| Ranking | Senior Unsecured Notes |
| Maturity | 5-Year / 10-Year / 30-Year |
| Use of Proceeds: | General corporate purposes, including the repurchase of $3 billion of Series A Preferred Stock |
This follows the Treasury statement that it will be exiting its GM position:
Today, the U.S. Department of the Treasury announced the next step in its plan to sell its approximately 241.7 million remaining shares of General Motors common stock with the initiation of a second pre-defined written trading plan.

"TARP's emergency support to GM during the financial crisis was necessary to prevent the collapse of the American auto industry and save more than one million American jobs," said Tim Massad, Treasury Assistant Secretary for Financial Stability. "Earlier this year, Treasury launched an effort to sell its remaining shares in GM common stock. We are pleased with the progress to date and will continue exiting this investment in accordance with our previously announced plan and timetable, and in a manner that maximizes returns for taxpayers."
So investors are seeing light at the end of the tunnel. The UAW and U.S. Treasury monkeys will soon be off the company's back.
Part two of the good news is the amount of money the company will save in the cost of financing.
Price thoughts for the new deal are:
5yr notes in the 4% range,
10yr notes in the 5.25% range
30yr notes in the 7% range
If the company can issue $3 billion in debt (equal across maturities), it will save approximately $100 million annually. Not chump change.
As well, Moody's gave the company an investment grade rating today:
Moody's Investors Service raised the Corporate Family Rating (CFR) of General Motors Company to Baa3 from Ba1, and assigned a Ba1 rating to the company's new offering of senior unsecured notes. Proceeds of the offering will be used to repay higher cost obligations. The upgrade of the CFR to an investment grade level reflects our expectation that GM's competitive position and credit metrics will continue to improve based on the strength of the company's new product introductions in a healthy US market, its solid position in the increasingly important Chinese auto market, and its focus on maintaining a robust liquidity profile. Additional rating actions include the following: the upgrade of GM's Probability of Default Rating (PDR) to Baa3-PD from Ba1-PD; affirmation of the Baa2 rating of the company's secured credit facility; and the withdrawal of the SGL-1 Speculative Grade Liquidity rating. The rating outlook is stable.

We believe that GM's competitive positions in North America and China, combined with its strong liquidity position, provide it with adequate operating and financial flexibility to contend with these risks and to support its ratings.
The moon and stars are aligning for General Motors and for investors.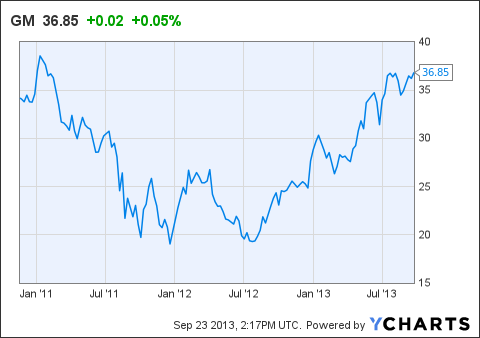 GM data by YCharts
And there is still room for multiple expansion as seen by the higher multiple afforded Ford Motor (NYSE:F). Ford Motor trades at a forward P/E of greater than 11x while GM is still trading near 10.75x (P/E at Ford's multiple gives us a stock price over a buck higher than it is now):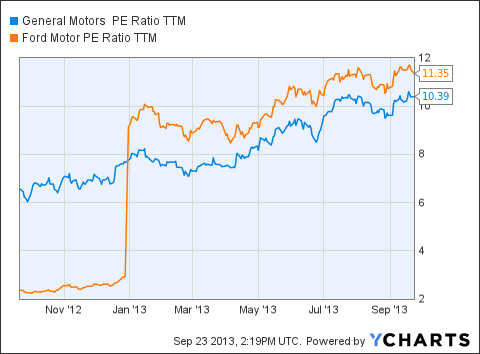 GM PE Ratio TTM data by YCharts
Bottom line: I think the debt is attractive to where existing debt trades (existing 10s trade at 5.00% - trace sourced) due to the new issue concession and pricing it to move size. As well, the company is poised to continue its improvement and gain price traction. Getting the government and the union off the automaker's back and saving money while doing it will accrue to the benefit of shareholders.
Disclosure: I have no positions in any stocks mentioned, and no plans to initiate any positions within the next 72 hours. I wrote this article myself, and it expresses my own opinions. I am not receiving compensation for it (other than from Seeking Alpha). I have no business relationship with any company whose stock is mentioned in this article.