Am I the only one who is reminded of the demise of Blockbuster Video by the demise of BlackBerry (NASDAQ:BBRY)? I don't just mean that both are called "BB" (which in itself is almost creepy). On Friday, BlackBerry announced, in two words: "we're failing." There's no way to sugarcoat it. Vast inventory write-offs, losses, and laid off employees. BlackBerry is failing.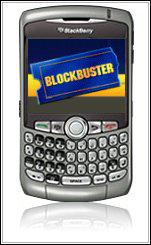 The problem for BlackBerry and why it's losing its two-front war is similar to that of Blockbuster Video. It's been branded the "old school inferior" brand, and once a company gets that image, there's no way out of it unless it comes up with something disruptive and new like Apple (NASDAQ:AAPL) did with the iPhone. Once upon a time Blockbuster was THE place to get movies, and they would charge a fortune and make a fortune in late fees.
Then came Netflix (NASDAQ:NFLX) and Redbox by Outerwall (NASDAQ:OUTR). Both companies provided entirely new ways to rent videos -- one by mail and streaming online and the other by simple and cheap vending machine. Both of those new competitors immediately went for Blockbuster's jugular, centering their advertising campaigns focusing on "no more late fees" and "only a buck a day" respectively.
Blockbuster responded by offering "me too" services that were actually superior to its competitors -- the Blockbuster mail service which offered an option to return or swap in store instead of waiting and the Blockbuster kiosk which got new movies a full 28 days ahead of its competitors, a huge advantage since it's the first 28 days of a rental release that movies see the vast majority of their rental sales. All of this failed to win over consumers despite offering the clearly superior products and services. The damage was already done to Blockbuster's dinosaur-like image and being a "me too" product or service, even a superior one, did no good.
BlackBerry is now facing the same problem. When Apple launched its iPhone, it, like Blockbuster's competitors, immediately went for the jugular. "This is not a watered-down version of the internet, or the mobile version of the internet, or the kind of sort of looks like the internet...it's just the internet." BlackBerry from those first iPhone ads began to be known as the old school dinosaur. The watered-down/mobile/sort-of internet was what the BlackBerry was famous for. And loved for. But now the real thing was available from Apple. Blackberry's image was tainted. Any chance for it to come back and seen as an innovative company would require new, disruptive technology, products, ideas, or services. Like Blockbuster, it instead went the "me too" route, attempting more advanced smartphones and tablets. Like Blockbuster, the superior performing products didn't matter. The damage was done to its image. BlackBerry's latest and greatest smartphone and tablet attempts remind me of Blockbuster's mail/online/kiosk services. Even the Apple brand at one point was tainted as an old-school brand no matter how advanced its desktops and laptops got. It was only when it rose above the "me too" route and invented products that were truly new and disruptive that it was able to revive its futuristic image. The only realistic hope for the BlackBerry brand is to invent the "next big thing" before Apple does because with its tainted image me-too-but-better products aren't going to cut it. Friday's announcement comes as no surprise.
Disclosure: I have no positions in any stocks mentioned, and no plans to initiate any positions within the next 72 hours. I wrote this article myself, and it expresses my own opinions. I am not receiving compensation for it (other than from Seeking Alpha). I have no business relationship with any company whose stock is mentioned in this article.