McDonald's (NYSE:MCD), the dominate restaurant chain in the world, has had a rough go of it over the last two years. MCD has been a victim of poor worldwide economic growth as economic conditions in its two largest markets have been underwhelming. The lack of any meaningful revenue growth has negatively impacted earnings much to the dismay of shareholders. The article below will discuss recent events in MCD's two largest markets that in my opinion indicate a change in its fortunes going forward.
| | | | |
| --- | --- | --- | --- |
| Revenues in Billions | 2012 | 2011 | 2010 |
| United States | 8814 | 8529 | 8112 |
| Europe | 10,827 | 10,886 | 9,569 |
| APMEA | 6,391 | 6,019 | 5,066 |
Source is McDonald's 2012 Annual Report. APMEA is defined as Asia Pacific, Middle East and Africa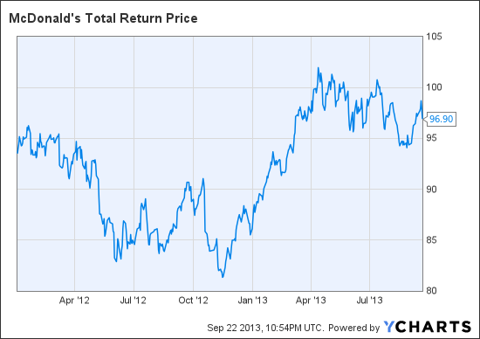 MCD Total Return Price data by YCharts
I would like to examine Europe, which is MCD's largest market first. I believe we have begun to see a pickup in economic growth emanating from Europe. A recent headline from Reuters that indicated European sentiment has turned positive caught my eye. The article goes on to mention that investor sentiment was much higher in Germany, Europe's largest economy. This comes on the heels of a prior report highlighting Europe's PMI index . The best part of this report is the improving performance of the peripheral countries such as Ireland and Greece. The positive reports have led me to conclude that Europe has definitely bottomed and is coming out of a prolonged recession.
The turnaround in Europe's fortunes should provide a nice tailwind for MCD's future revenues. As we can see from the table above, European sales were down roughly 1% in 2012. With Europe being MCD's largest market based on sales, any type of pickup here will translate directly to the bottom line. We are already seeing the positive effects of this based on the August sales numbers.
McDonald's reports global comparable-store sales increased 1.9% during August to easily beat estimates.
Segment growth: U.S. +0.2%; Europe +3.3%; Asia/Pacific, Middle East and Africa -0.5%.
The company's strong results in the U.K., France, and Russia easily made up for a poor month in Germany.
Next, I would like to examine MCD's second-largest market, which is the U.S. Sales in the U.S. are growing at a 2% rate, which is far lower than the norm investors have come to expect from MCD. It seems that MCD needs to come up with some innovative new menu additions to further drive sales. I believe it will successfully accomplish this through the revamp of its dollar menu and the reintroduction of "Mighty Wings."
Mighty Wings are a deep fried chicken wing that was successfully tested in the Atlanta and Chicago market and is now being rolled out nationwide. They will be sold for a limited time and come in packs of three for $3.69, five for $5.59, and 10 for $9.69. In my view, the wings will help drive sales. The 3 pack could be a quick snack whereas the 10 packs very well could be someone's guilty pleasure. I expect to see an incremental boost in store traffic, which will help both the top and bottom line.
While adding a chicken wing option to the menu will help boost sales, the key change in my opinion is the revamp of the value menu. The value menu will now be known as the "Dollar Menu & More." The company is looking to raise the price point beyond $1 similar to what Wendy's (NYSE:WEN) has already rolled out. The final pricing scheme hasn't been finalized as the company is debating between a $1.79 and $4.99 or $2 and $5 price points. In my view either one is a winner as MCD has been giving away needless amounts of margin. I offer the following recent interaction to illustrate my belief. I was willing to purchase a 10 piece nuggets for my twins to share priced at $3.29. While waiting at the drive-thru I spotted that MCD's four piece nuggets were being offered at the bargain rate of $1. Using my superior math skills, I quickly deduced that it was cheaper to purchase 3 four piece nuggets. MCD wound up losing an additional 29 cents in revenue and further margin by giving an additional two nuggets. A proper overhaul of the value menu should be done with an eye toward erasing these revenue draining deals.
I am a buyback and dividend growth investor who looks to invest in companies that satisfy both requirements. MCD nicely meets both of the above criteria. MCD announced a $10 billion dollar buyback program in August of 2012. The authorization replaces the $10 billion dollar program that was authorized in 2009. As we can see from the chart below, the company actually completes its repurchase programs unlike others who announce yet never seem to complete them. The repurchase program would acquire roughly 10% of all shares outstanding at current prices.
2005-2011
| | | | |
| --- | --- | --- | --- |
| | # of Shares (in millions) | $ Amount (in millions) | Average Price |
| 2011 | 41.9 | $3,373 | $80.56 |
| 2010 | 37.8 | $2,648 | $70.15 |
| 2009 | 50.3 | $2,854 | $56.74 |
| 2008 | 69.7 | $3,981 | $57.09 |
| 2007 | 77.1 | $3,949 | $51.17 |
Source is McDonald's corporate website.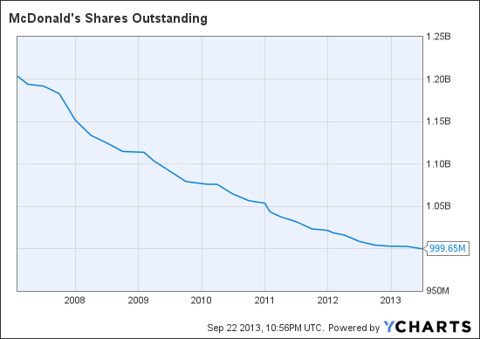 MCD Shares Outstanding data by YCharts
To its credit, MCD has a streak of uninterrupted dividend increases dating back to 1979. I find it very comforting to see a company consistently take care of its investors. The 2013 increase was a tepid 5% raising the quarterly rate to 81 cents per share. In my view the tepid increase is a direct reflection to the anemic growth in sales in MCD's two largest markets. A rebound in sales will provide the company the financial room to offer more generous dividend hikes in the future.
In summary there are several positive catalysts that in my opinion will help propel MCD higher. An improvement in the macro economic outlook both in Europe and the United Sates should provide a nice tailwind to propel the shares higher. The menu innovations along with a consistent share repurchase program allow me to have confidence in MCD's long-term outlook. I am contemplating initiating a position in the company and I would like to thank you for reading and I look forward to your comments.
Disclosure: I have no positions in any stocks mentioned, but may initiate a long position in MCD over the next 72 hours. I wrote this article myself, and it expresses my own opinions. I am not receiving compensation for it (other than from Seeking Alpha). I have no business relationship with any company whose stock is mentioned in this article.
Additional disclosure: Investors are always reminded that before making any investment, you should do your own proper due diligence on any name directly or indirectly mentioned in this article. Investors should also consider seeking advice from a broker or financial adviser before making any investment decisions. Any material in this article should be considered general information, and not relied on as a formal investment recommendation.