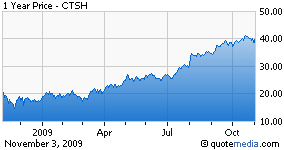 One today after saying that I'm probably going to ditch Cognizant Technology (NASDAQ:CTSH) at the end of the year, the company comes out with great earnings.
For the third quarter, CTSH earned 48 cents a share which creamed Wall Street's estimates of 41 cents a share. For the fourth quarter, the company sees EPS of 49 cents a share.
The company now expects earnings for this year of $1.88 a share. That means that it's going for 22 times earnings which is a bit rich for me.