American Capital Agency Corp. (NASDAQ:AGNC) is a mortgage REIT that invests primarily in fixed rate Agency RMBS. As many know both US Treasury bond yields and US mortgage rates went up dramatically (roughly 100 bps) during Q2 2013. This caused pandemonium in the Agency RMBS markets. The Agency RMBS fell dramatically in book value as new mortgage rates climbed far above the previous quarter's rates. In June the Agency RMBS markets seemed to panic as many Agency RMBS investors had to sell some of their assets in order to maintain safe capital levels (safe leverage levels). Most Agency fixed rate mortgage REITs are highly leveraged to the tune of 7x-10x. In AGNC's case it likes to maintain a leverage of 8x-9x. It ended Q2 2013 with 8.5x leverage including its TBA positions or 7.0x leverage excluding its TBA positions.
AGNC ended Q2 2013 with 101% of its repos, other debt and TBA positions covered by a combination of swaps, swaption and treasuries. This was up from 94% on March 31, 2013, and 83% as of December 31, 2013. AGNC is apparently increasingly convinced of the rising interest rate environment, and it is acting accordingly. This should add to investors feeling of safety. Also, investors should realize that swaps and swaptions are usually bought out of the money. Once swaps and swaptions have been owned for some time in a rising interest rate environment, they are usually in the money, especially after market interest rates have risen dramatically recently (Q2). Therefore they go up faster (provide more immediate protection) in subsequent quarters.
AGNC bought back $11.9 million shares of AGNC stock (or 3% of the outstanding shares) in Q2 2013 at an average price of $22.16 per share. This probably buoyed the stock price. However, at the end of Q2 2013 AGNC's net interest spread had fallen to 1.59% (including dollar roll income) from 1.87% at the end of Q1 2013. This made many think that AGNC's dividend would soon come under pressure. With the September 19, 2013, dividend cut to $0.80 per quarter (about 13.80% annually), this fear no longer exists, and the dividend is still quite good.
Further the chances of another large book value loss in Q3 2013 are minimal. Yes, interest rates and mortgage rates have risen since the end of Q2 2013. However, they have not risen nearly as much as they did in Q2 2013. Further AGNC is more fully hedged now with 101% of its notional value hedged at the end of Q2 2013. The hedges are more in the money (will provide better protection) in Q3 2013 than they did in Q2 2013. Plus some of the losses of Q2 were due to the volatility in the Agency RMBS market at the end of Q2 2013. This volatility has subsided somewhat. AGNC has recouped some value as this has happened.
With the "no taper yet" surprise from the Fed on September 18, 2013, the US Treasury long bond yields have fallen significantly; and they may fall still further. This too is helping Agency RMBS regain value lost earlier in Q3 2013. The chart below of the 30-year FNMA 3.5% MBS shows that this MBS is approaching the value levels of the end of Q2 2013.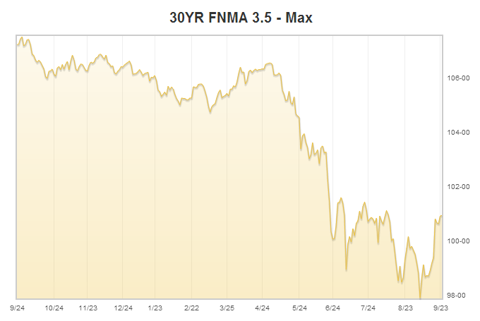 The net result of all of this may be that interest rates (which the hedges work on) have moved higher on a percentage basis while the Agency RMBS have moved lower. It is even possible that the Agency RMBS will show no losses for Q3 2013, and the hedges will still show gains. In this case, AGNC would see a net book value gain from the difference in Q3 2013.
Additionally the net interest spread virtually has to have improved with the increase in interest rates and mortgage rates. Yet repo rates are still low. This should translate into more net interest income for AGNC in Q3 2013. Of course, you have to balance that against the fact that AGNC has sold considerable Agency RMBS in both Q2 and Q3 (we haven't seen this figure yet). This will tend to counterbalance the increased profits. However, this should have been accounted for by the dividend decrease to $0.80 per quarter that was just announced. This means that AGNC should be a safe buy at the moment.
Some may question the logic of this call, but AGNC has paid out $26.16 per share in dividends since it IPO'd in May 2008 at a stock price of $20.00. It has a net asset value per share as of the end of Q2 2013 of $25.51 per share. Yet it is trading at $23.19 per share as of the close September 20, 2013. This is a discount of about 9% to book value. In other words, if has to gain 10% to reach its Q2E 2013 book value. Currently it appears that AGNC's book value may go up in Q3 2013. If so, the discount to book value may be even greater. This makes AGNC a buy.
The chart of the 10-year US Treasury yield below should allow readers to compare the percentage moves of the RMBS (chart above) versus what they are hedged against (the long US Treasury Bonds).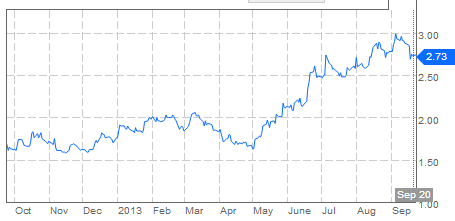 The 10 year US Treasury yield is 2.71% as of this writing on September 23, 2013. This is up 22 bps from its 2.49% close on June 28, 2013. The 10-year US Treasury yield closed at 1.85% on March 29, 2013, (Q1 end 2013). This translates into a rise of 64 bps for the Q2 quarter. Yet the MBS values dropped roughly 6% in Q2 2013, and they are almost flat at this point in time (near the end of Q3 2013) versus the end of Q2 values. Perhaps they are 1% lower. With 101% of notional value hedged, this indicates a likely book value appreciation due to hedging gains. At worst we will probably see book value come in flat. Plus you get a 13.8% dividend, and you get the knowledge that AGNC has a good management team. Over time they will likely make more right decisions than wrong ones, and investors will profit from them.
A description of AGNC's portfolio at the end of Q2 2013 is below.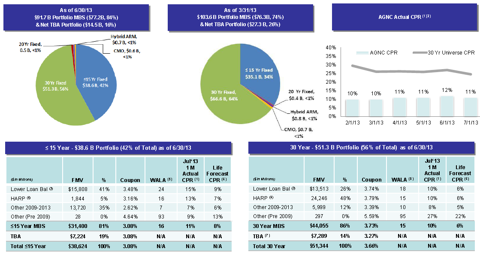 The five-year chart of AGNC provides some technical direction for this trade.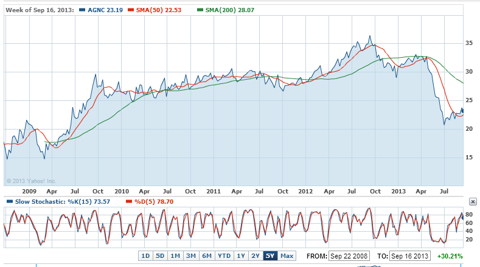 The slow stochastic shows that AGNC is near overbought levels. The main chart shows that AGNC has probably rebounded off a near term bottom after a sharp run downward. A continued rebound given the above fundamentals seems the most likely outcome, especially when AGNC has to gain 10% just to get up to its book value at Q2 end 2013. AGNC is a buy. Its mean analysts' recommendation is 2.4 (a low buy). Its CAPS rating is four stars (a buy). With the lower economic forecast from the Fed for the US economy in 2013 and 2014, AGNC's 13.8% dividend looks extremely attractive. It is not like buying bonds, which will only go down if interest rates rise. AGNC has an active management team that manages hedging to offset interest rate increases. It also manages the MBS held to ensure that the company does not hold low rate MBS too long into a higher rate MBS cycle. Plus AGNC pays a lot better than bonds do. A further positive note is that AGNC has seen both insider buying and institutional buying recently.
NOTE: Some of the above fiscal data are from Yahoo Finance.
Good Luck Trading.
Disclosure: I have no positions in any stocks mentioned, but may initiate a long position in AGNC over the next 72 hours. I wrote this article myself, and it expresses my own opinions. I am not receiving compensation for it (other than from Seeking Alpha). I have no business relationship with any company whose stock is mentioned in this article.