RingCentral (NYSE:RNG) and its selling shareholders are offering 7,500,000 shares of Class A common stock in the price range of $11 and $13 per share. The expected listing date is September 27, 2013 on New York Stock Exchange. (Source: IPO prospectus)
Company Overview:
The company is a leading provider of software-as-a-service, or SaaS, solutions for business communications. Its flagship service is a multi-user, enterprise-grade, communications solution that enables its customers and their employees to communicate via voice, text and fax, on multiple devices, including smartphones, tablets, PCs and desk phones. Its communications solutions provide flexible and cost-effective services that support distributed workforces and mobile employees. It markets and sells its services directly, through both its website and inside sales teams, as well as indirectly through a network of over 1,000 sales agents and resellers, including AT&T (NYSE:T), which the company refers to collectively as resellers.
Industry Overview: (Business Communication Solutions industry)
Traditional systems/solutions:
Traditionally, businesses have used on-premise hardware-based communications systems, commonly referred to as private branch exchanges, or PBXs. These systems are primarily designed for employees working within the premise where the system is installed.
The Market for Business Communications Solutions is Large According to Infonetics Research, from 2008 through 2012, there were 61 million PBX lines sold in North America. Assuming the company's current base selling price of approximately $20 per user per month, the potential replacement market is approximately $15 billion in North America.
Recent developments and need of new-age business communication solutions and its benefits:
In recent years, there have been significant changes in how people work and communicate with customers, co-workers and other third parties. With the proliferation of smartphones and tablets that offer much of the functionality of PCs, businesses are increasingly working around the clock across geographically dispersed locations, and their employees are using a broad array of communications devices and utilizing text, along with voice and fax, for business communications. Today, businesses require flexible, location- and device-agnostic communications solutions that provide users with a single identity across multiple locations and devices. These changes have created new challenges for business communications. Traditional on-premise systems are generally not designed for such challenges.
Most of these challenges can be meet by the cloud based business communication solutions that allow users to communicate through multiple mediums (text, voice, fax, etc) across multiple locations and devices. The chart below shows some benefits of cloud based solutions as compare to traditional systems.

Customer Base:
The company has a diverse and growing customer base comprised of over 300,000 businesses across a wide range of industries, including advertising, consulting, finance, healthcare, legal, real estate, retail and technology. To date, it focused its principal efforts on the market for small and medium-sized businesses in the U.S. and Canada.
Growth Strategy:
To grow its business the company intends to:
Focus on larger customers: Larger customers are more likely to have employees working in distributed locations or multiple offices and are more likely to require additional services, purchase premium service editions, have higher retention rates and enter into longer-term contracts.
Focus on innovations: The company will continue to invest in development efforts to introduce new features and functionality to its customers.
Grow revenues from existing customers.
Expand its distribution channels.
Scale Internationally: To date, it derives most of its revenues from the North American market. In the future it intends to enter other international markets.
Financials: (healthy growth in revenues)
The company primarily generates revenues by selling subscriptions for its cloud-based services.
The company experienced significant growth in recent times, with total revenues of $50.2 million, $78.9 million and $114.5 million in 2010, 2011 and 2012, respectively, generating year-over-year increases of 57% and 45%, respectively. It incurred net losses of $7.3 million, $13.9 million and $35.4 million, in 2010, 2011 and 2012, respectively.
For the six months ended June 30, 2012 and 2013, its total revenues were $51.8 million and $73.2 million, respectively, and its net losses were $18.7 million and $23.9 million, respectively.
Key points:
Key Positives:
1. Growth in gross margins:
The company had shown constant rise in the gross margins since last few years, from 55.29% in FY 2010 to 61.22% during the first six months of FY 2013 (see the chart below).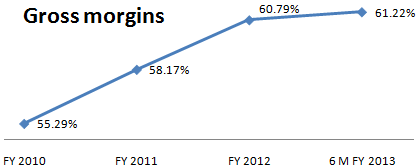 2. Huge addressable market:
Nearly 61 million PBX lines were sold in North America, from 2008 through 2012. Assuming the company's current base selling price of approximately $20 per user per month, the potential replacement market is approximately $15 billion in North America.
3. Cloud computing based platform:
The company serves its customers through the cloud based platform which allows its end-users to access and use its services anytime through the Internet from anywhere. Cloud based products are in high demand in almost all industries due to its features like:
User convenience.
Minimal infrastructure needed.
Low-cost of operations.
Scalability as and when needed
4. Mobile-Centric Approach:
Its platform was developed with a mobile-centric approach and can be provisioned, configured, managed and used from a smartphone or tablet as well as from PCs and the Web. Its solutions are designed to work with a broad range of devices, including smartphones, tablets, PCs and desk phones, enabling businesses to successfully implement a "bring-your-own" communications device strategy.
5. Effective Go-to-Market Strategy:
The company employs a broad range of direct and indirect marketing channels to target potential customers, including search-engine marketing, search-engine optimization, referral, affiliate, radio and billboard advertising. It offers simple, easy-to-understand pricing plans. It also offers ongoing customer support to help retain its customers and encourage them to add more users and functionality.
Key Negatives:
1. Loss making entity:
The company is a loss making entity and is reporting losses for the last few years.
2. Rising operating expenses:
The operating expenses of the company had shown constant rise during the last few years, not only in the absolute numbers but also in percentage term (as % to the revenues). This leads to increase in operating loss in absolute as well as in the percentage term (see the chart below).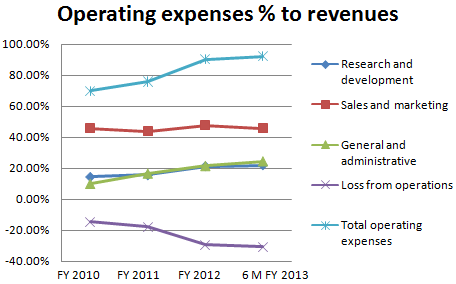 3. Highly competitive market:
The company operates in a very competitive market and competes with players that are more establish than it. Some of its prominent competitors are: 8x8 Inc (NASDAQ:EGHT), Cisco (NASDAQ:CSCO), Verizon Communications (NYSE:VZ), etc.
Valuation:
At $12 (mid range of offer price) the company's valuations stand at $728 million. At $12, the company is available at P/S of about 5.35x (trailing twelve months).
Peer Comparison: (trailing twelve months).

Conclusion:
The company operates in the rapidly evolving, but competitive industry. The company is in its growth phase so the operating expenses are on the higher side. The worrying thing is, the growth rate of its operating expenses that outpaced its revenue growth rate (explained above), for the last few years. This in the past led the company to increasing losses. On the positive side its gross margins has been growing constantly and company deals in the cloud computing sector, the sector which is creating a lot of enthusiasm among investor community, due to its future growth potential.
Disclaimer: Investments in stock markets carry significant risk, stock prices can rise or fall without any understandable or fundamental reasons. Enter only if one has the appetite to take risk and heart to withstand the volatile nature of the stock markets.
This article reflects the personal views of the author about the company and one must read offer prospectus and consult its financial adviser before making any decision.
Disclosure: I have no positions in any stocks mentioned, and no plans to initiate any positions within the next 72 hours. I wrote this article myself, and it expresses my own opinions. I am not receiving compensation for it (other than from Seeking Alpha). I have no business relationship with any company whose stock is mentioned in this article.