Mobile apps are the future playing field for China's internet search market. App stores are becoming a breakthrough point in mobile internet and the overall internet industry. Chinese app stores are fragmented, so players like Baidu (NASDAQ:BIDU) and Qihoo 360 Technology (NYSE:QIHU) are launching new platforms for apps to gain market share. Baidu has continued to be a market leader, with a 70% share of China's search market. It has taken initiatives in the last year for organic and inorganic growth. Let's discuss few points in detail.
LightApp will drive growth as better monetization is expected going forward
Baidu has seen 16-fold growth in its mobile traffic since 2010 and management believes mobile search is in its early stage of growth. The company is targeting a ramp-up of the mobile monetization and other value-added services to drive growth. Its mobile revenue has reached 10% of total revenue in the 2nd quarter fiscal 2013. It launched LightApp, that gives users the experience of native apps. The company has targeted small and medium developers to increase their mobile presence by using Baidu's tools and services by providing relevant content to users without downloading actual apps. Baidu has tried to differentiate from Tencent's (OTCPK:TCEHY) Social Mobile and Alibaba's mobile internet ecosystem. Baidu will look to monetize it further with mobile payments in the future, as LightApp gets more attention and achieves better customer retention.
Acquisitions will help it to compete better with distribution and other opportunities
Baidu is expected to complete the acquisition of 91 Wireless, a leading third mobile application distributor in China, in the latter half of 2014. This will help it drive its margin growth further as 91 Wireless is in the higher margin high-growth business of apps distribution and mobile games. This acquisition will help Baidu drive mobile traffic with the ~130 million users per day of 91 Wireless and its relationship with 700,000 app developers. Baidu can leverage this relationship not only as a distributor, but also as a content provider. Baidu also has decided to buy a 59% stake in the e-commerce website operator Nuomi. Going forward, this also will help Baidu move strategically within the mobile segment.
PC search can be a risk with increasing traffic acquisition cost
PC search is Baidu's core business and its revenue from this segment has continued to grow strongly, and it is gaining share from Qihoo. Qihoo has a much smaller advertiser base than does Baidu, but now Baidu has to spend more to acquire traffic. This will lead to higher traffic acquisition cost (TAC) in terms of percentage of total sales. If we go with the experience of internet giant Google (NASDAQ:GOOG), where PC revenue is not growing further and mobile revenue has reached about 30% of total revenue, Baidu has to put more focus on increasing its PC search business. Baidu's TAC as revenue percentage increased by 140 basis points in the 2nd quarter fiscal 2012 and it likely to increase further in the future.
Peer Analysis
Baidu is the market leader in the Chinese internet search market and it is competing with players like Qihoo and Tencent. Qihoo is the 2nd largest player in the industry and is providing tough competition to Baidu, with an 181% jump in revenue from apps stores in the 2nd quarter fiscal 2013. Its overall sales has increased by 59% in the same period. The rivalry between Baidu and Qihoo also will get more intense as China's largest e-commerce player, Tencent, has entered into a deal for 36.5% stake in Sogou.com. This can be a positive for Baidu because Qihoo also was interested in Sogou.com.
| | | | |
| --- | --- | --- | --- |
| | P/S ratio | Operating Margin | Forward P/E |
| Baidu | 14.04 | 43.11% | 23.48 |
| Qihoo | 32.85 | 15.40% | 41.33 |
| Tencent | 13.71 | 31.45% | N/A |
Source: Google Finance and Yahoo Finance
Baidu is trading at a relatively forward P/E of 23.48 compared to Qihoo, which is at 41.33. Baidu also has the highest operating margin, 43.11%, and the relatively low P/S ratio of 14.04 among the three mentioned peers.
Conclusion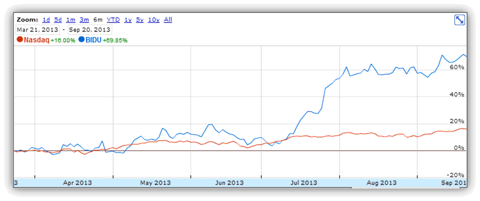 Baidu's stock price has increased by ~70% in the last six-month period. It is the market leader in the Chinese internet market and it has taken steps to drive its growth. It has launched LightApp, which will help it to broaden its VAS offering and opportunity for monetization. It also has acquired players like 91 Wireless and Nuomi, which helps it gain market share and expertise in app distribution. Its revenue growth from PC search has been flat, which has been a global phenomenon, but it has to focus on driving growth in this segment. So, I recommend it as a buy, looking at its growth prospects.
Disclosure: I have no positions in any stocks mentioned, and no plans to initiate any positions within the next 72 hours.
Business relationship disclosure: GS Analytics is a financial research firm providing customized research services to US hedge funds. This article was written by Khusvendra Amaliya, one of our Research Analyst. We did not receive compensation for this article (other than from Seeking Alpha), and we have no business relationship with any company whose stock is mentioned in this article.