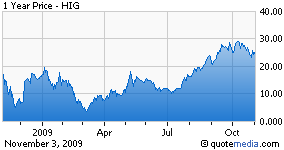 Hartford Financial Services (NYSE:HIG) is expected to report Q3 earnings after the market close today with a conference call scheduled for 8 am ET tomorrow.
Guidance
Analysts are looking for EPS of $1.11 on revenue of $6.22B. The consensus range is 62c-$1.65 for EPS, and revenue of $6.13B-$6.31B, according to First Call. Hartford Financial announced on September 29 that Liam McGee, a former president of Bank of America's (NYSE:BAC) Consumer and Small Business Bank, would become Hartford's chairman and CEO, effective October 1. McGee replaced Ramani Ayer who announced in June that he would step down. Investors will want to know whether McGee plans to implement any strategic changes at Hartford.
Analyst Views
A UBS analyst appeared to respond favorably to the choice of McGee. On October 8 the firm resumed coverage of Hartford with a Buy rating, up from a Neutral previously. The firm set its target for the stock at $35. Hartford investors may be encouraged by the Q3 results of a number of other insurance companies. Travelers (NYSE:TRV) and Progressive (NYSE:PGR) reported better than expected Q3 results, while MetLife (NYSE:MET) reported in-line EPS.