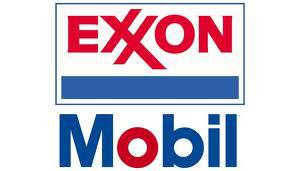 The rumor mill was once again speculating that Exxon Mobil (NYSE:XOM) would make a bid for troubled BP (NYSE:BP). It should be noted that the source of the rumor this time was The Telegraph, a UK publication. I don't believe it for two reasons. First off, with a current market cap of $134 billion, BP would be a big bite to swallow even for XOM, which has a market cap of $390 billion. And secondly, why would XOM want the headaches and negative publicity associated with the 2010 Macondo disaster? At the same time, a takeover of ConocoPhillips (NYSE:COP) would make much more sense for Exxon. Here's why:
(click to enlarge)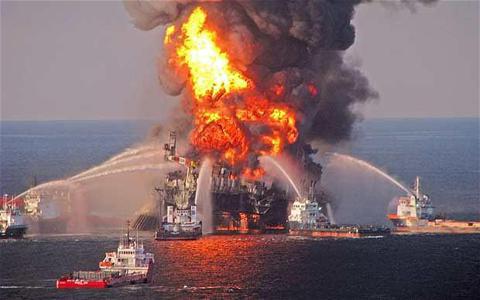 BP's 2010 Macondo Disaster
As everyone knows, ConocoPhillips has been on a multi-year strategic transformation, which has seen it spin-off its downstream businesses into Phillips 66 (NYSE:PSX), divest tens of billions in non-core assets, and turn itself into the world's largest independent exploration and production company. Today, COP is a lean and mean production machine poised to deliver top-line production (mostly liquids) and margin growth for the years to come. It is exploiting low-risk, high margin plays in the Eagle Ford, Permian, Bakken, and Canadian oil sands. In addition, COP's management has proven itself to be amongst the best in the business.
How Would COP Fit In With Exxon Mobil?
As mentioned before, COP has already jettisoned its downstream businesses into PSX. While XOM would have found COP's midstream businesses very attractive, it probably doesn't want to add any more US refineries to its portfolio - so that is a positive. COP is just what XOM so badly needs: liquids production and margin growth: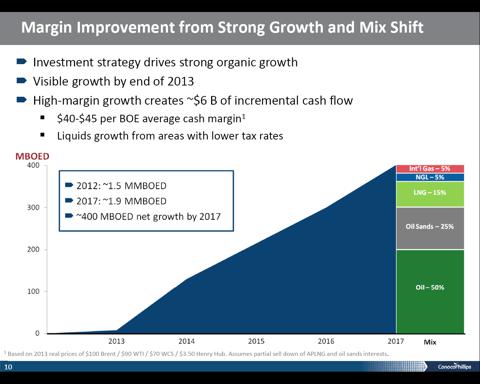 In the oil sands, COP's production and asset base would be a perfect complement to Exxon's Kearl Oil Sands plant. Indeed, XOM recently purchased a chunk of Conoco property in the oil sands to lock up future resources to feed Kearl: COP sold its 226,000 Clyden acres to XOM for $720 million. Yet Conoco still has 875,000 acres of top-tier oil sands assets in Canada. In addition, COP is on course to grow its oil sands production to around 200,000 boe/day by 2017.
As for the previously mentioned Eagle Ford, this is a crown jewel in COP's portfolio and is a play that Exxon simply overlooked right in its own backyard of Texas. Eagle Ford is a great asset because of its light sweet crude quality and natural gas liquids production ("NGLs") all in close proximity to Gulf Coast refineries and petrochemical plants. The Eagle Ford has the highest returns of any shale play in the US, and Conoco is the #2 producer behind only EOG Resources (NYSE:EOG). COP is now producing ~118,000 boe/day in the play and plans to grow production there to 130,000 boe/day by 2017.
In the Bakken and Permian plays, COP's excellent properties would be a welcome addition to Exxon's and dovetail nicely in terms of operations and scale.
Likewise in the Gulf of Mexico. COP has some excellent properties which would fit in well with Exxon's acreage - including stakes in the recent Coronado and massive Shenandoah discoveries. Conoco has ~2 million net acres in the GoM and is the 6th largest deepwater leaseholder there.
In addition, COP also has an excellent and diversified worldwide asset base including production in Norway, the UK, Angola, Malaysia, China, and Australia.
Production & Resources
In a September presentation, COP gave an update on its independent E&P status:
Production of 1.515-1.530 million boe/day (2013e): 57% liquids
Proved Reserves: 8.6 Billion boe
Resource Base: 43 Billion boe, 69% liquids
Price
COP currently has a market cap of ~$86 billion and is a cash-flow machine. As of its Q2 earnings report, cash provided by continuing operating activities was $3.7 billion. Excluding a $0.7 billion increase in working capital, ConocoPhillips generated $4.4 billion in cash from operations. COP had debt of $21.7 billion and a debt-to-capital ratio of 31%. The company had $4.0 billion of cash and short-term investments, including cash and cash equivalents of $3.9 billion.
As I mentioned in a previous article, COP will have $5 billion coming in from the sale of its Kashagan stake and is likely to win in the neighborhood of $5-7 billion from Venezuela for that country's illegal expropriation of COP assets. While the $5 billion in cash from Kashagan is likely already priced in the stock, the Venezuela award estimate probably is not.
At today's price, a COP takeover would take approximately $86+21 or $107 billion. Considering COP's resource base combined with current projects and its production and margin growth outlook, I doubt COP's management would agree to a takeout for less than a 35% premium to today's market valuation. This would put a total price tag in the neighborhood of $135 billion - about equal to BP's current market cap. But of course a takeover of BP would also require debt and premium considerations, pushing a total buyout way above that of COP. As of Q2, BP had over $18 billion in debt and then there is the wild card associated with on-going Macondo settlements. In the big picture, it would likely take close to $180 billion in total for XOM to takeover BP - perhaps $50 billion more than a COP buyout. That's a big wad of cash, even for ExxonMobil.
Either way, if ExxonMobil were to make a big purchase involving either of these two companies, the deal would likely involve some financing as opposed to just stock, ala the XTO deal. In that respect, money is still relatively cheap these days, especially for a company like XOM, which has a higher credit rating than the US government. That said, I would expect such a deal, if it were to occur, to happen sooner rather than later as lending rates are clearly moving higher and expected to rise further in the near future.
Summary and Conclusions
Exxon will not be buying BP - it's just too big and there would be too many headaches with the deal. The last thing XOM needs is all the bad publicity associated with the Macondo disaster. However, it is conceivable Exxon could make a bid for ConocoPhillips because COP would be a great fit and offers exactly what XOM needs: liquids production and margin growth for years to come along with an extensive, safe and secure North American asset base. From a regulatory viewpoint, XOM is already the largest natural gas producer in the US and COP is also a top-10 producer. So, I expect any deal would be contingent on selling off a large percentage of COP's natural gas production. Otherwise, most all of the other businesses have significant competition and as I already pointed out, COP no longer has any midstream or refining businesses for XOM to contend with.
A COP buyout would cost Exxon about $135 billion and would put Conoco shares in the neighborhood of $93/share. As a Conoco shareholder, I personally would hate to see it happen. COP will likely be over $93/share on its own sometime within the next two years. Plus, I much prefer the COP dividend (3.9%) over that which Exxon (2.8%) is likely to pay post buyout. But at the end of the day, COP's management has proved it is among the best in the industry. I cannot imagine COP Chairman and CEO Ryan Lance reporting to Exxon Mobil CEO Rex Tillerson.
COP is a STRONG BUY. Exxon Mobil is a HOLD.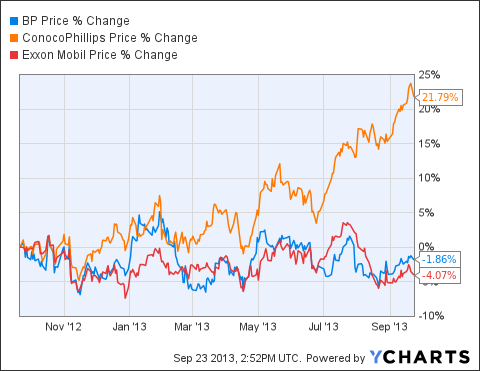 Disclosure: I am long COP, PSX, XOM. I wrote this article myself, and it expresses my own opinions. I am not receiving compensation for it (other than from Seeking Alpha). I have no business relationship with any company whose stock is mentioned in this article.
Additional disclosure: I am an engineer, not a CFA. The information and data presented in this article was obtained from company documents and/or sources believed to be reliable, but has not been independently verified. Therefore, the author cannot guarantee its accuracy. Please do your own research and contact a qualified investment advisor. I am not responsible for investment decisions you make. Thanks for reading and good luck!