BP, the British multinational exploration company, continues to be a tremendous bargain at current share prices. BP offers a select basket of high quality, global oil and gas assets that trade at huge discounts to intrinsic value. I believe that BP is an attractive, fairly low-risk equity investment that is suitable for long-term minded, income-oriented investors. A variety of reasons make an investment in BP attractive. The most convincing reason is its cheap price compared to its intrinsic value. From both relative and absolute standpoints, BP brings great value to the table despite legacy costs resulting from oil-spill related settlements.
Strong market position and exploration activity
BP's strategic partnership with Russian Rosneft is only one dimension of sound capital allocation policies. Russia sits on vast oil and gas resources and BP's exploration expertise is well regarded. A cooperation is not only likely to benefit shareholders but also helps to expand BP's global exploration portfolio. New projects in India, Norway, Brazil and China ensure future operating cash flows and dividends.
BP trades at bargain prices compared to peers
I have already mentioned that the prime reason supporting an investment in BP is its low relative valuation (despite BP's high profitability). BP trades just above eight times forward earnings, which is the lowest forward P/E ratio of the peer group consisting of Chevron (NYSE:CVX), ConocoPhillips (NYSE:COP) and Total (NYSE:TOT). While all companies do not trade at rich multiples (the average peer group P/E ratio is only 9.4), BP manages to trade at a 15% discount to the peer group average. Correspondingly, BP has the highest earnings yield, which stands at a staggering 12.5%. Despite having the lowest earnings-based market valuation, BP has the highest dividend yield of 5.09%, a 20.5% premium to the peer group average dividend yield.
Many diversified, globally-operating multinationals pay a dividend of significantly less than BP's 5%: General Electric (NYSE:GE) pays 3.17%, Ford (NYSE:F) pays 2% and McDonald's (NYSE:MCD) 3.2%. The S&P 500 dividend yield currently stands at just under 2%.

While the valuation levels are truly tempting, BP also pursues a very shareholder friendly remuneration policy. BP has repurchased $2 billion worth of stock year-to-date as part of an $8 billion share buyback program. This does not only supplement the dividend stream but also signals to investors that management believes the stock to be materially undervalued.
Oil-spill related litigation fears probably overblown
Much of the decline in BP's stock price can be attributed to the Deepwater Horizon oil spill in the Gulf of Mexico in 2010, and the ensuing legal battles. As a consequence of the oil spill BP initiated a trust fund worth $20 billions, which was charged to the P&L in 2010. The amount paid from the trust fund reached $19.7 billion in the second quarter 2013 leaving only about $300 million left to cover additional claims. Any further claims above the $300 million threshold will incur additional charges to the income statement and, hence, lead to lower profits. A cumulative expense matrix is provided below:
While BP has already had a cumulative net charge of $42.4 billion, further expenses and litigation are likely. I believe, however, that the market errs in its assessment with respect to the relevance of such oil spill costs. I believe that the majority of oil spill related expenses has already been accounted for even though additional quarterly charges are quite probable. The chart below breaks down BP's cash flow and depicts the proportions of operating cash flows and oil spill related expenses. The key takeaway is: Even if expenses continue to persist for a while, the size of such expenses is manageable for BP and on a run-rate basis can be paid out of operating cash flow (which stands at about $5 billion quarterly).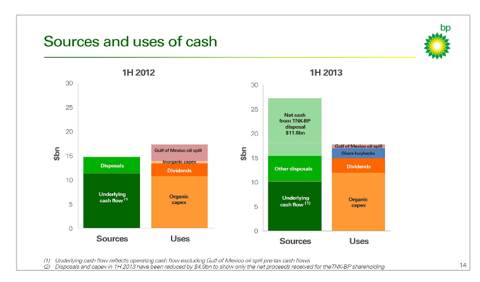 Conclusion
Fears regarding settlement costs dragged BP down over the last two years and are responsible for a mediocre 18.40% return. Despite oil spill costs, BP remained very profitable and used cash to invest in exploration assets and share buybacks. It further divested businesses such as TNK-BP for proceeds of $12 billion creating a leaner and more focused organization.
Considering that BP already recognized over $40 billion of expenses with regard to the 2010 Deepwater Horizon oil spill, I believe BP can afford incremental liabilities without putting its shareholder remuneration policy at risk. The extremely low valuation makes BP a very interesting long position for dividend investors who want to pocket a 5% dividend with prospects of rising dividends and share buybacks. Investors, who aim for capital appreciation might also want to take a close look at BP since its share price reflects a very pessimistic oil spill settlement scenario. Given the perspective provided above, additional charges to BP's P&L are unlikely to endanger BP's underlying cash flow strength or expansion drive. At just eight times earnings BP makes a great investment for greedy value investors who can wait until BP resolves all outstanding claims.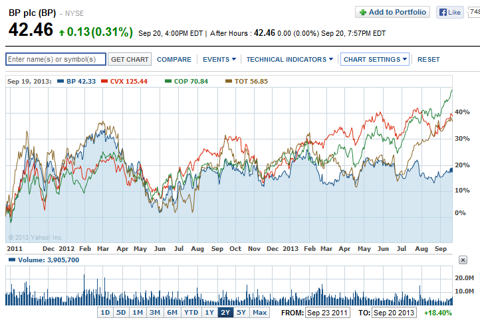 Disclosure: I am long BP. I wrote this article myself, and it expresses my own opinions. I am not receiving compensation for it (other than from Seeking Alpha). I have no business relationship with any company whose stock is mentioned in this article.