It is no secret that Apple (NASDAQ:AAPL) has a massive and passionate following for its products. It is also no secret that if Apple goes after a market that it has a very good chance of seeing success based on that passionate following. Ever since Apple discussed the potential of entering the streaming music service business, people have wondered what the impact would be.
Sirius XM (NASDAQ:SIRI), Pandora (NYSE:P), Spotify, Slacker, Aha, and other were all assessing the possibilities. In the audio entertainment space it has been contemplated that the Apple threat was more centered on Pandora than any other service. Sirius XM has sports, talk, and entertainment programming. Spotify and Slacker allow customized on demand allowing listeners to listen to any song at any time. Pandora, despite the fact that it has a massive audience, was essentially limited with minimal non-music content, and a lack of customization.
Today Apple announced the sales figures of the latest and greatest iPhone. The company sold an impressive 9 million new phones in the first weekend. That news however is not what is impacting Pandora. The news impacting Pandora is that Apple disclosed within its Press Release that a massive 11 million unique users have already tuned into iRadio.
iPhone 5s and iPhone 5c feature iOS 7, the most significant iOS update since the original iPhone, featuring a stunning new user interface, completely redesigned with an elegant color palette, distinct, functional layers and subtle motion that make it feel more alive. iOS 7 has hundreds of great new features, including Control Center, Notification Center, improved Multitasking, AirDrop®, enhanced Photos, Safari®, Siri® and introduces iTunes Radio℠, a free Internet radio service based on the music you listen to on iTunes®.³ Over 11 million unique listeners have already tuned in to iTunes Radio since launch with the most listened to song being "Hold On, We're Going Home" by Drake.
Clearly, Apple is getting some traction with its radio offering. Does this mean that Pandora is doomed to failure? No. Not at all. In fact, in the longer term Pandora will likely thrive as a consumer favorite. What this means is that a new major player has entered the market for ad dollars, and that a new major player has entered the market for the ears of listeners. Essentially, the entrance of Apple means that companies like Sirius XM and Pandora need to sharpen and hone their respective advantages. In the case of Pandora, that means capitalizing on the maturity of its business, and defining new ways to generate growth.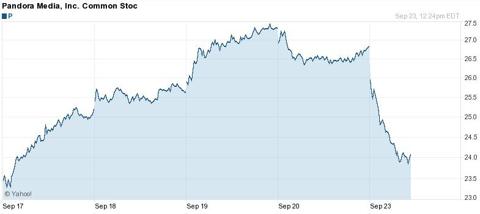 Will Apple take market share from Pandora? Yes. It will take listener hours as well as ad dollars out of the market. The key here is how Pandora reacts to this development, not the immediate reaction of the street, which saw Pandora gap down and give up 10% in half a day.
In my opinion the biggest concern I have with Pandora is the valuation. The company is challenged in getting to profits, and that challenge just got more difficult. There is potential in Pandora, but there is risk as well. Prior to Apple entering the audio entertainment landscape there was thought that Pandora could be on the brink of becoming a financial success story. The pace at which that could happen could now be slowed. Buying on a dip like this is tempting, but personally I would let a little more dust settle before speculating at what still remains an equity near 52-week highs. Stay Tuned
Disclosure: I am long SIRI. I wrote this article myself, and it expresses my own opinions. I am not receiving compensation for it (other than from Seeking Alpha). I have no business relationship with any company whose stock is mentioned in this article.
Additional disclosure: I have no position in Apple or Pandora