(Editors' Note: This article has been updated to correct statements about KNDI's status as a mass marketer of EVs in China.)
The best bit of advice I would have given Kandi (NASDAQ:KNDI) stockholders Wednesday Sept. 18, 2013, was, "to stay the course." And, if you believed, as I do in your own Due Diligence, you weren't going to be dissuaded by others who may have had an alternative agenda (sell, sell, sell) in trying to give you a reason to change your mind and "stay the course." Kandi Technologies is one of my primary investments. It has been subjected to every kind of negative onslaught based on innuendo, misleading statements and outright fraud for the past couple of years. Short-sellers, negative articles on SA, have all been part of my journey, but I stayed the course. Why? Because I know what the truth is. So, even if you and I had to suffer a bit and wait for the uninformed to know what we know... we did, in fact, stay the course. This past Thursday's news should put to rest any doubts you might have had regarding Kandi and put your mind-set on a completely different plane because we were rewarded handsomely on Thursday. Kandi announced the long awaited "New Energy Subsidy Program" by the Central Government of China, which will permit the emerging middle class to own/lease a car for the first time in their lives. And, of course, Kandi will now be in the forefront as the "floodgates" open from China's transition from its gas guzzlers to pure electric vehicles. Yes, Kandi is now in the unique position of taking full advantage of these new subsidies and becoming a major "mass marketer" of affordable electric cars (EV's) in China. To my knowledge, there are no other pure EV manufacturers that offer Kandi's low-cost and production capabilities in China. Does a net cost of $2500.00 per car catch your attention? And yes, I'm still here as an investor. ...I stayed the course.
So, goodbye short-sellers, negative authors and the like. Your honeymoon is about to end. May what happened to the short-sellers and naysayers of Tesla (TSLA) experience a similar fate with Kandi.
For those of you not familiar with Kandi this may be an opportunity for you to consider Kandi becoming part of your portfolios. Read on...
In this article I will highlight many of the positive implications for Kandi as a result of this "New Energy Policy" just approved by the Central Government of China. In my opinion it is just the beginning.
9/19/2013
Kandi Technologies Announces Chinese Government Issued 2013-2015 Subsidy Policy for New Energy Vehicles
Kandi Technologies Group today announced that the Chinese government finally unveiled its long anticipated subsidy policy for new energy vehicles upon the approval by the State Council. On September 17, 2013, the Ministry of Finance, the Ministry of Science and Technology, the Ministry of Industry and Information Technology and the National Development and Reform Commission (the "Four Ministries") jointly issued Notice No. 551 of 2013, titling "Regarding the Continuous Promotion and Application of New-Energy Vehicles for the years from 2013 to 2015" (the "Notice").
The subsidiary policy, which covers the pure electric vehicles, plug-in hybrid electric vehicles and fuel cell battery vehicles, aims to increase the efforts on promotion of new energy vehicle procurement with government agencies, public organizations and public transportation areas. According to the Notice, the central government will provide, based on certain technical requirement, up to RMB 60,000 (approximately USD 9,800) for the purchase of an all-electric passenger vehicle and up to RMB 500,000 (approximately USD 81,700) for the purchase of an electric bus. The subsidy payments will be distributed to the manufacturers on a quarterly basis in advance and the subsidies will then be paid by the manufacturers directly to the consumers.
The Notice also established the following benchmark requirements for the pilot cities or regions:
-- From 2013 to 2015, there shall be no less than 10,000 new energy vehicles added cumulatively in each Large Pilot City or Region, and no less than 5,000 new energy vehicles added cumulatively in each of other cities or regions;
-- No less than 30% of these new energy vehicles shall be non-local brands. The local government shall not set barriers or disguised restrictions for vehicles from other regions.
-- The vehicle procurements by the government agencies and public organizations shall favor new energy vehicles. For new or replacement public transportation vehicles, government agency vehicles, logistic vehicles and waste management vehicles, no less than 30% of them shall be new energy vehicles.
-- The local government shall have issued specific policies and measures of vehicle purchase, public transportation operation, supporting infrastructure construction, and other aspects for new energy vehicles;
-- The pilot cities are subject to an annual inspection and evaluation. Pilot cities, which fail to complete the annual promotion objectives, will be eliminated from the subsidy program.
Any city that meets the requirements above can apply to become a pilot city and qualify to receive the subsidies. This policy will expand the geographic areas for the promotion of new energy vehicles in China. Before October 15, 2013, all interested cities shall prepare a detailed new energy vehicle promotion implementation plan and submit it to the Four Ministries for their evaluation and final approval to be on the pilot city list.
For more information about the Notice, please refer to the official Chinese government release here.
Xiaoming Hu, Chairman and Chief Executive Officer of Kandi, commented, "We are really excited about this long awaited government subsidy policy. The subsidy for the new energy vehicles will be directly distributed to the manufacturers from the central government, which will improve the transparency in the market competition. Furthermore, the pure electric vehicle is still the main focus in the policy, which will be very beneficial to a variety of Kandi's pure EV projects. We believe the cities that are currently implementing mini-public transportation EV sharing systems will be qualified as pilot cities for the subsidies. Kandi will update the market accordingly when these cities receive the approvals of their applications."
Central Government New Energy Policy (English Translation)
To: Provinces, Autonomous regions, Municipalities, finance department (bureau) of project designated cities, Science and Technology Department (Bureau, Science and Technology Commission), Industry and Information Technology Departments, Development and Reform Commission:
In order to speed up the development of the new energy automotive industry, to promote energy conservation, and to strengthen pollution control, the State Council has mandated to continuation of the promotion of new energy vehicles from 2013 to 2015. The relevant subsidy policies are as follows:
I. Expand original "pilot subsidy program" open now to all cities, which qualify, to promote the deployment of new energy vehicles throughout China.
Continue to promote original pilot cities and select new urban cities with high enthusiasm, with focus area of Beijing, Tianjin, the Yangtze River Delta, Pearl River Delta and regions with heavier task of fine particles treatment.
New demonstration cities or model regions must meet the following requirements:
During 2013-2015, the cumulative promotion numbers of new energy vehicles cannot be less than 10,000 in the metropolis or in the key areas, or no less than 5,000 vehicles in other cities or regions.


At least 30% of the vehicles, subject to the subsidies, shall not be of local brands. Any restriction or disguised barriers on purchasing non-local brand vehicles is not allowed.
Government, public institutions should be inclined to purchase new energy automotive vehicles. At least 30% of new additions and or replacements for public transportation, service, delivery and sanitary should be new energy vehicles.
Specific policies, regarding the purchase of new energy vehicles, public transportation operations, and infrastructure construction, which have been introduced by local governments.
Relevant cities are subject to annual evaluation; cities failing to achieve the annual goals will be removed from the program.
II. Subsidize consumers for new energy vehicles purchases
The scope of subsidies. Any pure electric vehicles, plug-in hybrid electric vehicle or fuel cell vehicles must meet the requirements for new EV models in order to be included in the scope of central government subsidies. Subsidies also focus on increasing the EV's promotion efforts of government agencies, public institutions, and public transportation sectors.
The subsidy beneficiary. Subsidies are for the consumers who are to pay the price after deducting subsidies from the sale price.
Allocation of the funds. Ministry of Finance will allocate subsidies to the new energy automobile production enterprises quarterly with annual closing. "New Energy" enterprises are to submit the application for subsidies after each sale at the end of each quarter, to the finance department and the science and technology departments of local government of registration. After the local audit, the applications will be forwarded to the Ministry of Finance, Ministry of Science and Technology. Four ministries will audit and allocate the subsidy funds to the relevant enterprises. Subsidy funds settlement will be made based on audit at the end of the fiscal year.
Subsidy standards. Subsidies standards are determined, based on the price difference between the new EVs and the similar conventional cars as well as taking into account economies of scale, technological advance, and are to be scaled down by year. See appendix for 2013 specific subsidies.
Subsidy standards of the pure electric passenger vehicles, plug-in hybrid (including extended driving range) passenger vehicles, pure electric special vehicles, fuel cell vehicles will be down 10% and 20% of 2013 subsidy standards in 2014, 2015 respectively; the standards for pure electric buses, plug-in hybrid (including extended driving range) buses remain unchanged.
III. Financial incentives for constructing charging facilities in the model cities
The Ministry of Finance will manage funds to provide comprehensive incentive for the model cities, incentive funds will be mainly for the construction of charging facilities and other infrastructure. Specific plan and standards of the incentives will be enacted separately.
Ministry of Finance, Ministry of Science and Technology, Ministry of Industry and Information Technology, Development and Reform Commission
September 13th, 2013
Appendix: 2013 Subsidy Standards for New Energy Vehicles Promotion
Subsidy standards for promoting the pure energy passenger vehicles, plug-in hybrid (including extended driving range) passenger vehicles (unit: Yuan / per vehicle)
Vehicle type

Pure electric driving range R (working method, km)

80 <= R < 150

150 <= R < 250

R >= 250

R >= 50

Pure electric passenger vehicles

35,000

50,000

60,000

/

Plug-in hybrid vehicles (Including extended driving range)

/

/

/

35,000
Note: Kandi qualifies for the 50,000 ($8064.00) yuan subsidy for its upgraded Model KD 5011 (JNJ6290EV).
Purpose of Policy
To speed up the development of the "new energy" automotive industry, to promote energy conservation, and to strengthen pollution control, the State Council has approved to continue the promotion of new energy vehicles from 2013 to 2015.
Analysis of how the new EV Subsidy Program Affects Kandi Technologies:
The new policy is an upgraded version, positive in all respects, from the previous New Energy Subsidy Policy, 2009 - 2012, in which Kandi successfully participated. The number of actual sales in EVs were not monumental (3419 units), but they were better than Tesla's for 2012. And look where Tesla's stock price is today. All Kandi was waiting for was that this New Energy Policy be finally approved and published. That day has arrived for Kandi and for those cities, which had already participated as pilot cities. The City of Hangzhou was one of the original ten pilot demonstration cities in China promoting "new energy" vehicles.
A. Positive changes:
At least 30% of the promotion vehicles shall not be of the local brands. This provision opens up all of China's major cities, such as Beijing, Shanghai, etc., for Kandi EV Long-Lease and CarShare Programs. The intent of this provision is to curtail protectionism. And it has done just that.
All local government agencies are to reserve a minimum of 30% of all their future purchases, including replacements, for "new energy" vehicles. No other EV manufacturer in China has the lineup of models that Kandi offers for local government procurement. This lineup (ten in all) includes EV cars and light trucks.
Kandi's flagship model, KD 5011 (JNJ6290EV), to receive $8,064 in subsidies for each car sold.
As per Yahoo here: The subsidy payments will be distributed to the manufacturers on a quarterly basis in advance and the subsidies will then be paid by the manufacturers directly to the consumers. This is great news for Kandi regarding cash flow.
State Grid Utility (SGCC) will participate in the new subsidy program re: the building and equipping of new charging stations. This project would include Kandi QBEX systems (quick battery exchange) and V2G (vehicle to grid) charging stations. Kandi owns the patents for the QBEX systems which is the preferred methodology of State Grid. It has invested millions of dollars already in QBEX technology.
Based on the "New Energy Policy" projected sales for EVs in the fourth quarter of 2013 will now be between $60 million and $80 million. Conservative estimates of units sold and delivered will be between 6,000 and 8,000 (see analysis below in both CarShare and Long-Lease Programs).
Cost Analysis of Kandi Cars
Background: Kandi and the JV currently have ten pure EVs approved for sale in China by the MIIT. All these vehicles would qualify for the new subsidy. It should be noted that some of the vehicles are light trucks. All Kandi vehicles can be seen here. For purposes of this analysis only the flagship EV from Kandi will be used as an example. There is not ample public information on costs, subsidies, etc. to do a proper analysis for the other vehicles.

Current Kandi Electric-Vehicle Programs
Current estimates, EV sales, for Fourth Quarter, 2013:
CarShare - 3000 units
Long-Lease - 4000 units
Analysis of Sales Impact: 7000 x $11,000 = $77 million
CarShare: The CarShare Program is somewhat similar to the ZipCar program in the U.S. This program, however, is strictly for Kandi EVs. It consists of a garage facility with EV capacities of 30 units to 200+ units. Size of garages are dependent on the location and density of traffic; i.e., apartment complexes versus airports. Customers can rent on demand by the hour. Process to rent is made easy for the customer by an automated system similar to a credit card. When finished the customer can return it to many of the designated locations throughout the City of Hangzhou.
The City of Hangzhou has built the first CarShare garage facility located in China. It is operational. There are four more under construction near completion. It is anticipated that there will be 30 - 40 other CarShare garage locations completed by the end of 2013. Two other Provinces, Hainan and Shandong will be part of the expanding CarShare Program in China starting in 2014: (Kandi to Expand into Shandong Market), (Kandi Announces Hainan Agreement for 100,000 per Annum Parts Facility and Minimum of 20,000 EV Annual Sales in Province for Length of Agreement). Other cities, such as Shanghai, are currently in talks with Kandi.
Long-Term Lease: For customers who wish to lease a Kandi EV for six months or longer. This program is positioned to be an immediate sales generator for Kandi. The City of Hangzhou has received over 9,000 applications for this program. Designed for the urban apartment dweller this program eliminates the need for long-term charging. All the lessee needs to do is go to a convenient QBEX station. There are currently 62 manual and five robotic battery exchange stations (see below) already built by State Grid, with more under construction. At the station the spent battery is exchanged for a recharged one. With the "New Energy Policy," now approved, this program will begin to put EVs in the hands of China's emerging middle class.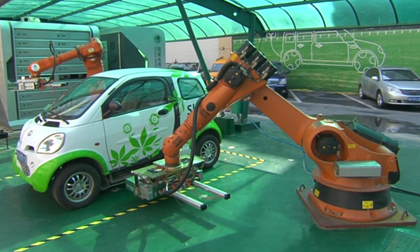 Kandi Proprietary Quick Battery Exchange with State Grid Developed Robots
(Click Here for Demo Video)
Will Kandi Be Able to Produce the Anticipated Demand? Manufacturing Facilities
Currently Kandi has the largest EV manufacturing capabilities in the world. The plant in Jinhua has a 30,000 EV capacity (expandable to 100,000) and the new "state of the art" EV facility in Changxing has a 100,000 capacity expandable to 300,000.
Jinhua Manufacturing Plant

Changxing Manufacturing Plant
Conclusion
With today's announcement of the Central Government of China's Subsidy Policy Kandi now has the opportunity of selling its pure EVs throughout China. It is uniquely positioned to be a major "mass marketer" of EVs to China's emerging middle class. Kandi's lineup of models are both affordable and efficient. In the very near future American investors will discover the value of this company and consider making it part of their portfolio. I would encourage all of you whose interest I've piqued to do your due diligence and see if Kandi is a worthwhile investment for you.
To find out more about Kandi, I have written three previous articles in SA, which should answer many of your questions. "Kandi Technologies: Let's Try The Truth For A Change, among my others, will provide a "factual" representation of Kandi Technologies, the company, to begin your Due Diligence process.
Disclosure: I am long KNDI. I wrote this article myself, and it expresses my own opinions. I am not receiving compensation for it (other than from Seeking Alpha). I have no business relationship with any company whose stock is mentioned in this article.