The fourth largest telecommunication company in the U.S., T-Mobile (NASDAQ:TMUS), offers wireless, voice and broadband services to 40 million subscribers. I'm bullish on the company because it is well positioned to take shares from other U.S. carriers. Also, the aggressive marketing, improved network experience and a full range of smartphones paint an encouraging outlook for the company. It also offers a significant potential for price appreciation of 8.9%.
Financial Performance of 2Q'13
The company has managed to deliver a strong performance in the second quarter, with an increase of 11.5% QoQ in total revenues. After several quarters, TMUS has managed to add 688,000 postpaid subscribers because of cheap valuation plans and unlimited data services. The prepaid net additions have declined by 87,000 mainly because prepaid subscribers have switched to postpaid packages given the simpler plan choice. The company has experienced an all-time low churn rate of 1.58% with a decline of 16.8% QoQ. ARPU has experienced a decline of 0.9%, but I believe the second half of the year will experience the reverse in ARPU trends, as postpaid base subscribers migrate to voice plans. Also, the early upgrade plan will boost ARPU revenues, as 700,000 subscribers upgraded in the first month.
TMUS has managed to sell 4.3 million smartphones, up by 95% QoQ. Higher smartphone penetration, including the iPhone, will help increase the subscriber base and ARPU. The 4G LTE network has been expanded to 157 POPs, and the company is expected to complete its launch to 200 POPs by the end of this year. Furthermore, TMUS is gearing up to pose a serious threat to other telecommunication giants, as shown by the porting ratios, which managed to improve against all carriers.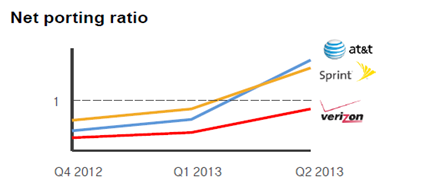 Source: Company Data
Margin Expansion
As shown in the figure below, the company's margins are at a discount among its peer companies. With the acquisition of MetroPCS, there are several opportunities to unlock potential synergies by reducing the roaming and backhaul costs. These cost savings are estimated to be in the range of $800 million to $1 billion. Furthermore, the company has taken several other initiatives, such as enhancing communication lines with a higher capacity to enable the transfer of high data volumes with lower costs. Also, the company has managed to reduce employee-related costs by effectively managing call centers. The reduction of $87million, or 48%, in bad debt from the second quarter of 2012 has also helped reduce costs.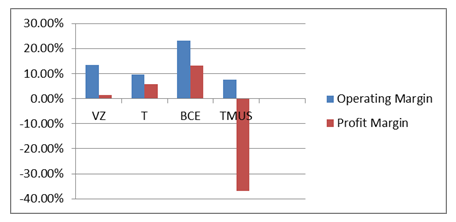 Source: Yahoo Finance
Discounted free cash flow evaluation
I have used free cash flow estimates until 2016 and a 6.80% WACC (using cost of equity of 9.20% and after-tax cost of debt of 4.1%). Furthermore, I have used a terminal year growth rate of 1.25%.
| | | | | |
| --- | --- | --- | --- | --- |
| | 2014 | 2015 | 2016 | Terminal Value of FCF |
| Estimated Free Cash Flow | $565 | $968 | $1,565 | $28,550 |
| Present Value | $529 | $849 | $1,285 | $23,434 |
Total Value to firm = $529+$849+$1,285+$23,434=$26,097 million
Total Debt= $6,276 million
Total Value to firm - Total Debt = Total Equity value
$26097 - $6,276= $19821 million
Share Outstanding = 726 million
Target Price = Total Equity Value/Share Outstanding
$27.30 = $19,821/726
My target price is $27.30, which means the company offers a price appreciation of 8.9%. TMUS' share price has been up by 29.18% YTD, but I believe it still has the potential to grow because the company has successfully initiated its key strategies, such as integrating MetroPCS, the expansion of its LTE network and building a competitive product line-up.
Risks
With Verizon Communications (NYSE:VZ) gaining full control of its wireless segment and the massive investment of SoftBank in Sprint Corporation (NYSE:S), the industry is now very competitive. Carriers are competing aggressively for market share, which means that there will be significant price pressure in the future. Moreover, the acquisition of Leap Wireless (LEAP) by AT&T (NYSE:T) could also intensify competition, as LEAP operates in those regions where TMUS has a strong presence. With the increasing demand of high bandwidth, TMUS might face spectrum constraints in the future, and it will be dependent on spectrum auctions and M&As.
Conclusion
| | | | | |
| --- | --- | --- | --- | --- |
| Companies | P/S | P/BV | EV/REVENUE | Dividend Yield |
| VZ | 1.16 | 4.01 | 1.56 | 4.40% |
| T | 1.43 | 2.13 | 1.99 | 5.20% |
| TMUS | 0.88 | 1.47 | 1.74 | n/a |
Source: Yahoo Finance
MetroPCS and T-Mobile, together, paint an encouraging outlook for future growth, as the company managed to expand its coverage and increase its spectrum. TMUS is trading at cheap valuations based on the multiples of P/BV and P/S. It does not offer any dividend yield because the company is focusing on reinvesting in its business to enhance its future growth prospects. The company might not appeal to income-seeking investors, but it is definitely a catch for long-term investors.
Disclosure: I have no positions in any stocks mentioned, and no plans to initiate any positions within the next 72 hours. I wrote this article myself, and it expresses my own opinions. I am not receiving compensation for it (other than from Seeking Alpha). I have no business relationship with any company whose stock is mentioned in this article.