I will admit that in the past I have had a hard time liking General Electric (NYSE:GE). My main issue with the stock has always been its GE Capital segment, which I see as an albatross, weighing down the stock. GE has recently made it clear that it is looking to downsize GE Capital. Earlier this month, GE announced that it was looking to exit retail finance, which I considered to be a good first step. However, investors in GE do have much to look forward to. As a recent Barron's article noted, GE is not too big to grow.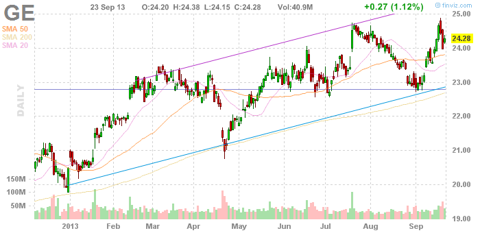 Barron's Bullish Case for GE: 30% Upside
According to Barron's, GE is poised for impressive growth in its industrial segments. In the past, these segments have been GE's "bread and butter", making up the majority of its earnings before GE started dabbling in financial engineering.
"We have the biggest backlog of new business in the company's history," Chief Executive Jeffrey Immelt told Barron's in response to the too-big-to-grow question. "We're in industries that are growing much faster than local economies. And we have the best exposure to emerging markets of any company in the world."
The above quote should be music to GE's investors ears. GE currently has about $223B in its order backlog, or about 1.5 years of revenues. This is an absolutely massive sum which should provide GE a tailwind for many quarters.
One particular item of note is GE's shift towards services for equipment. Software now accounts for $4B in annual revenues for GE. Purchasers of GE equipment, such as airlines as railroads, are using this software to reduce fuel expenses and optimize maintenance. Barron's noted that services contracts offer higher margins than manufacturing the equipment and provide a long-life income stream for GE, often lasting for decades.
Barron's also noted that several of GE's industrial segments have posted double-digit gains, such as oil and gas, aviation, and transportation. I highly recommend reading fellow SA contributor Clayton Rulli's great article regarding GE's oil and gas segment.
GE is seeing some of its industrial segments struggle, particular those related to electricity generation, such as turbines and generators. However, these struggles may be good news for other segments, as they have been caused mainly due to increases in energy efficiency and the sluggish European economy. Eventually, if and when Europe recovers, these segments should start seeing growth, as electricity demand rebounds.
Using forward estimates, Barron's notes that GE's value could reach $32 per share in two years. How did Barron's get to this valuation? Assuming 20% EPS growth to $2 per share and a 16X multiple, by 2015, Barron's notes that GE's shares could rise to $32, or about 30% higher from current prices.
GE Capital: A bank in disguise
However, GE trades at a discount to most growth-oriented industrial plays. I made this exact point in my previous article. The reason for this is obvious: GE Capital.
GE Capital currently accounts for about 30% of GE's revenues and even a larger chunk of income. However, as many savvy investors may note, financial earnings are not valued as much by the market -- just look at any of the large banks to see sub-10 PE multiples. In their article, Barron's notes that GE currently trades at a discount compared to Siemens (SI). Siemens, a massive German industrial stock with a very similar business portfolios and yield, has consistently traded at a premium to GE.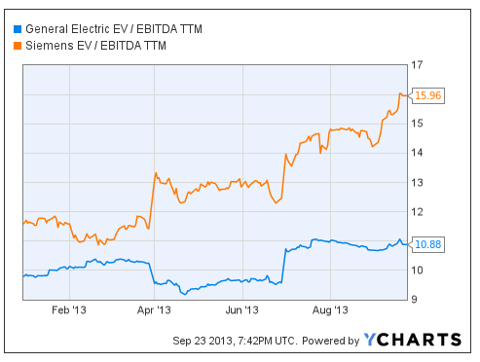 As noted above, GE does plan to downsize GE Capital. GE management's target is to reduce GE Capital assets to $300B from $350B by the end of next year. In addition, Barron's notes that GE is targeting GE Capital's contribution to earnings to drop to about 30% by 2015.
Conclusion
GE is making many smart moves. Along with its leaving retail finance, GE sold its stake in NBC earlier this year for $16.7B. The company has announced plans to return most of these proceeds to shareholders via buybacks and dividends.
Let's face it, conglomerates are typically places where value goes to die. GE needs to focus in on its core industrial segments. This way, the stock can finally achieve a proper valuation compared to peers. Yes, short-term, EPS may fall. However, earnings quality will improve, along with GE's valuation multiples.
Disclaimer: The opinions in this article are for informational purposes only and should not be construed as a recommendation to buy or sell the stocks mentioned. Please do your own due diligence before making any investment decision.
Disclosure: I have no positions in any stocks mentioned, but may initiate a long position in GE over the next 72 hours. I wrote this article myself, and it expresses my own opinions. I am not receiving compensation for it (other than from Seeking Alpha). I have no business relationship with any company whose stock is mentioned in this article.