When we think of the prescription anti-obesity market, the two most common drugs that come to mind these days are Vivus' (NASDAQ:VVUS) Qsymia and Arena Pharmaceuticals' (NASDAQ:ARNA) Belviq. These two drugs were approved by the FDA last year and were the first newly approved prescription weight loss solutions in over a decade. The equities were bought up with anticipation in 2012 and the term blockbuster was applied to each.
Vivus launched Qsymia last Fall, and Arena, with partner Eisai (OTCPK:ESALY), launched Belviq this past June. Qsymia started a modest direct to consumer (DTC) advertising campaign this past July, and Arena started an ad campaign of its own, mostly placement in magazines, in the past week. While the beginnings of such campaigns are indeed a positive note for each company, these current ads are hopefully simply a step to something better and more attractive to consumers down the road.
Meanwhile, Novo Nordisk (NYSE:NVO), with its diabetes medicine Victoza, has stepped into the anti-obesity game with a subtle yet effective message regarding a side effect of Victoza. Victoza, aside from offering benefits for diabetes, has a side effect of helping people lose weight. Victoza is not approved as a weight loss medicine, but is indeed being prescribed for that purpose. In particular, it is a selection doctors seem very willing to use in diabetic patients that also suffer from obesity.
Twice in the last week I have seen a compelling advertisement on television about Victoza. The company has a clever way of bringing up the side effect of weight loss, actually giving Victoza great exposure in the still maturing prescription anti-obesity space. It is widely known that many overweight people are high risk, or already have diabetes. Insurance coverage on Victoza is high because of this. Thus, while Victoza is at a disadvantage because weight-loss is still an off label use, it is at an advantage in the cost side of the equation. If you have not done so already, watch the Victoza advertisement and see the clever way in which weight loss is brought up.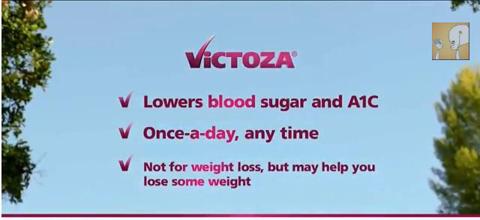 In the commercial the narrator brings up three bullet points. The last point is, "Victoza is not for weight loss, but it may help you lose some weight." This is smart advertising. Novo Nordisk is said to be in the process of seeking approvals to add weight loss to its label. It is an interesting development that the company that does not have FDA approval for weight loss currently has the best ad campaign on the subject.
If you are invested in Vivus or Qsymia, do not look at this as a major disappointment. The prescription anti-obesity space is bound to have several players. Orexigen (NASDAQ:OREX) and its marketing partner Takeda are in the midst of seeking approval for Contrave, and Zafgen has a drug called Beloranib with what appears great potential in testing. Instead, look at this as a peek at what will come to be in the months ahead. An informational ad in a magazine is just a start. It is not the end game, and frankly, we should not expect much traction from the early aspects of DTC ads. What we want to see are ads like that which Novo Nordisk has implemented for Victoza.
Investors in Arena and Vivus have had little to celebrate in the past several months. Both equities have suffered in the market, and both have recently been challenging 52-week lows. The prescription anti-obesity space still has many challenges, but also a lot of potential. The very fact that Novo Nordisk made a point to get the anti-obesity benefits of its diabetes drug into a commercial should speak volumes to longer-term holders in either Vivus or Arena. It should also be a shot in the arm on the potential of Orexigen investors.
In these equity challenged times, it is easy to become frustrated. It is easy to accept slow progress as something better than it is. What really needs to happen is a shift in expectation. Television ads will help, but insurance is a key point to watch for as well. Diabetes drugs enjoy wider coverage than do anti-obesity drugs. Over the next six months, we should see improved insurance coverage and better advertising exposure. The bigger ramp in sales is more likely a Q1 or Q2 event of 2014 rather than anything in the immediate future. In the immediate future, this equity will see short-term challenges tied to prescription sales.
Simply stated, as an investor, it is great to see the concept of prescription anti-obesity gaining exposure. Stay Tuned!
Disclosure: I am long ARNA. I wrote this article myself, and it expresses my own opinions. I am not receiving compensation for it (other than from Seeking Alpha). I have no business relationship with any company whose stock is mentioned in this article.
Additional disclosure: I have no position in Vivus, Novo Nordisk, Eisai, or Orexigen.