Earlier, I presented an analysis of ETF weighting strategies and the impacts on portfolio structure. In that article, I looked at large-cap equity ETFs weighted by market capitalization, equal positions, dividends, earnings and revenue. As we saw then, the weighting tactics had profound impacts on the structures of portfolios drawn from the same class of equities. In this second installment on the topic, I look at performance histories of variously weighted ETFs.
But before we look at performance, I want to expand the weighting tactics by considering one more category: fundamentals. As described earlier, market-capitalization weighting is the default mode. Equal weighting is rising in prominence, particularly for specialized ETFs. It was popularized, and remains prominent, in the funds offered by Guggenheim. Dividend- and earnings-weighted funds are offered by WisdomTree, and revenue weighting is the province of RevenueShares. Fundamental weighting is based on the Research Affiliates Fundamental Indexes (OTCPK:RAFI) which evaluate equities on the basis of dividends, book value, sales and cash flow. An RAFI-weighted fund tends to have reduced exposure to overvalued stocks, especially ones that have seen recent, unsustainable increases in P:E ratios. Investco Powershares sponsors a line of RAFI-weighted funds that includes international and domestic funds. The domestic lineup has core-, value- and growth-oriented, large-, mid- and small-cap funds.
For this historical comparison, I want to look at the most comparable sets of US equity funds. Each of the weighting categories includes large-, mid- and small-cap ETFs, so that's what I'll use here. I've selected 18 funds, 3 each from State Street SPDR market-capitalization weighted ETFs (SPY, MDY, SLY) Guggenheim equal-weighted ETFs (RSP, EWRM, EWRS), WisdomTree dividend-weighted (DTD, DON, DES) and earnings-weighted (EPS, EZM, EES), RevenueShares revenue-weighted (RWL, RWK, RWJ), and PowerShares RAFI-weighted (PXLC, PXMC, PXSC).
Weighting

MarketCap

Equal

Dividend

Earnings

Revenue

RAFI

Large Cap

Ticker

SPY

RSP

DTD

EPS

RWL

PXLC

Expense Ratio

0.01%

0.40%

0.28%

0.28%

0.49%

0.39%

AUM

$150B

$5B

$368M

$83M

$172M

$32M

Avg Daily Vol

125M

813K

26K

3.8K

28K

3.7K

Mid Cap

Ticker

MDY

EWRM

DON

EZM

RWK

PXMC

Expense Ratio

0.39%

0.42%

0.38%

0.38%

0.54%

0.39%

AUM

$14B

$70M

$789M

$330M

153M

$24M

Avg Daily Vol

2.3M

7.0K

74K

26.5K

15.2K

2.6K

Small Cap

Ticker

SLY

EWRS

DES

EES

RWJ

PXSC

Expense Ratio

0.20%

0.43%

0.38%

0.38%

0.54%

0.39%

AUM

$382M

$20M

$872M

$277M

$207M

$15M

Avg Daily Vol

15.3K

7.5K

93.5K

28.1K

20.3K

2.44K
Historical Price Performance
The charts below show 1 month, 1, 3, and 5 year price performance for each of the funds.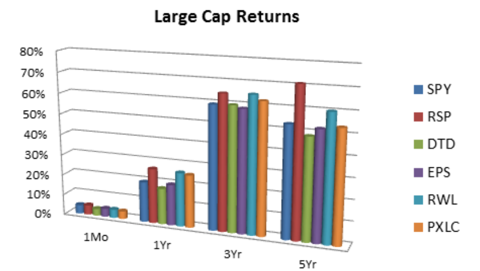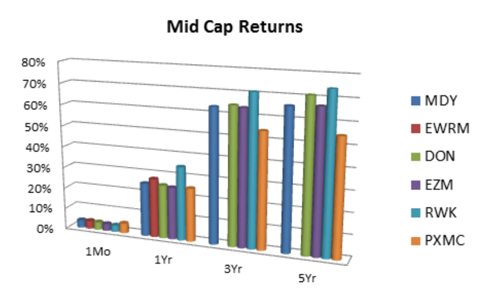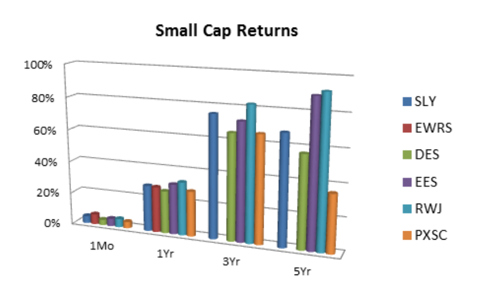 The Equal Weighted Mid and Small Cap Funds began operation at the beginning of December 2010, a couple of months short of 3 years, so there are no 3 and 5 year results. Nor do these charts account for dividends. To allow for these discrepancies, I add total return charts for each from the December 2010 inception of EWRM and EWRS.
Large Cap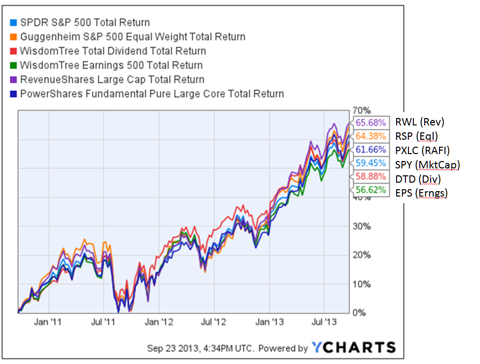 Mid Cap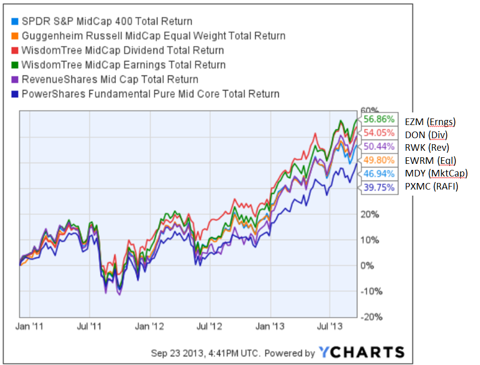 Volatility
Returns must be considered in the context of the potential risk associated with them. For the purposes of this article, I will consider volatility risk as indicated by standard deviation. The following charts illustrate 3 and 5 year returns plotted against the 3 and 5 year standard deviation (where data is available).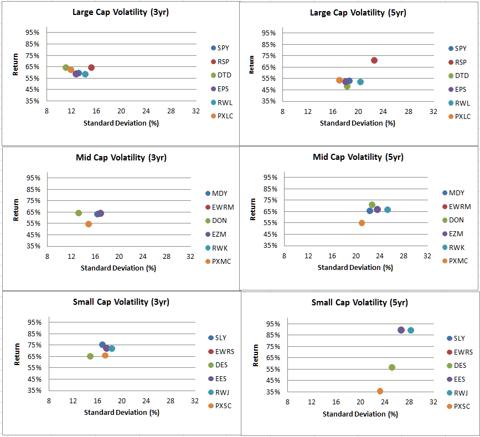 Discussion of Results
Perhaps not surprisingly, no overall, generalizable pattern emerges. Looking at the large-cap funds first, it seems clear that the advantage in price return goes to equal-weighted RSP, followed closely by revenue-weighted RWL. Market-cap-weighted SPY falls about in the middle of the pack. The fundamental-weighted PXLC performed strongly for up to 3 years. It lags a bit coming out of the Great Recession which negatively impacts its 5-year return relative to equal-weighted RSP especially. Dividend-weighted DTD tends to lag the other funds at 1 and 5 years. Even when adding in dividend returns, it falls next to last at 3 years.
Equal weighting's apparent advantage in the large-cap sector does not carry over to the smaller cap classes, at least to the extent that is apparent from the 34 months of operation for the mid- and small-cap funds. Here, the equal-weighted funds run with the pack (mid-caps) or perform relatively poorly (small caps).
The fundamental-weighted funds performed especially poorly relative to other weighting styles in the smaller cap-size funds. The RAFI-indexed funds (PXMC and PXMS) turned in a last place performance for 1, 3 and 5 year time scales on a total return basis, although when we move the reference to 34 months to include the dividend-weighted funds, small cap PXSC does move ahead of EWRS.
Interestingly, the dividend-weighted mid-cap fund DON does show well in its pool, quite unlike the situation in the large and small cap sectors where dividend weighting adds little or no advantage. Dividend weighting does, however, stand out in the risk-return charts. As one might expect, standard deviations of the dividend-weighted funds tend toward to the low end of the scale. Contrast this with the sector-leading returns from equal-weighted large-cap RSP and note that its price performance is accompanied by class-leading volatility as well. Revenue weighting is also consistently associated with higher volatility scores. In this case, the funds do not appear to deliver excess returns in line with the increase in volatility.
Finally, there are the earnings-weighted funds. Returns here are relatively strong, particularly in the smaller cap sizes. But, again, the funds demonstrate high volatility, arguably higher than might be justified by the enhanced returns.
Overall, market-cap weighting's performances across the cap-size and time-scale spectrums do seem to validate its position as the default style. The market-cap weighted fund produces consistently mid-pack returns along with consistently mid-pack volatility scores.
Disclosure: I am long RWK, RWJ. I wrote this article myself, and it expresses my own opinions. I am not receiving compensation for it (other than from Seeking Alpha). I have no business relationship with any company whose stock is mentioned in this article.