William Lyon Homes (NYSE:WLH) went public in May of this year, raising ~$200M with shares trading at just over $27 per share on the day of the IPO. Of all the homebuilders that have been involved in IPOs this year, WLH offers investors the opportunity to invest in a company highly levered to the housing markets on the west coast that are seeing the largest rebound in price and pace. There are other small-cap public builders that are focused on the West Coast, but few have the size and land holdings seen at WLH. The company controls over 13,000 lots, which represents enough land for the company to deliver over 10 years' worth of home closings and revenue without ever purchasing another piece of dirt. WLH most likely has the most fairly valued land in the entire homebuilding universe, considering that the company recognized over $120M of inventory write-downs as part of a pre-packaged debt restructuring during 2012. This fairly valued inventory will manifest itself in significant margin expansion, which is already appearing in the FY2013 financials and is set to grow substantially heading into FY2014. What is most exciting about this investment opportunity is that the company clearly controls highly sought after and desirable land positions. The company has raised prices significantly over the course of 2013, is rapidly expanding its community count, and will take analysts by surprise in the coming quarters and should absolutely demolish FY2014 analyst expectations leading to material upside for shares of 25-30% in the near term.
WLH Could Prove There Is Still Gold In Them Hills
The opportunity from WLH is a rather simple formula consisting of cheap land in highly sought after locations. In the offering prospectus provided as part of the IPO process, WLH disclosed owning almost 11,000 lots across over 50 communities. The company controlled over 2,000 additional lots across more than 10 additional communities. What investors need to focus on most from the above information, is how many communities WLH is currently selling out of and how many communities it will be selling out of in the near future. The company had ~50 communities as of the end of Q1 2013 that had more than 20 homes left to sell, and thus will contribute to top and bottom line growth in future quarters.
Even more importantly, is the facts that support how desirable these communities are as evidenced by the pricing power the company is currently realizing. Matt Zaist, President and COO of WLH, offered the following commentary on the Q2 2013 earnings call:
Our average sales price of homes in backlog at June 30, 2013, was approximately $405,000, which is 16% higher than the average sales price of homes that we closed during the recent second quarter.
The take-away from the above comment is that during a period of time when many pundits were proclaiming the end of the housing recovery, WLH saw the average price of homes it will recognize revenue from in the future increase by 16% above the level of homes that closed during the current quarter.
Of course, the bearish argument is that those homes in backlog will never close as higher interest rates will force those homeowners to cancel their contracts. Here again, we turn to Matt Zaist and his discussion on the conference call with regards to how interest rates are impacting those buyers who have already signed contracts and those who are continuing to sign contracts:
First, with respect to our backlog we've seen minimal impact to date. Our cancellation rate for the second quarter was 17%, but broken out by month, it was 19% in April, 14% in May, and 17% in June. As you can see, our highest cancellation rate actually occurred in April, which was the month with the lowest mortgage rates.

Drilling down even more in detail, our preferred lending partner who captures over 75% of our homebuyer mortgage volume, has indicated to us that less than 1% of the borrowers of our homes have had qualification issues because of the recent rise in interest rates.

Now with respect to orders, we continue to see very healthy demand. Our sales pace in the second quarter was 1.2 homes per community per week, and so far it is slightly above that 1.0 sales per community per week for the third quarter.
It is safe to say that the rise in mortgage rates is certainly impacting the overall housing market. However, with an average price point approaching over $400,000 per home, WLH is not selling houses to entry level buyers who are severely impacted by an uptick in interest rates. Additionally, the sales pace moving into the seasonally slower third quarter had decreased only slightly over the seasonally strong second quarter.
The gold in the hills analogy was made to reference how important location is. The first rule in housing and land development is location. The second rule is location. The third rule is also location. You get the point. As long as you provide a commodity that is in scarce supply, you maintain pricing power. Company CEO Bill Lyon had the following comment when asked about why sales paces in Phoenix were seemingly down on a YoY basis:
So we have been very disciplined quarter-over-quarter and what I had mentioned earlier, which is looking at pricing on each and every project that we have open on a weekly basis and making price adjustments to get that rate of sales down to about one per week per community across the company.
The company's response is that sales are down because they were selling to many homes, and thus raised prices, in order to slow down the pace of sales. Ingrain this concept into your mind. Irreplaceable assets allow for outsized pricing power for the person who owns that asset, which in this case is WLH. That is why there is gold in the hills.
Comparing WLH To Other Homebuilders
A very succinct way of providing perspective as to how WLH stacks up against other homebuilders is to compare them on certain key metrics. Hovnanian (NYSE:HOV) recently presented at an investor conference during September 2013 and was kind enough to provide some slides that showed the majority of the public homebuilding universe, and how the company stacked up against the other builders. Borrowing from those slides, we can also see how WLH stacks up against the other homebuilders.
The following slide shows the year's supply of owned land for each homebuilder: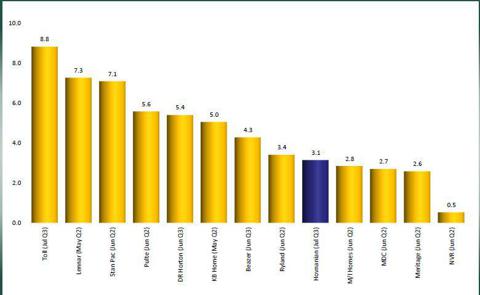 As shown in the table above, the homebuilder with the longest supply of owned land has enough inventory for almost 9 years of closings based on the total closings over the trailing twelve months. WLH, with over 10,500 lots owned as of the end of Q2 2013, owns enough land to support closings over the next 10 years. This is based off the projected ~1,000 unit closing level it will reach in 2014.
The next graphic shows the total new home orders per community, during the most recently reported quarter, for each builder shown below: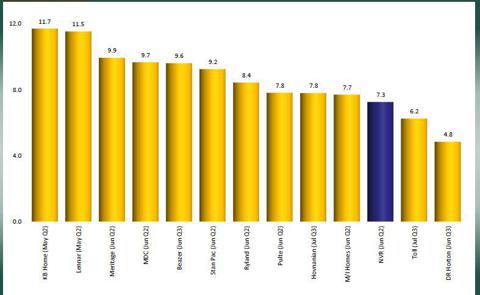 Here again, you see that the leading homebuilder saw almost 12 orders per community during its most recent quarter. WLH saw 360 net new home orders across 24 communities during Q2 2013. This would equate to 15 orders per community, which is far and away better than any other homebuilder shown in the graphic above. In addition, WLH management noted multiple times on the Q2 2013 earnings call that the company is targeting 1 sale a week per community, or the equivalent of 12 sales per quarter for each community. This would continue to lead the pack and allow the company to drive sales down to its desired level through additional price increases.
Finally, this last graphic shows adjusted gross margin % and YoY expansion of gross margin % for each builder shown: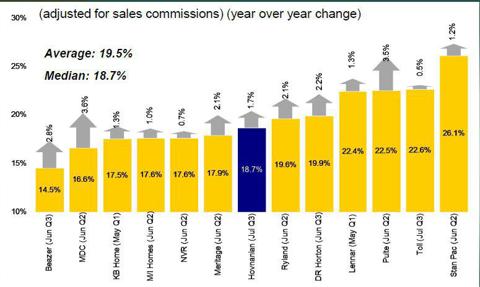 Here, you see that the highest adjusted gross margin is just above 26% while the largest YoY expansion is about 350bps. During Q2 2013, WLH realized an adjusted gross margin of 27%, which was a 450bps expansion over the prior year. Once again, WLH would have been the leader if it had been included as a comparable builder in the above graphic.
I think it is incredibly telling that WLH, less than four months into its tenure as a public homebuilder, is operating on a number of metrics well above any other established national homebuilder. Take advantage of this information before WLH starts showing up on these types of presentations and investors gravitate towards the best in class.
The Real Opportunity Will Be An Outsized Earnings Beat In 2014
I can't predict exactly when the market will realize that housing is continuing to recover, and that companies such as WLH will be relying, not on selling more homes from the same amount of communities, but growing the top and bottom line by expanding the number of active communities.
As an example, WLH ended Q2 2013 with 24 active communities. By the time that the company held its earnings call for the quarter, it had opened an additional four communities. The company offered guidance that it would open an additional 15 communities by the end of the year. This would leave the company selling from 43 active communities by the end of FY 2013.
Considering the growth in community count that the company has guided for by the end of FY 2013, the following represents my estimate for FY 2014 revenue and EPS: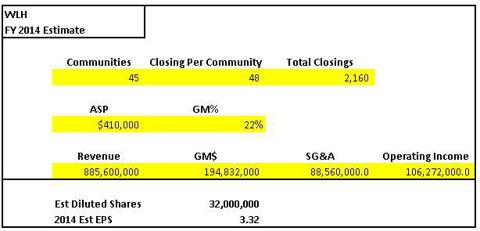 The assumptions are for the most part, extremely conservative as noted below:
Communities - assuming minimal community expansion from the level the company will reach by the end of FY 2013 (43 in 2013).
Closings Per Community - In line with the company guidance of desiring 1 sale per community per week. Conservative when considering this allows for only 48 weeks in a year, and is equal to 12 sales per quarter (per community), whereas the company generated 15 in the most recent quarter.
ASP - The ASP currently in backlog is already at ~$400,000. The above assumption models only an additional 2.5% increase over the course of 2014.
GM% - The company saw 450bps of expansion YoY during Q2 2013. The GM% expansion assumed will most likely be entirely realized by the end of 2013 from pricing actions already taken.
SG&A - Assuming SG&A % at 10% of revenue, slightly lower than current levels and reflecting operating leverage from an increase in revenue.
All things considered, these estimates feel extremely conservative. Even with my professed conservatism, the consensus estimate for FY 2014 from the analyst community is for $866M in revenue and only $2.21 in EPS. I am projecting EPS that is almost 50% above what the analyst community is currently anticipating.
A Long-Term Investment Opportunity
With a market capitalization of just over $630M, WLH is a true small-cap opportunity. The company is extremely well capitalized, and owing to its long land supply, will benefit from a slow grind higher from the housing market without having to pay exorbitant prices to reload its land pipeline. With shares trading at just over $20 currently, WLH trades for only ~6x my estimate for FY 2013 earnings. This compares to the homebuilding group which on average trades for over 8x the FY 2014 earnings estimate for the group. In the near term, I see between 25-30% upside for WLH as investors begin to discover this company. Over the long term, WLH has potentially more opportunity to capitalize on the housing market recovery than any other homebuilder, and its current operating metrics prove that the company is ready for the opportunity.
Disclosure: I have no positions in any stocks mentioned, and no plans to initiate any positions within the next 72 hours. I wrote this article myself, and it expresses my own opinions. I am not receiving compensation for it (other than from Seeking Alpha). I have no business relationship with any company whose stock is mentioned in this article.