LSB Industries (NYSE:LXU) has recently gone through many hardships: two plants went offline due to an explosion and a pipe rupture, the capacity constraints caused by this have led to a reduction in revenue and EPS for 2013, and the fact that the company does not have an adequate capacity to produce enough ammonia for operations, so they must buy ammonia for 3x the cost of what the company can produce it for by themselves. All of these events have made a material impact on EPS. But, the good news for investors is that these company-specific problems are now behind them and the company has several tailwinds going forward that will boost EPS significantly including:
The completion of financing necessary to grow ammonia capacity, which will save the company $10MM in costs annually and allow the company to grow revenue by $90-100MM annually
The plants that were damaged are now back online, which will boost revenue in 2014
The company will receive $75-$100MM in insurance payments by year-end
Both of the company's businesses have seen recent growth, or management has signaled that growth is imminent
Because of these tailwinds, the company could grow EPS by 250% over the next two years. Also, the company could spin-off its climate control business to unlock shareholder value. Under both of these scenarios, the company would be worth $50 per share, providing investors 50% upside over the next two years.
Financing in Place for Ammonia Expansion
The company recently secured $425MM in financing that will have two uses: 1) to pay off existing debt and 2) to expand the company's El Dorado plant in order to increase ammonia capacity.
Why increase ammonia capacity? First, the company does not have enough ammonia capacity for its own operations currently, which means the company must cover the difference by buying it on the open market. Because of this, they pay significantly more for ammonia than they would if they produced the full amount on their own: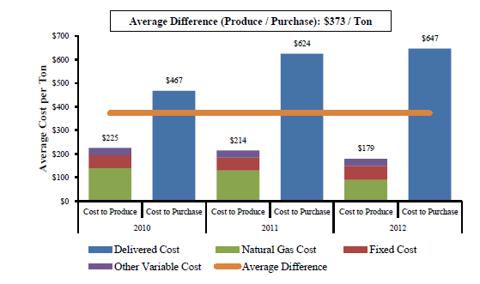 Source: LXU Investor Presentation
The company will save about $10MM in costs (about $.50 per share) once this new capacity comes online in 2015. Second, this will provide the company with about 150,000 tons of excess capacity which they can sell to the market, which will increase revenues by $90-$100MM annually after the expansion is complete.
The company has stated that they have stress-tested this expansion and the project is EPS accretive under all scenarios, which reduces investor concerns about the company taking on debt to finance the project.
Plant Capacity Now Back Online
The company's EPS is at a depressed level this year due to capacity falling offline at two plants:
El Dorado Facility-On May 15, 2012, the El Dorado Facility suffered significant damage when a reactor in its 98% strength nitric acid plant exploded. As a result, the plant was severely damaged and several other plants and infrastructure within the El Dorado Facility sustained various degrees of damage.
Cherokee Facility-On November 13, 2012, a pipe ruptured within the Cherokee Facility causing damage primarily to the heat exchanger portion of its ammonia plant. No serious injuries or environmental impact resulted from the pipe rupture. As a result of the damage, the Cherokee Facility could only produce, on a limited basis, nitric acid and AN solution from purchased ammonia until the repairs were completed.
Repairs at both facilities were completed half way through the second quarter of 2013 (except for the piece at El Dorado that will be part of the 2015 expansion), and the capacity that was lost has since come back online. These events caused the company to miss out on normal revenue opportunities during Q1 and a part of Q2 2013. The company has stated that all the revenue missed will return next year, meaning that the company should see an additional $60-$70MM in revenues in 2014 as compared to 2013 just from the capacity that was offline during the beginning of this year. These events were major headwinds to revenue and EPS during 2013, but they will be a major tailwinds during 2014.
$4-5 a share in Insurance Proceeds coming in by Year-End
The company is set to receive insurance payments for business disruption and repairs attributable to the plant explosions/pipe ruptures in 2012. The company has received $65MM in payments to date, but expects to get another $75-100MM by the end of 2013. Considering the company has about 20MM shares outstanding, this comes out to about $4-5 in cash the company will receive by year-end. This payment could be a nice boost for the stock in the short term.
Climate Control Business (35% of Revenue) Reaches an Inflection Point
The company manages two segments: Chemicals and Climate Control. The climate control business manufactures and sells a broad range of heating, ventilation and air conditioning products in the niche markets of geothermal and water source heat pumps, hydronic fan coils, large custom air handlers, modular geothermal and other chillers, and other related products used to control the environment in commercial/institutional and residential new building construction, renovation of existing buildings and replacement of existing systems. 80% of the revenues from this business come from large commercial construction. Here's a list of recent projects: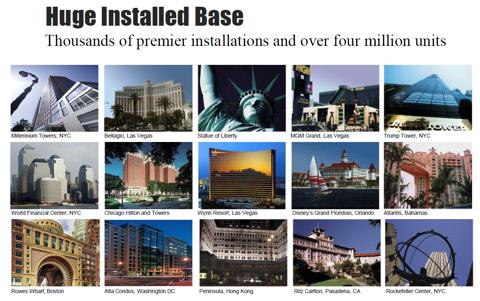 The other 20% of the business comes from residential construction, which has seen an uptick in 2013.
Furthermore, the climate control segment as a standalone business would trade at a much higher multiple than the cyclical chemical business-driven LXU is currently trading at. Management has noted several times in the past that there are not many synergies between the chemical and climate control businesses, and that they could look to sell the climate control business at some point. Let's take a look at the climate control business' competitor multiples to get a sense of valuation on that business:
| | | |
| --- | --- | --- |
| | EV/Sales | P/E |
| SPW | 1.0x | 15.0x |
| SXI | 1.0x | 13.0x |
| WTS | 1.4x | 19.5x |
| NTK | 1.2x | N/A |
| | | |
| Average | 1.2x | 16.0x |
Consider the business will do over $300MM in revenue and over $1.50 per share in operating income in 2014, using the average of these competitor forward multiples, we get about $20 per share in value on the climate control business as a standalone entity. Considering LXU trades at 9.5x earnings, a spin-off of the climate business would be instantly accretive to shareholder value.
Chemical Business (65% of Revenue) Seeing Strength
The company's main business is its chemical business. The chemical business manufactures and sells nitrogen-based chemical products.
On the company's recent conference call, management noted that both UAM production and Cherokee Plant production for the balance of 2013 are sold out. What's more important from the management commentary is that management thinks that they have reached the through in this business (from a combination of capacity falling offline and pricing), and now with the plant capacity coming back online after the repairs, we should see growth in the business going forward.
Outlook
Looking at estimates for 2014, we see a wide range for EPS: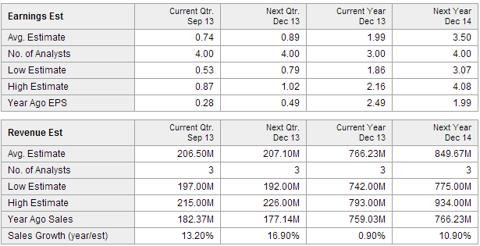 Source: http://finance.yahoo.com/q/ae?s=LXU+Analyst+Estimates
Usually in situations where analysts diverge, there is an opportunity to make money by doing your own analysis. Revenue estimates of $850MM (an $85MM increase over 2013) for 2014 are very conservative. Management has already stated that without doing anything, they will get $60-70MM in revenue back in 2014 just from getting all of the facilities back online. So we are at $825-$835MM without any growth in the business. Considering the climate control business has been growing and recently reached an inflection point in an uptick throughout commercial and residential construction, I believe the $850MM estimate is very conservative. I am assuming revenue in this business grows about $60MM in 2014. With no growth in chemicals, we get a revenue range of $885-895MM and an EPS estimate of $3.70 (both of which beat the consensus estimates).
The real upside in LXU occurs once the expansion of the El Dorado plant is completed in 2015 and the company has 180,000 more tons of ammonia capacity than is currently online. The company will be able to save about $10MM in costs ($.50/share) associated to not having to purchase ammonia on the open market, and will be able to grow revenues by $90-$100MM (through selling excess capacity) just through this expansion. Including conservative organic growth over the next two years, I get a full-year 2016 estimate of $5.50 per share (over 250% EPS growth from the depressed levels of 2013).
Valuation
Considering the cyclicality of the chemical business, companies like LXU usually trade at 8-10x forward earnings. This makes sense considering LXU trades at 9.5x forward estimates (which we have already shown are very conservative.) If guidance for 2014 comes more in line with our $3.70 target, the company should trade at the high end of that range in the near term, cause a short-term price target of $37 based on the company initiating 2014 guidance closer to our EPS target.
The bigger upside in LXU occurs in 2015 as capacity comes online from the El Dorado plant expansion. As we get closer to the capacity coming online, investors will gain more confidence in the growth story, and the company will trade at 8-10x our $5.50 target, or $44-$55. I am using the mid-range of valuation for my $50 price target two years out (almost 50% upside from current price and annual CAGR of 22% for investors).
What is the downside? Let's assume the company gets no organic growth going forward and only benefits from capacity coming back online and the cost savings only (no revenue expansion) from the El Dorado expansion in 2015. This gets us to about $4.00 per share in earnings and a price target of $32 (based on the low end multiple, 8.0x, on the $4 target).
On a sum-of-the parts-basis, we can assume going forward that the chemical business can make $3.00 per share (including the interest expense which we will completely put on this business) as a standalone entity. 10.0x these run-rate earnings gets us a value of $30 for the chemical business. We then add the $20 per share in value from the climate control business (valuation was described above), which gets us a total company value of $50. Again, this valuation provides more support to the idea that the company can be worth $50 in two years.
Risks
Risks for the company include:
Pricing in the chemicals business is very volatile
The company could face similar business disruptions in the future as they faced in 2013
Future legislative or regulatory changes impacting the Chemical Business may affect operations
Six customers in the chemical business accounted for approximately 53% of the segment's net sales - the company is dependent on a small amount of customers
The company is exposed to raw material costs
Catalysts
Catalysts for the company include:
Spin-off of the climate control business
Receipt of the insurance payment
Progress on facility expansion
Continued strength in the climate control business
Conclusion
LXU is a company that has been an underperformer this year due to company-specific disruptions at their El Dorado and Cherokee plants. But, the company has made it through the worst of these problems and now that the repairs have been completed and capacity is back online, LXU has many tailwinds on the horizon, including the ammonia expansion at El Dorado in 2015. The company has the ability to increase EPS by 250% going forward, or could instead spin-off its climate control business to unlock shareholder value. Either way, the stock should be worth $50 two years from now. I am encouraging investors to take a position in the company now.
Disclosure: I have no positions in any stocks mentioned, and no plans to initiate any positions within the next 72 hours. I wrote this article myself, and it expresses my own opinions. I am not receiving compensation for it (other than from Seeking Alpha). I have no business relationship with any company whose stock is mentioned in this article.