We are all familiar by now with the incredible move in shares of NetFlix (NASDAQ:NFLX) over the last several months. Since we last looked at NFLX in our article titled, "Netflix Content Key To Stock Moving To $300," shares have gained $120 per share and surpassed the $300 target we assigned. Investors have been rewarded handsomely over a very short period of time. In this article we are going to dig into another media play that could see a similarly large return for investors in the coming 18 months. That stock is Starz (NASDAQ:STRZA). Starz is the last independent premium pay channel and media content company. The stock is not getting the respect it should for both its original content, and its earnings power, both now and in the future. This lack of interest by Wall Street however is a great benefit to investors looking to get into the media content space at a low valuation.
Background:
Starz is a leading provider of premium subscription video programming through the flagship STARZ® and ENCORE® pay TV network. As of June 30, 2013, STARZ and ENCORE serve a combined 56.9 million subscribers, including 21.8 million at STARZ and 35.1 million at ENCORE, making them the largest pair of premium flagship channels in the U.S. Back in January Liberty Media Corporation (LMCA) spun off Starz into a separate company. This move essentially put a big "for sale" sign on the company. John Malone, Liberty's chief, believes Starz will do better with a deep-pocketed Hollywood parent than under Liberty's umbrella. "I think everyone can use a big brother," he has said of the Starz spinoff.
The current CEO of Starz is Christopher Albrecht. He served as the CEO of HBO from 2002 to 2007. He was also the Head of HBO's original programming before that. This man helped to lead HBO through some of its greatest times and his hand at the helm at Starz should give investors in Starz confidence. He helped to guide HBO from a content user to a content creator, very similar to the path Starz is undertaking now. When it comes to content Starz has proven that it has the expertise and know-how to win. When Starz appeared at the Television Critics Association press tour, CEO Chris Albrecht said: "For 2014, our goal is to air more than 50 hours of originals, and I think we're on track to do that."
Content is king and the place to be in media, especially as more and more forms of streaming media come along. The main thesis for our NFLX article earlier this year was an emphasis on content for the company going forward. We believe a similar thesis exists for Starz but at a much more compelling valuation. The power of content creation is playing out every month with large content distributors such as Time Warner Cable (TWC) fighting against content creators such as CBS Corporation (NYSE:CBS) for higher pricing for content. In the Time Warner battle against CBS the content creator, CBS, won. These content pricing battles are becoming more commonplace and highlight the power of those than create content over those that pipe it. Such an environment is perfect for a company such as Starz.
Earnings:
The most recent earnings report saw Starz report revenue up 29% to $517.4, easily beating the analyst expectations of $406.8m. Earnings did fall 7% to $63.7m, a direct result of the costs associated with creating original content. Even with these numbers Starz only trades 13 times earnings. In the most recent quarter the company saw its subscriber numbers increase 5% from the previous year. Since spinning off from Liberty Media earlier in the year, Starz has repurchased 4.2% of its outstanding shares. As of the most recent quarter there were approximately 117 million shares outstanding giving Starz a $3.1 billion market cap. In the most recent quarter the company repurchased 4.2 million shares.
Starz is a cash-flow machine. As you can see from the cash flow statement below, the company generated $141m in positive operating cash flow in the first six months of the year. The cash flow statement is a little confusing this year due to the spinoff from Liberty and the cash and debt maneuverings that John Malone did to reduce tax expenses. At almost $300m a year in positive cash flow Starz is only trading 10 times this number. This compares to NFLX that trades at a ridiculous 301 times cash flow!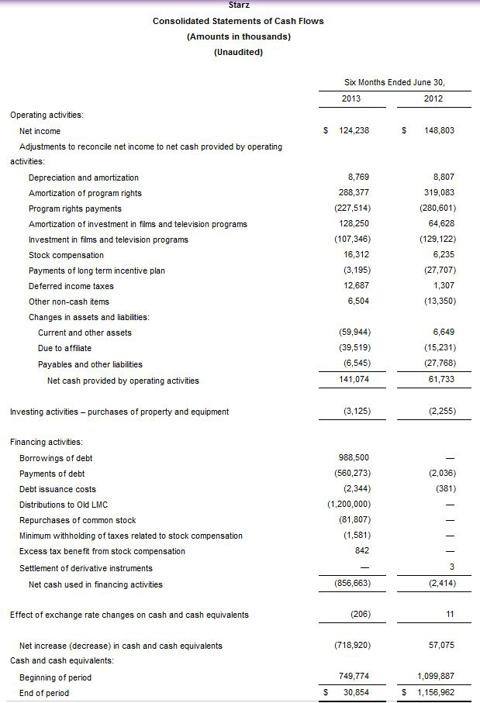 Starz Vs. NetFlix:
Below is a chart comparing some key metrics of Netflix with Starz. They are rather eye opening and a strong argument that Starz is an excellent value play in the content sector.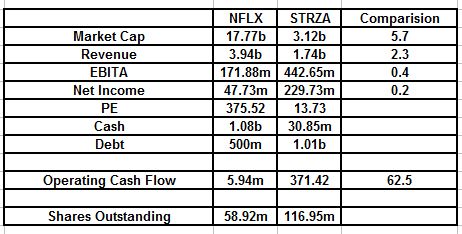 Netflix is now trading with a market cap almost 6 times that of Starz at $17.7b versus $3.1b. If we add in their respective debt the multiple is still almost 5 times. When it comes to net income Starz simply leaves Netflix in the dust with $229m in net income versus $47.7m. Operating cash flow is another eye-opening number with Neftflix only posting $5.9m and Starz $371m. Simply based on an EBITA and cash flow standpoint the conclusion is clear that Starz is trading at a significant discount to what we believe is now its closest peer, Netflix.
Enterprise Value:
We have looked at many metrics for Starz and one very simple and commonly used one is Enterprise Value. When we think of enterprise value we look at it as a theoretical takeover price. For this metric we are going to look at STRZA, NFLX plus another content company, AMC Networks Inc, (NASDAQ:AMCX). AMCX, other than NFLX, is the closest publicly traded content media company that is still independent. Below is a comparison of all three companies' enterprise value and the price to sales multiple each carries.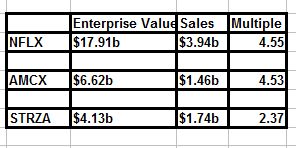 NFLX enterprise value is 4.55 times its revenue. AMCX also trades at a 4.53 multiple to its sales. When we look at STRZA it only trades at an enterprise value of 2.37 times sales, almost 50% less. If we assign a similar 4.5 times sales multiple to STRZA it would trade with an enterprise value of $7.83 billion. This would give STRZA a per share price of $66.82, 248% higher. Using this simple financial comparison highlights the extreme undervaluation of STRZA when compared to other "content" media companies.
The next metric we are going to look at is, in our opinion, not as important for growing stocks but one you hear a lot about, PE. AMCX trades with a PE of 19.59. NFLX, which is the momentum driven stock of the content media sector, trades with a trailing PE of 390.82. STRZA trades with a PE of 13.91, just above the historic S&P 500 baseline PE you hear talked about all the time in the business media. Again, using yet another simple financial metric we see that STRZA trades at a substantial discount to its peers.
The very last financial metric we are going to look at for a peer comparison is revenue growth. This is the usual metric Wall Street uses to justify extreme PE ratios. Based on the last analysis we did it would make sense that NFLX has the largest revenue growth, followed by AMCX. The chart below will surprise.

As you can see STRZA is the revenue growth leader over the last two quarters, growing by an impressive 23%. NLFX, which has seen its stock price double over the last quarter, has grown by a paltry 4%. AMCX, a company trading with a enterprise value almost double that of STRZA, showed a 1% decrease in revenue. Yet again, STRZA in a straight up comparison is the clear leader.
Content is king in the media sector right now. With NFLX dominating the headlines and garnering the attention of the high beta investors, stocks like STRZA sit with extremely undervalued market caps. STRZA is low hanging fruit for investors seeking substantial upside in a red hot sector. By all financial metrics, STRZA is trading at a 50% discount or more to comparable companies. The stock market is not always efficient and when it misses value plays such as STRZA, such misses can prove very advantageous to investors. Based on its peers we believe STRZA offers a compelling investment for the next 12 to 18 months. That is if it is not bought out as Liberty Media CEO John Malone believes could and should happen.
Disclosure: I am long STRZA. I wrote this article myself, and it expresses my own opinions. I am not receiving compensation for it (other than from Seeking Alpha). I have no business relationship with any company whose stock is mentioned in this article.