Navistar (NAV), known for its design, engineering, manufacturing, marketing, and services of trucks and engines, has seen really tough times in the past. In the last three years the company experienced a major setback due to the rejection of its engine, which didn't comply with the U.S. emission standards.
It has now come up with various strategies to regain its lost market share. In the third quarter, it announced the continuation of its turnaround strategy, which is working effectively till date. Additionally, its truck segment, and engine segment, which together contributed nearly 91% of its total revenue, has started receiving orders with impressive numbers that will convert into retail numbers in the coming quarters. Its alliance with Cummins (CMI) provides us more confidence regarding improvement of its market share in the U.S. bus industry.
Alongside, with declining losses and effective strategies, we expect Navistar's stock to continue the present growth streak, despite already posting 66.5% growth on the year-to-date basis. With all these positive aspects, we feel bullish regarding the stock's future performance. Based on the industry's stable performance expected in the coming years, we can anticipate overall growth for Navistar, in terms of business and stock performance, throughout this year and in 2014.
Turnaround Strategy - a cleaning tool


Navistar has been facing losses over the last 13 quarters. Therefore, it decided 'controlling costs' would be rather appropriate, as it is difficult to change statements to the positive side suddenly. Henceforth, Navistar announced a turnaround strategy in order to reduce costs and upright its business. This isn't something new for the company; in August 2012 it laid off over 250 employees. This September, a spokesperson announced plans to lay off a "few hundred" employees. Additionally, it will remove about 140 contractors. The company expects this to provide $50 million to $60 million in annual savings starting in fiscal year 2014.
Overall, Navistar was aiming at reducing its SG&A expense by $200 million from prior projected $175 million, as a year-over-year savings in this fiscal year. Based on the recent quarter results, it has already reached $236 million year-to-date. This shows that Navistar is focused on cost improvement, indicated that the company's management is improving. Still, the question remains whether it is appropriate to continue since there is a high risk of a negative effect on the company's goodwill.
Laborers add an additional burden in terms of cost, as the company is facing quality issues since 2010. Through this, the company will be able to improve its quality standards, by removing the non-performing labors, and then maybe after accomplishing cost effectiveness, it can hire the required skilled labors. Right now, it's important for Navistar to work in a cost-effective manner. Providing better service and focusing on manufacturing better quality products should be the primary aim in order to revive from the past 3-year downfall. The plan's success is showing in the third-quarter results, which displayed year-over-year cost savings of $50 million and will aid the EPS of fiscal year 2013 by $0.62.
These decisions will bring limited standstills, but in the long-run it won't have major negative effects. Based on the recent data on cost savings by Navistar, we expect it to continue focusing on improving the fixed cost, reduce spending on product development, and further decline SG&A expenses in the coming fiscal year.
Class 8 pushing the truck segment

In its third-quarter results, the truck segment posted revenue of $1.92 billion, which was a 26% rise quarter over quarter. What raises eyebrows here, is that on its past fiscal year's third quarter operating losses were $58 million, which is higher than the previous year quarter's $26 million.
One of the major reasons for this setback in its truck segment was the social protests for free public transportation in Brazil during June and July this year. Due to this event, the majority of the country's economic activities were at a standstill.
The reason why we find this a concerning issue is that Brazil is considered one of the major markets for Navistar's truck business, and it expanded its operations in the country to a production capacity of over 5,000 vehicles every year. It is capable of extending this expansion if the company experiences a rise in demand in the future. Going forward we expect the business from this country to normalize from the present quarter onwards.
Coming on to its Class 8 business, order receipts increased 20% in the third quarter this year after posting a 12% growth in the order receipts in the second quarter in the U.S. This reflects growing customer acceptance. Additionally, these figures display the increasing retail sales numbers, which we expect in the coming quarters. When compared to the whole U.S. Class 8 industry, Navistar performed really well. In the third quarter of this year, the orders in the industry were actually 8% lower than the previous quarter. This provides a lot of confidence to us regarding the company's goal of achieving 18% market share in this industry, by the coming fiscal year.
Trick to get back into the medium-duty vehicle business
Regarding its medium-duty trucks, Navistar hasn't been able to develop an engine that is technically and ecologically efficient. Therefore, the company partnered with Cummins, an engine manufacturing, distributing, and Service Company, to provide its ISB 6.7 liter engine for Navistar's International DuraStar and IC Bus CE Series vehicles. It has started the production of this combination, and the ready-to-ship scenario will start from this December onwards. We believe, this will provide a good push to its truck segment sales.
Moving on to the bus industry, almost every company in this industry provides ISB engines in their buses. Through this deal, Navistar will also be able to grow its bus market share from the present rolling 12-month retail share of nearly 38%. The introduction of this engine in its vehicle will allow the company to attract a new set of customers.
Further analyzing this deal, we have found three major reasons Navistar made a deal with its competitor, which will also provide a boost to Cummins' engine numbers. Firstly, this will help Navistar quickly be back in business and grow its market at a competitive pace with medium duty SCR vehicles. Secondly, the ISB engine of Cummins is a proven technology, which is similar to the present ProStar and the ISX standards, also meaning that the quality issues Navistar faced will be behind it. Thirdly, this will allow Navistar time to create its own engine, which it can later use in its vehicles instead of Cummins' engine.
We are also bullish on Cummins. Read: Cummins: Will This Bull Run Continue?
Improving engine segment
In April this year, Navistar received its 13-liter Maxxforce engine certified from the U.S. EPA Exhaust Standard. This has ended its three long-year period of non-eligible engine manufacturing, which dampened its credibility and its market share. Since then, the company has started shipping engine orders to its customers. As per the recent third quarter results, the company has achieved over 4,500 orders for this engine, which is a very good sign for the engine segment's future outlook. We expect this progress to boost Navistar's overall engine production throughout this year.
Recently, the company booked over 10,000 orders for its 15-liter engine, as per the announcement made in the second week of August this year. It had already received 5,800 orders during first half of June, with 3,500 orders manufactured in the second quarter itself. Most of these orders came from the U.S. industry's largest for-hire and leasing fleet companies like Knight Transportation (KNX), Penske Automotive (PAG), Ryder System (R), and Swift Transportation (SWFT). This ordering trend will increase the segment's total sales.
Overall, this shows a lot of improvement from the company's second largest segment in terms of revenue generation. Though it recorded a loss of $138 million, higher than $108 million compared to its year-over-year quarter, but there were many reasons attached to this negative result. Firstly, Navistar was in a transitional phase during this quarter. It launched its 13-liter engine, and worked to improve the others. It even had to bare $107 million in pre-existing warranties and $12 million in non-conformance penalties. Still, with the growing demand for its engines, launch of the new 13-liter MaxxForce engine, and its growing orders, we expect this segment to be the reason for Navistar's 'revival story' from this year onwards.
Peer company analysis
We are comparing Navistar to three additional players in the truck industry: Oshkosh (OSK), Hyster - Yale Materials Handling (HY), and Cummins. First, let's consider the primary focus of every investor; the stock price performance of these companies.
Market price performance comparison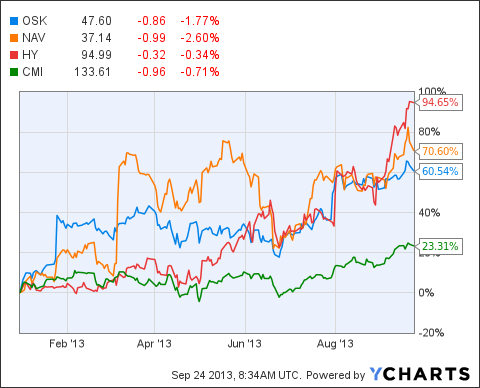 Oshkosh has performed well in the past year-to-date period. Its contract extension with the Pentagon was a primary growth driver. The contract was estimated at $2.5 billion for the period of five years, but it has reached $4.7 billion already in the past four years, reflecting the Pentagon's growing confidence in this company.
On the other hand, Hyster brought a joy to its investors with great second quarter results last month. It experienced an 86% rise in its EPS during the second quarter of fiscal year 2014, compared to its year over year quarter. Post the results, it declared a cash dividend of $0.25 per share, which it paid to shareholders on September 13th.
In the past two quarters of this year, CUmmins has slowly revived from the downfall in revenue experienced during the end of 2012. This was mainly due to the weak market demand experienced by the whole industry. Though it has regained its $4.5 billion revenue levels, we can expect similar performance, which it showed in the year-to-date period in the coming quarters.
U.S. Truck Industry Historic Trend

Year

Sales

% Change

2007

8,897,981

-4.00

2008

6,724,058

-24.43

2009

5,200,478

-22.66

2010

6,136,787

18.00

2011

6,951,210

13.27

2012

7,544,036

8.53
Source: Wards Auto
Considering Navisatr's historical performance, the stock has been highly influenced with the progress or fall in the U.S. truck manufacturing industry. With the introduction of new emission laws in 2009, the cost of trucks took a toll, with a minimum rise of $10,000 on every truck. This led to a decline of 33% in overall U.S. truck sales in 2009. With the sales figures reviving from 2010 onwards, Navistar's stock price performance followed suit, posting a 3 year-high of $69 in January 2011, and later suffered from the overall economic slowdown and declining business activities. With the overall industry expected to grow at a CAGR of 7.03%, we can expect Navistar to experience an upwards streak in its stock price.
Meanwhile, through its engine segment, Navistar has brought back the confidence among the company's investors. With the certification and launch of the 13-liter engine, and support from its growing orders, Navistar's market price has drastically improved, experiencing an impressive 69% growth year-to-date. With growing confidence of analyst Stephen Volkmann from Jefferies, we believe the stock price has enough reasons to show a similar growth-pattern possibility in the coming 12-month period also.
Valuation
Revenue per share gives an insight to a company's business activity. It's necessary that companies have similar outstanding shares level in order to have a strong comparison. Therefore, we will consider Oshkosh and Navistar since both have outstanding shares at similar levels of 86.98 million and 80.40 million respectively. Computing the revenue per share for both the companies, Navistar has 158.3 times and Oshkosh has 90.24 times. This is mainly due to Navistar's higher trailing 12-months' revenue of $11.08 billion compared to Oshkosh's $8.03 billion, making Navistar a comparatively an attractive stock in terms of business activity.
Comparing all the companies based on their enterprise value-to-revenue also supports Navistar in terms of attractive valuations. Here, a lower ratio is considered better in terms of potential acquisition. This shows that despite of having bad business, what chances a company has if there was a buyout opportunity.
| | | | | |
| --- | --- | --- | --- | --- |
| | Navistar | Oshkosh | Hyster | Cummins |
| Enterprise Value (in $ Billion) | 6.37 | 4.37 | 1.24 | 22.2 |
| Revenue (in $ Billion) | 11.84 | 8.07 | 2.54 | 16.86 |
| EV/Revenue (times) | 0.54 | 0.55 | 0.49 | 1.32 |
Source: Yahoo! Finance
Hyster has the best valuation in terms of EV-to-Revenue ratio, which is at 0.49 times, but Navistar isn't far behind at 0.54 times. On the other hand, Cummins has a ratio of 1.32 times, making it the least attractive stock among its peer competitors.
Overall, Navistar stands out from this group with good valuations and is building confidence among investors. The above fundamentals provide further assurance for these ratios to improve in the coming two years.
Changing scenario for a positive future
Presently the situation is changing for Navistar. Through its booming truck and engine segment, we expect the company to experience growth in terms of market share, and the losses to transform into profits by the end of fiscal year 2014. With the support of its improving futuristic fundamentals and good valuation, we support the company's goal of achieving EBITDA margin of 8% to 10% by fiscal year 2014 from present -1.78%.
Disclosure: I have no positions in any stocks mentioned, and no plans to initiate any positions within the next 72 hours. I wrote this article myself, and it expresses my own opinions. I am not receiving compensation for it (other than from Seeking Alpha). I have no business relationship with any company whose stock is mentioned in this article.
Additional disclosure: Fusion Research is a team of equity analysts. This article was written by Rohit Gupta, one of our research analysts. We did not receive compensation for this article (other than from Seeking Alpha), and we have no business relationship with any company whose stock is mentioned in this article.