Emerging Markets could do no wrong thru the early 2000s. There was much talk of the BRIC Century and the steady decline of the U.S. as a global power. How things change (and not to say that they couldn't change again). All of a sudden, the combination of rising labor costs and hidden inefficiencies (now exposed) tilt the conversation toward BRIC crumble. In my two part thesis here, I propose the 'middle road' path and some investments that align with the middle way. First in the basket case segment, I'll explain why I agree with the naysayer sentiment at a macro level, that Emerging markets as a whole are a basketcase for the foreseeable future. Then in the basket segment, I make the case that within that bleakness lie selective investment opportunities.
The Basket Case thesis. Emerging markets had three things simultaneously going for them in the early 2000s - relatively reasonable valuations of both stocks and labor markets, positive (and big) international money flows, and a weakening dollar to 'juice' up returns. Most of us intuitively know that currency exchange rates impact returns. What was surprising to me was the figures below from KKR Insights, showing that almost 50% of the returns from emerging markets were currency related. So the appreciating dollar has a staggering effect on emerging markets, as does the reversing direction of international money flows seeking safer havens.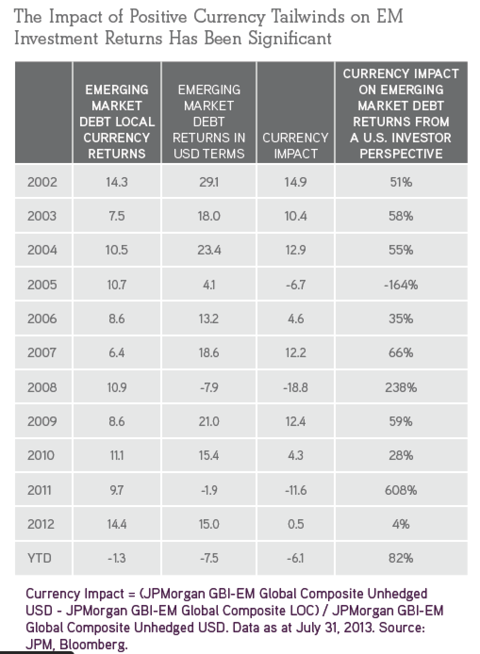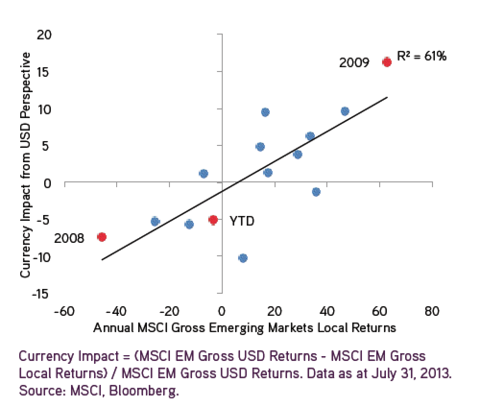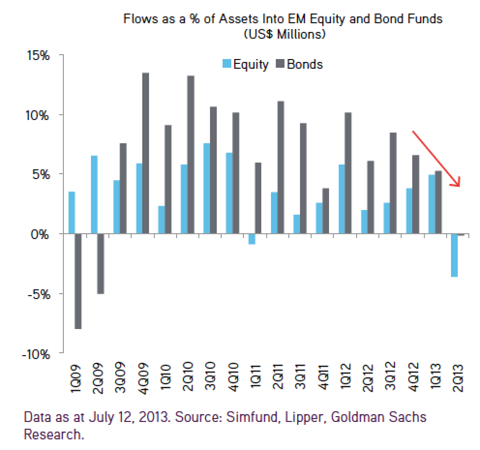 Given that neither dollar appreciation nor money flow directions are likely to change in the next 1-3 years, emerging markets as a whole are in for a rough time. Couple those headwinds with the KKR risk metric (which harmonizes a variety of economic parameters) and the BRI of BRIC look very tenuous (as for the C, a number of people would dispute the numbers and put C in the same category). Even though the Brazil Fund (EWR), India Fund (NYSE:IFN) and the Russia Fund (NYSEARCA:ERUS) are trading in the middle of their 52-week range, they are historically overvalued for the risk you're taking.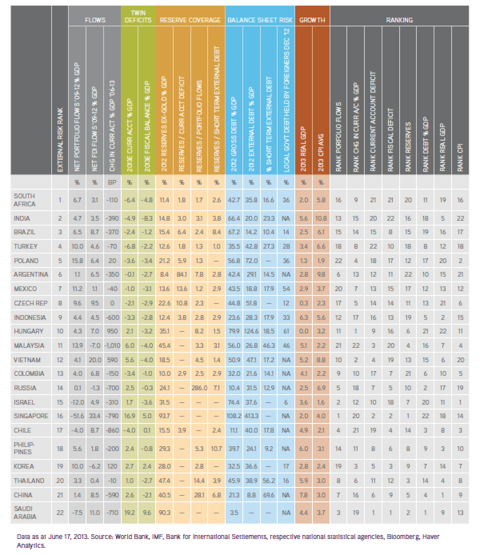 The Basket. Given the dour state of many emerging market countries, where is the silver lining in the clouds? What emerging market countries are growth-oriented safe havens that will have tailwinds even if things grow worse in China and stay worse in India? The figure above gives a few hints - pick countries at the bottom of the risk spectrum, without single 'black swan' weaknesses (e.g. Saudi Arabia and oil), with an educated and savvy middle class, no government or regulatory 'gotchas,' and preferably an entrepreneurial culture.
Applying that logic directs you to :
My personal choices are ISRA for growth (given the technology skew of the index and correlation to Nasdaq) and EWY for value. That said, a number of these country funds should do well over the 2-3 year horizon.
Disclosure: I have no positions in any stocks mentioned, and no plans to initiate any positions within the next 72 hours. I wrote this article myself, and it expresses my own opinions. I am not receiving compensation for it (other than from Seeking Alpha). I have no business relationship with any company whose stock is mentioned in this article.