(Editors' Note: This article covers a micro-cap stock. Please be aware of the risks associated with these stocks.)
What would happen if production of the new iPhone was stopped because they couldn't find the key materials to make it work? This scenario is not impossible, but could be a near term reality. If new mines don't come online by 2015, we may see a shortage of the rare earths needed for touch-screens and magnets used in smartphones and tablets.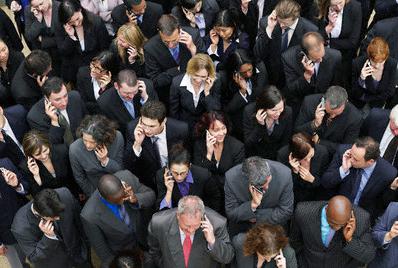 You may have never heard of rare earths yet, but it may soon make the front pages over the next couple of years as a potential supply shortfall is imminent. Gains in the rare earth sector could be astronomical for miners who can make it to production. All of the supply of critical heavy rare earths comes from China who claims they need the critical metals for their own domestic industries and are running out of the metals by 2015. Now China is reporting they are looking to purchase rare earths to secure a strategic stockpile. This is a major development as other nations may start securing rare earth supplies. Many countries' top industries may be looking to secure rare earth reserves over the near term, which should accelerate Western and Japanese end users to sign agreements with junior rare earth miners. This may be a major catalyst for the rare earth sector as the juniors have been looking for the industrial end users and sovereign entities to help them fund and expedite development.
Rare earths are the critical metals discovered only fifty years ago with amazing physical properties particularly in permanent magnets which can make cell phones and cars smaller. The rare earth metals have just started being used in the past twenty years in our latest technologies such as smart-phones/tablets, missile systems, wind turbines and automobiles. Technology, Defense, Wind Energy and the automobile sector is seeing major growth, breaking into new highs and end users must now secure long term secure supplies.
Expect increased demand for rare earths as prices may begin to move drastically higher as we move close to a supply shortfall. Notice the upward trend in demand, Apple (NASDAQ:AAPL) is selling a record number of iPhones and iPads exceeding analyst forecasts, the large wind turbine maker Vestas (OTCPK:VWSYF) is up five fold since it hit a low in 2012 as they boost turbine production, the defense sector (BATS:ITA) is hitting new highs and automobile sales are increasing beyond expectations.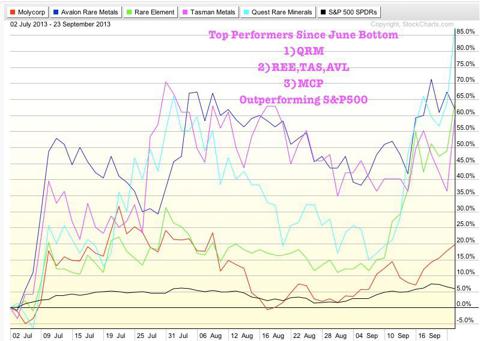 Rare earth prices have been rebounding since this summer when I highlighted the rare earth sector. I expect the rally to continue to reflect increasing demand in technology, defense, automobiles and wind turbines. All of the publicly traded American listed rare earth miners have been outperforming the S&P500 since the summer highlighted in the chart above.
Molycorp the sector leader is trading near book value and still has a major short of over 48 million shares. The shorts may need to cover as it is on the verge of forming a bullish golden crossover of the 50 day crossing above the 200 day. Molycorp has over 200 financial institutions controlling close to 60% of the float. A bullish reversal combined with short covering could lead to an explosive move for the entire sector.
The high volume coming in on the U.S. listed rare earth miners may indicate large U.S. funds, are accumulating shares in this critical sector. Eventually as capital enters the space the Canadian smaller cap listed names should gain some interest as well.
The rare earths may be emerging from the bottom of a two year base as some of the leaders begin to cross over the 200 day moving average and/or making high volume breakouts such as Molycorp (MCP), Avalon (NYSEMKT:AVL), Rare Element Resources (NYSEMKT:REE), Quest Rare Minerals (NYSEMKT:QRM) and Tasman Metals (NYSEMKT:TAS). Notice the outperformance of heavy rare earth miners such as Quest, Tasman, Avalon and Rare Element Resources over Molycorp which has mostly light rare earths.
This relative strength of the heavy rare earth miners may indicate major investors are looking for the critical heavy rare earths such as terbium and dysprosium which are labeled by the U.S. and E.U. as the most critical metals at risk of a supply shortfall. These metals are essential to the military and industry of the West. None of these new heavy rare earth mines are near production and there is an increasing risk of a supply shortfall by 2015 if nothing is done. That is why there is legislation in the U.S. and E.U. to expedite permitting for some assets. If these mines do not make it into production, there may be a good chance that we may need to wait a longer time for the newest iPhone.
Disclosure: I am long TAS. I wrote this article myself, and it expresses my own opinions. I am not receiving compensation for it (other than from Seeking Alpha). I have no business relationship with any company whose stock is mentioned in this article.