Instead of focusing on Warren Buffett and Burlington Northern (BNI) today, I am making a Buffett-like bet.
I have written about CNA Financial Corp. (NYSE:CNA) in the past recommending a trade involving selling put options with a $7.50 strike. It was the biggest risk-reward trade I could find at the time. Turned out to be a good trade.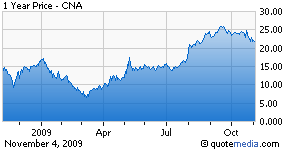 I am revisiting CNA. CNA is a P&C insurance company, and is 90% owned by Loews Corp (NYSE:L). As noted in the CNA 3rd quarter conference call, book value per share is $35. The stock trades (as I write this) for around $21.
The current stock price is significant discount to book value. Why?
1) CNA wrote off a lot of investments during the financial crisis. Maybe investors were scared off.
2) Not many people know about the company. Like I mentioned, CNA is 90% owned by Loews.
To address the first point, CNA has been strengthening its investment portfolio, investing in higher grade fixed-investments. In addition, the turn in the markets has benefited CNA significantly.
The second point is actually another reason to buy CNA. Because CNA is owned by Loews, CNA can receive financing in tough markets. As an example, CNA issued $1.25B in preferred stock to Loews to strengthen its balance sheet during the financial crisis.
The discount to book value is so substantial, it is hard for me to pass on this opportunity. Even though I am shareholder of Loews, I am buying CNA today (11/3/2009).
Disclosure: Long Loews and CNA.