By David Urani

Housing has been on the front lines of the market of late, and today there were a couple of very anticipated earnings reports from Lennar (NYSE:LEN) and KB Home (NYSE:KBH). The companies were able to give out some more clues as to the health of the housing market amid the upward pressure in mortgage rates.
Lennar, one of the stronger homebuilders in recent years, on balance turned in a very solid second quarter (ended Aug. 31). They beat by $0.08 on the bottom line with a 46% increase in sales to $1.6 billion, above the $1.5 billion consensus estimate. Unit deliveries were up 37% and new orders were up 15% (up 32% in dollars). Gross margin also increased by 170 basis points. It was a great result all around, although if there's one thing the bears would point a finger at it's that the 14% increase in new orders, although solid, was a deceleration from the +27% posted in the previous quarter. That could be evidence of the effect the rising mortgage rates had on demand. But it's clear sales momentum was not derailed; instead, it stepped off the gas somewhat.
KB Home, which has been more shaky in terms of the company's execution than the likes of Lennar, showed notably more weakness but still had a decent quarter on balance. The bottom line beat by $0.07, and while revenue did miss consensus by $21 million, at $549 million is was still up 29% from a year ago. KB Home, however, went for somewhat of a different approach as they made a clear effort to maximize profits through pricing at the expense of sales momentum. Average prices were up a full 22%, leading to a 500-basis-point increase to gross margin. However, that came at the expense of a tepid 6% increase in new orders, and even more worrying a 8.6% decline in new orders. Of course, as with Lennar, mortgage rates will have had some effect on the sales and new orders as well. So when looking at the company's new order decrease, we must now question just exactly how much is due to pricing and how much of it is mortgage rates.
Both LEN and KBH struggled to get traction at the open, but their respective conference calls helped to send their and other homebuilder stocks higher. Both management teams expressed confidence that the mortgage rate situation this summer was/is a speed bump. In Lennar's case, they actually say that July was their worst month, but that August came back to be their strongest of the quarter. They continue to like the fundamental long-term view of the housing market, and see a multi-year recovery.
Tomorrow brings the census' new-home sales report for July, where we'll get a little more info about the state of the housing.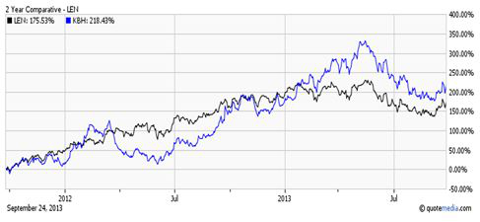 Home Prices
We also got the latest Case Shiller home price report for July showing a 1.8% monthly increase (non-adjusted). That was a little bit below the +2.0% consensus estimate, but no need to be nitpicky -- it was a 12.4% year-over-year increase. That's the best annual gain yet during the recovery. That said, I maintain as always that the Case Shiller index is a highly lagging indicator (being from all the way back in July while also being a three-month average), and to be fair it doesn't yet reflect the brunt of the interest rate headwinds.