After the trailing developed markets for the better part of the year, left-for-dead emerging market exchange traded funds are beginning to outpace the S&P 500 on the Fed's more dovish stance.
The iShares MSCI Emerging Markets ETF (NYSEARCA:EEM) gained 5.3% over the past week and 12.9% over the last three months, whereas the SPDR S&P 500 ETF (SPY) was up 2.3% in the last week and 6.3% in the past three months. Still, SPY has increased 22.5% year-to-date, compared to the 1.7% decline for EEM.
EEM has outperformed the S&P 500 for four consecutive weeks. Does this mean the trend is turning?
Emerging market investors are enjoying the ride as the Federal Reserve maintains its accommodative policies. However, changes in long-term interest rates could put pressure on emerging market investments.
"It is true that changes in longer-term interest rates in the United States-but also in other advanced economies-does have some effect on emerging markets, particularly those who are trying to peg their exchange rate, and can lead to some capital inflows or outflows," Fed Chariman Ben Bernanke said at a press conference.
Macro Risk Advisors also points out a correlation between an emerging market ETF's performance and changes in the 10-year Treasury yield over the last three months, reports Brendan Conway for Barron's.
Nevertheless, risk tolerance and long-term growth outlook can still support emerging market assets.
"There are also other factors that affect inflows and outflows, those include changes in risk preference by investors, changes in growth expectations, different perceptions of institutional strength within emerging markets across different countries," Bernanke added.
The relative performance of EEM to SPY is illustrated in the weekly chart below: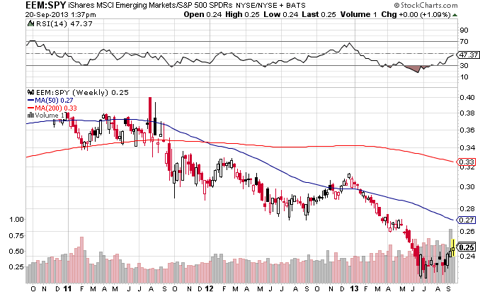 Max Chen contributed to this article.
Full disclosure: Tom Lydon's clients own EEM and SPY.
Disclosure: I am long EEM, SPY. I wrote this article myself, and it expresses my own opinions. I am not receiving compensation for it. I have no business relationship with any company whose stock is mentioned in this article.