"There will always be a need for fixed income." - Bill Gross
As the reputable leader and co-chief investment officer of one of the largest fixed-income asset managers in the world, Bill Gross is paid to manage fixed-income investments better than anyone else. After all, his clients are free to move their funds elsewhere if his investment performance is ever questioned.
With $1.97 trillion under management and a considerable amount of personal wealth, Gross has done remarkably well as a bond manager. He is known today as the bond-king, as is PIMCO, the company he founded, which according to The Wall Street Journal is currently the world's largest bond-fund manager by assets.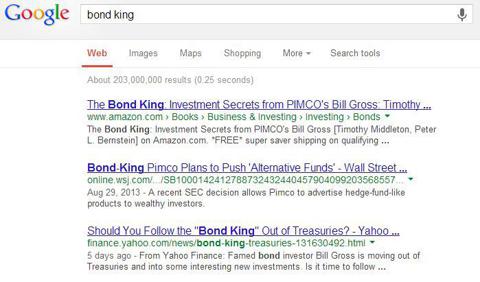 This year fixed-income has been under stress, as the acknowledgement of the inevitable rise in interest rates took a toll on bond values. In this environment, speaking with Gross may be one of the best places to turn.
In his monthly newsletter Investment Outlook, Gross shares his views on bonds and the marketplace to the general public. In his August 2013 note, "Bond Wars," Gross took a hard look at the state of the bond market, going as far as declaring it a war that of course, PIMCO would win. If history is on his side, Gross should have no problem coming out on top.
The weapon in this new war in bonds is, according to Gross, "carry." Carry is the term he uses for yield with a definition much more than scheduled interest payments. An example of carry includes maturity duration, with Gross referring to intermediate and long-term bond carry risk akin to "a horse charging a machine gun."
Another form of carry include credit spreads, which can offer a higher risk-adjusted carry than maturity extension. Other carry risks he mentions in addition to credit and maturity risks are volatility, yield curve and currency risks. Investing with all of these risks while maintaining diversity and stable income is more advanced than what the average investor is capable of doing.
So what are income investors to do? As the asset class that has "historically provided reliable income and stable to higher prices," according to Gross, those living off fixed income are now concerned with the recent bond-market scare and threat of a great rotation out of the space.
Bill Gross Income Investor Advice
Fixed Income
In the January 2011 annual "Barron's Roundtable" article, where Barron's discusses the annual market outlook with several of the nation's top money managers, Gross mentioned his PIMCO Corporate Opportunity Fund (NYSE:PTY) as an excellent bond selection. After the article was published, the fund price and volume immediately rose.
As the chart notes, the volume and price picked up dramatically following the Jan 22, 2013 release of the Barron's Roundtable discussion. For the next six trading days, the price moved from $17.30 to $19.00, a move of nearly 10%, with a heavy volume increase as well.
It can be argued that PTY is an excellent fixed-income option in today's market for income investors. While current price is one reason, other benefits of this fund include fund management, insider ownership, leveraged holdings, high-income, monthly distributions, exposure to global fixed-income holdings, liquidity, longevity and fund size. Also, the premium valuation that this fund commands (as a closed-end fund, or CEF) is well-below the YTD, 5 and 10-year averages.
Due to the rotation out of bonds this summer, the general book value of bonds is lower. The sell-off could be overblown, as the Fed recently announced that they would not taper their bond purchases in the short-term after all. Also, the purpose of the taper would be to slow bond purchases as economic activity grew, such that the market continue to grow regardless.
PTY, as a closed-end fund, does not need to sell assets if investors want out. Upon bond maturities, the fund will only receive bond capital back, such that the underlying businesses and governments are in good financial health and still able to borrow. So while the NAV did go down in the short term on the book value, the fund is not forced to put bond assets for sale and can hold them until the face-value is realized.
The fund manager and insider ownership of PTY is enough to get any fixed-income investor a happy disposition. The fund is operated by PIMCO and managed by Bill Gross. In fact, PTY is the largest holding in Bill's personal portfolio, with 947,739 shares for a market value (at $17.75/share) of $16,822,367.25.
Regarding the Bill Gross insider-ownership portfolio, when taking share price and total share count into consideration, PTY is the largest holding with over 50% of his fixed-income/insider-ownership PIMCO holdings. Although other holdings are not mentioned, such as non-insider transactions, it would be easy to deduce that all of his fixed-income portfolio holdings would be managed in PIMCO funds.

The fund also delivers value by using leverage to increase total income and capital appreciation. Leverage in fixed-income is an advanced strategy that PIMCO is able to deliver well. While the iShares Investment Grade Corporate Bond ETF (NYSEARCA:LQD) is delivering a yield of 3.56%, PTY, with leverage and allocations to alternate fixed-income investments (such as government, mortgage and high-yield bonds) is able to distribute a current yield of 8.79%.
The high-income fund is paid monthly, such that distributions are deposited into the investors account between the 7th and the 11th of each month. Such stability is beneficial for income investors seeking monthly income, as the portfolio balances and cash levels are more balanced month-to-month.
As noted in the PTY Quarterly Review, the closed-end fund trades at a premium to NAV. When funds do this, it is because the demand for the fund outweighs the supply of sellers. Since closed-end funds do not create more shares like ETFs or mutual funds, investors either pay a premium or discount to the NAV.
PTY is trading at $17.75 while the NAV is $16.50, presenting buyers and sellers with a premium entrance/exit cost of 7.58%. This premium gap, the cost between current price and NAV, is less than the YTD, 5-year and 10-year average, offering investors a discounted gap likely due to aggregate investor worry priced-in from the summer fixed-income swoon.
With great management, a huge insider allocation of funds by Bill Gross invested in the fund, the ability to utilize leverage, a high-income, monthly distributions, pricing at a discount to the average premium gap and pricing just above the 2011 Bill Gross buy level, PTY offers a great entry-point to an excellent high-income fund available to the income investor.
What else does Bill Gross like?
Six months after the January 2011 Barron's Roundtable discussion, Gross came back for a mid-year report in a cover story titled "Buy Low, Stay Nimble." According to Gross, Treasuries were in a "very low yield, low return environment" and that investors would be questionable to purchase them. While Gross clearly despised Treasuries, he did see value in stocks and mentioned a few options that have done quite well since his published interview.
Value Stocks
His ideas of finding value were in conservative, high-yielding stocks (4% is a high yield here for Gross in stocks) such as Coca-Cola (NYSE:KO), Procter & Gamble (NYSE:PG) and Merck (NYSE:MRK), as well as "an electric utility." While the Barron's Effect wouldn't be able to quickly move his value stalwarts or electric utilities in general, his advice worked as each performed over the last two years while producing stable dividends.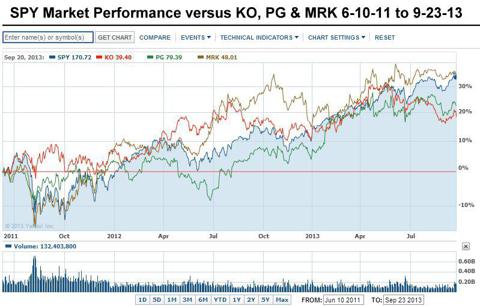 Regarding the performance versus the SPDR S&P 500 ETF (NYSEARCA:SPY), these stock selections proved to be higher volatility than a Treasury, as Gross noted, yet crucial for the yield and total return demanded by the income investor.

As one can note from the Gross value selections, the initial investment yield on capital was 3.36%, which was 153 basis points above the SPY yield, or 83.26% more income doled out to investors. With the value as well as a higher margin of safety versus SPY, the Gross stock blend at equal-weightings appreciated 25.2%, versus 33.2% for the SPY fund from 6-10-11 to 9-23-13.
Important to note however was that with the increases in stock price and trailing twelve month dividends ((TTM), as used in this chart), the Gross value picks still yielded 3.13% versus 2.00% for the SPY fund, which equates to a 56.56% higher distribution rate for income investors.
The chart below takes a hypothetical $500,000 initial investment, with a TTM average income displayed on both a yearly and monthly basis. The Gross portfolio is geared toward higher-income as a primary focus, with reduced risk and capital appreciation as a secondary focus.

Keep in mind that with higher risk (as in SPY), stocks are likely to increase or decrease more than the value stalwarts in the Gross portfolio. The SPY acts more as a saver's portfolio, with capital appreciation as a primary goal.
Also to note, the yield on the initial investment (by dividing the current yearly income by $500,000), is 2.66% for SPY and 3.91% for the Gross value threesome after the increase in total dividends is taken into consideration.
Utility Stocks
When measuring electric utilities one method of measurement is the Utilities Select Sector SPDR (NYSEARCA:XLU), which tracks an index of 31 U.S. utilities.
The market performance of XLU versus the S&P 500 showcases that after one year, the market was testing the mid-June 2011 low while XLU remained up approximately 10%. Also, since min-June 2012, both funds have increased and the market test on SPY has not been repeated.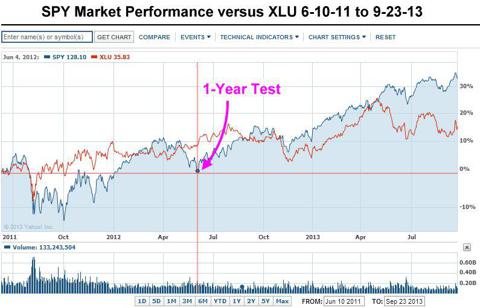 As noted by the chart below, XLU has increased the TTM yield by 12%. While S&P 500 dividend growth was greater, the stability of XLU along with a cash payout that was 116.26% higher makes the Gross utility income suggestion a great one.

Finally, using a mock $200,000 investment in XLU versus SPY, real numbers can showcase the difference in monthly payouts. The yield on initial capital invested (by dividing the current yearly income by $200,000) is 4.44% for XLU, while only 2.66% on SPY.
Regarding utilities as stable income investments with a detailed competitive analysis of XLU, please read "Leveraging Utilities For Stable Equity Income." This recent article I wrote reviews the pros and cons of different types of utility funds while giving one example of a leveraged utility closed-end fund with a TTM yield of 7.42%.
Conclusion
In today's environment, both stocks and bonds serve an important purpose in the income investor's portfolio. When it comes to bonds, Bill Gross has made a name for himself as the bond-king. When going to war, as he terms the current bond environment, it may bode well for investors to fight for the king rather than leave the space and hide under a rock.
While bonds may have limited capital appreciation, value stocks will increase their dividends over time, while showcasing a lower risk profile and higher dividends payout ratio than the market as a whole.
A balanced portfolio of both income-oriented value stocks and well-managed, diversified fixed income investments will serve the income investor well with the primary goal of stable, increasing income generation and a secondary goal of steady capital appreciation.
Disclosure: I have no positions in any stocks mentioned, and no plans to initiate any positions within the next 72 hours. I wrote this article myself, and it expresses my own opinions. I am not receiving compensation for it (other than from Seeking Alpha). I have no business relationship with any company whose stock is mentioned in this article.