Dow Chemical (DOW) has had quite an impressive Q2 2013. Adjusted EPS was up 16% to $0.64 y-o-y and operating cash flow increased $2.8 billion over the same time period. Higher cash flow drove the net debt to total capital ratio down to 36.4% and substantially improved Dow Chemical's financial strength. Lower debt loads will result in lower interest payments which according to Dow Chemical's guidance could boost net income by around $150 million in 2013. This represents an additional (accretive) $0.12 per share. Dow Chemical also has a current $1.5 billion share repurchase plan in place supplementing the existing quarterly dividend of $0.32 (annualized dividend is $1.28 per share).
Operating results were equally impressive with strong EBITDA results in Performance Plastics and emerging geographies. Dow Chemical's dependence on revenue sources (about 34% of group revenue originated in emerging countries), its international business mix and whether the restructuring program can gain momentum will be key themes over the next 12-24 month for investors who have Dow Chemical shares on their watchlist. Big hopes also rest on Dow Chemical's Agricultural Science segment which booked record revenues in Q2 2012 and posted y-o-y growth rates of 10%. I predict this segment to be driving revenues and EBITDA disproportionately over the next phase in the business cycle. A breakdown of product lines for the Agricultural Science segment is provided below:

Thesis
Strong underlying business performance in Q2 2013 and earnings-accretive improvements in Dow Chemical's capital structure should be reflected in Dow Chemical's market valuation. Better y-o-y results for shareholders have been solid on a variety of metrics as the following table shows: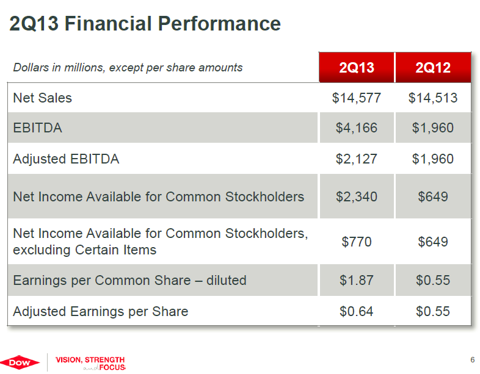 Diluted EPS ballooned to $1.87 in Q2 2013 compared to $0.55 in Q2 2012 (up 240%) and group EBITDA increased 113% to $4.2 billion compared to $2.0 billion in Q2 2012. All the while net revenues remained flat denoting that the company operates more efficiently and adjustments to Dow Chemical's cost structure are bearing fruit. Given the progress Dow Chemical has made one would wonder why the company is lagging its peers so dramatically. The five year comparative chart benchmarking Dow Chemical against BASF (OTCQX:BASFY), E.I. DuPont (DD) and Air Products & Chemicals (NYSE:APD) shows that DOW is the worst performer in its peer group literally left in the dust by BASF. Given the continued improvements in business performance I would have expected the market to be more appreciative of Dow Chemical's cost reduction improvements. As we will see further below Dow Chemical's low free cash flow profitability is probably the reason for mediocre stock performance over the last five years.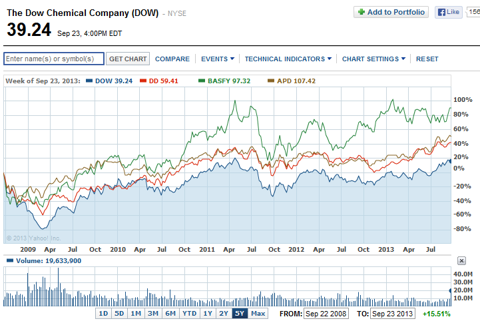 Market valuation and peer group comparison
Dow Chemical is the midfielder in its peer group. Dow Chemical has a fairly average P/E ratio of 13.73 with a slight discount to the group average of 14.50 and an average dividend yield of 3.26%. Air Products and Chemicals remains the most expensive chemicals company and offers the lowest dividend yield of 2.64%. All sector constituents have unspectacular P/E ratios and provide little margin of safety.
While the market can err in its assessment of earnings-driven value, it is helpful to look at free cash flow to equity: the ultimate metric of what shareholders can get out of the company after other stakeholders have been satisfied. Free cash flow to equity reflects the amount that can either be used for dividends or share buybacks.

Free cash flow to equity
Dow Chemical's free cash flow profile paints a fundamentally different picture than its earnings valuation (which indicates roughly fair value). Free cash flow fluctuated wildly over the most recent five year period due to acquisitions in 2009 making it difficult to establish a recurring free cash flow level. In addition, free cash flows have been negative in 2011. If we take the most recent year 2012 as a proxy, total free cash flow came in at $747 million with the change in net borrowings contributing a negative $641 million. As a result, Dow Chemical's 2012 P/FCFE ratio stood at around 52 and signals very low trailing free cash flow profitability.
I would suggest that the normalized average operating cash flow can be pinned at $4 billion and recurring capex at $1.5 billion with net borrowings canceling each other out in the long-run. This leaves $2.5 billion for shareholders or $2.08 a share in FCFE. The resulting normalized P/FCFE ratio would then still stand at a massive nineteen. Much too expensive to get me excited even when I take Dow Chemical's recent financial performance into account.
Conclusion
While Dow Chemical is not the only chemicals company that seems fairly valued from an earnings perspective, P/FCFE ratios of around nineteen indicate rich overvaluation. Investors need to carefully monitor if Dow chemical can only generate value by executing on its cost cutting and restructuring efforts or if the dominating Performance Plastics & Materials segments can take the lead to generate EBITDA and margin growth in the coming years. Though Q2 results were decent, the chemicals sector seems to be quite overpriced on a P/FCFE level and much greener pastures in the large-cap space can found elsewhere. Unless Dow Chemical proves that it can sustainably increase operating and free cash flows in its core markets, the stock performance is likely to continue to lag its peers and reward its shareholders poorly.
Disclosure: I have no positions in any stocks mentioned, and no plans to initiate any positions within the next 72 hours. I wrote this article myself, and it expresses my own opinions. I am not receiving compensation for it (other than from Seeking Alpha). I have no business relationship with any company whose stock is mentioned in this article.