On Tuesday, September 24th, International Game Technology (NYSE:IGT) announced that it had struck a deal with Caesars Entertainment Corp. (NASDAQ:CZR) to supply the gaming giant with 7,000 AVP Video Poker terminals. The contract with the Las Vegas-based operator includes 3,600 G20 Uprights, 2,400 Universal Slant cabinets and 1,000 G20 Bar Tops.
In the wake of today's announcement I wanted to not only highlight the recent performance of International Game Technology but also examine several of the catalysts behind my decision to remain bullish on shares of the company.
Company Overview
Headquartered in Las Vegas, Nevada, the company engages in the design, development, manufacture and marketing of casino games, gaming equipment and systems technology for land-based and online social gaming and wagering markets worldwide. The company also offers casino-style games, casino-style slot machines that determine the game play outcome at the machine, wide area progressive jackpot systems with linked machines across various casinos, and central determination system machines connected to a central server, which determine the game outcome, encompassing video lottery terminals used primarily in government-sponsored applications and electronic or video bingo machines.
Recent Performance and Trend Status
On Monday shares of CDE, which currently possess a market cap of $5.44 billion, a beta of 1.55, a P/E ratio of 18.63, a forward P/E ratio of 15.56 and a current dividend yield of 1.92% ($0.40), settled at a price of $20.87/share. Based on their closing price of $20.87/share, shares of IGT are trading 5.49% above their 20-day simple moving average, 8.61% above their 50-day simple moving average, and 23.37% above their 200-day simple moving average.
These numbers indicate a short-term, mid-term and a sustainable long-term uptrend for the stock, which generally translates into an aggressive buying mode for most traders. From a cash and debt perspective, International Game Technology has $236.20 million in cash and $1.69 billion in debt on its books as of June 30, 2013.
Delaware Online Gaming Launch Slated for Late October
On August 29th it was announced that the State of Delaware would begin offering its residents the ability to wager a various casino-like game through an initial "free" gaming phase that will be followed by a "real-money" launch sometime in late October. According to the folks at Gaming Today, "Delaware is on track to be the first state in the nation to offer a full complement of legal casino games online. The free games will be open to players anywhere, but real-money games will be available only to players in Delaware."
Not only will the launch of Delaware's online gambling initiative utilize IGT's technology, but it may also begin to bring other states into the mix. For example, Delaware Secretary of Finance Tom Cook recently noted that "he hopes to sign an interstate compact with Nevada next year to allow online poker players in both states to sit at the same virtual tables."
18-Month Dividend Behavior
Since June 19, 2012, the company has increased its quarterly distribution four times over the last 18 months. From an income perspective, the company's forward yield of 1.92% ($0.40) coupled with its 18-month positive distribution behavior certainly makes this particular company a highly considerable option for long-term investors who may be in search of a moderately-yielding play located in the heart of the gaming sector.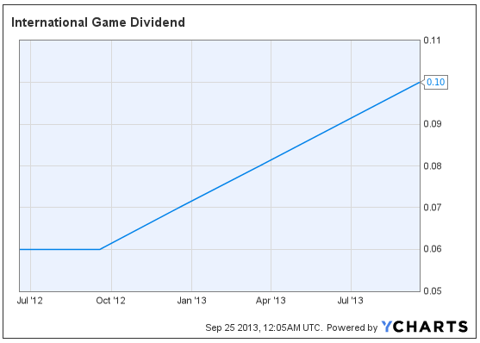 Conclusion
For those of you who may be considering a position in International Game Technology, I'd keep a watchful eye on a number of catalysts over the next 12-24 months as they could each contribute to the company's long-term growth.
These catalysts include but are not limited to the company's ability to continue to forge supply contracts similar to one that was recently announced with Caesar's Entertainment, the company's ability to sustain and maintain a healthy dividend over the next 18-36 months, and its ability to maintain and create relationships with certain states similar to Delaware that are interested in offering their residents the ability to engage in real-time, real-money gaming from the comfort of their own homes.
Disclosure: I have no positions in any stocks mentioned, but may initiate a long position in IGT over the next 72 hours. I wrote this article myself, and it expresses my own opinions. I am not receiving compensation for it (other than from Seeking Alpha). I have no business relationship with any company whose stock is mentioned in this article.