Stocks that belong in a retirement portfolio all have several things in common. Among the most important criteria are a durable competitive moat and a consistently growing dividend. When a company with these features trades at a reasonable valuation, it should be purchased and held for decades. At current prices, Philip Morris (NYSE:PM) is an excellent long-term investment that meets the aforementioned criteria. The company has been a household name for generations, and its shareholder friendly management team returns cash to owners. Philip Morris will provide both stability and income to your portfolio.
The Company
Philip Morris has long been among the most unpopular yet most profitable investments one could make. Throughout the 20th century, Philip Morris' shareholder-friendly management created value and paid out ever-increasing dividends, as did the other major tobacco companies. However, an increasingly hostile legal environment in the United States has added an element of risk to domestic tobacco stocks. As a result, in 2008, management made the wise decision to split the domestic and international components of Philip Morris' business into separate companies.
Philip Morris represents the International side of the business, while Altria (NYSE:MO) is the United States component. PM generates income from international markets that are growing and comparatively friendly to tobacco companies. Philip Morris' brands include Marlboro, L&M, Parliament, and Chesterfield. Marlboro has been the No. 1 cigarette brand for over 40 years and has more sales than the next two cigarette brands combined.
The Fundamentals
Philip Morris currently trades at a trailing P/E of 17, which on the surface seems unimpressive. However, since it is both a fast-growing and high-yielding stock, the PEGY ratio is more effective than the P/E when determining the fairness of the market price. The PEGY ratio is computed by dividing the P/E by the sum of projected earnings growth and the dividend yield. With analysts estimating 11% earnings growth for the next several years and a 4.20% dividend yield, the PEGY stands at 1.12. While not quite at the 1.0 level preferred by many investors, PM is still an attractive investment.
Philip Morris' dividend is impressive due to its high yield and excellent track record of raises. Since its spin off in 2008, Philip Morris International has more than doubled its quarterly dividend from $0.46 to $0.95. These dividend payments should continue to increase for the foreseeable future due to the high EPS growth estimates that analysts have for the company. This EPS growth is predicated on the idea that growth in Asia and emerging markets will more than make up for the decline in tobacco usage taking place in Europe and other developed areas.
The only part of Philip Morris' balance sheet that warrants a second look is their debt level. While the debt load may seem excessive, two things need to be kept in mind. First, Philip Morris is a cash cow. They have very low levels of capital expenditure and generate huge amounts of cash from sales. In 2012 their operating margin was 17.9%. Second, due to incredibly low current interest rates, it will cost Philip Morris very little to pay off this debt in the future. While typically debt should be avoided, because of the current once-in-a-generation interest rate environment, borrowing money shows the competence of Philip Morris' management team. Fundamentally, Philip Morris is on very solid ground.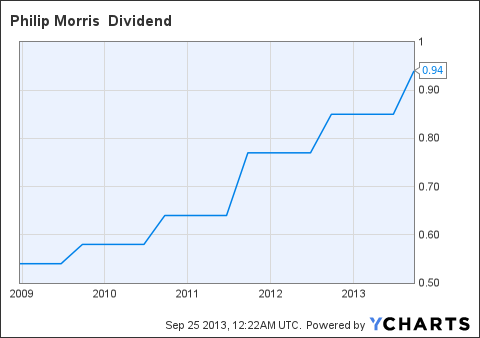 The Future
Philip Morris is in the enviable position of having an increasing market share in a growing market. Philip Morris stands to benefit greatly from the increases expected in tobacco usage in Asia. In Asia, the vast majority of smokers are men. Women and young adults are a small but growing percentage of smokers. It is probable that these numbers will one day come to mirror those from the West where there is little difference in smoking between genders or age groups. If this shift occurs, Philip Morris should expect skyrocketing profits as the number of smokers multiplies. Furthermore, as citizens of developing countries become wealthier, they will likely make the switch from their local cigarette brands to Marlboro and other internationally recognized brands. As long as developing countries continue to grow their GDP, the number of people smoking Philip Morris products will increase.
There are still obstacles that Philip Morris will have to overcome. Philip Morris is currently having difficulties penetrating the Chinese and Indian markets. Together, these two nations account for almost half of the world's smokers. In China, the government supports its own tobacco companies to the detriment of Philip Morris. As China transitions to a more capitalist society, this is expected to decrease. In India, Philip Morris is having difficulties because India's traditional tobacco product is the Beedi, not the cigarette. However, as the country modernizes and adopts western influences, Indians will begin making the switch to cigarettes.
It should be noted that while profits are growing in Asia, this is being somewhat offset by a decrease of tobacco use in Europe and other developed areas. To continue to generate earnings from these areas, Philip Morris has introduced e-cigarettes, which can be consumed in areas with smoking bans. They are also viewed as a healthy alternative to conventional cigarettes. While it is still unknown whether or not e-cigarettes will catch on in the long run, they have certainly gained rapid acceptance in the United States. Philip Morris International is the tobacco stock for the 21st century.
Conclusion
This company is a must-own in any retirement portfolio. It is a business with high growth prospects and a large dividend. Philip Morris is also a company built to weather any type of economic storm, as the addictive nature of its products ensures they will sell in nearly any conceivable situation. It is an industry leader with a large competitive moat and many recognizable and heralded brands. Regardless of what the market may do in the short term, at current prices and with dividends reinvested, it would be almost impossible not to enjoy satisfactory returns from Philip Morris over the next few decades.
Disclosure: I have no positions in any stocks mentioned, and no plans to initiate any positions within the next 72 hours. I wrote this article myself, and it expresses my own opinions. I am not receiving compensation for it (other than from Seeking Alpha). I have no business relationship with any company whose stock is mentioned in this article.