Share price at time of writing: $23.71
The main reason behind my now negative/neutral (down from positive) view of Intel's stock is my realization that the smartphone industry's trend of vertical integration will soon spread to microprocessor design.
In my last article on Intel (NASDAQ:INTC), I pitched 20% upside in the following 12 months due to gains in mobile chip market share (here). About a month later, Apple's (NASDAQ:AAPL) new iPhone 5s release has revealed technological trends that I think undermine my investment thesis.
With a combination of design and manufacturing improvements, and in cooperation with Samsung (OTC:SSNGY), Apple has created by far the fastest mobile chip to date, and it has done so in a way that Intel cannot achieve - by integrating chip design with the rest of its hardware and software design. I believe that this is a trend that Samsung (already does it), Google (NASDAQ:GOOG), and Microsoft (NASDAQ:MSFT) will eventually have to follow, and with the resources that they each possess, the transition could happen fairly quickly, either through major acquisitions or internal R&D. With this development, Intel's stock is no longer attractive as a long-term hold.
Apple's A7 Chip is the New Champion
The most objective way to analyze a chip's power and performance is through benchmarking. In this form, Apple's chip beats everything else on the market by a significant margin, even though specs-wise it appears to be less powerful.
At first, the A7, a 1.7 GHz dual-core chip, appears to be rather tame compared to Samsung's 1.6 GHz Quad-Core Exynos or Qualcomm's (NASDAQ:QCOM) Quad-Core Snapdragon 800. However, in most benchmarks, it completely overwhelms to competition.
Below are a few examples of benchmark tests. I will not explain their exact significance, as there is no point - what's important is that Apple is clearly not in need of help on the CPU/GPU front, which goes against what many tech analysts have been saying. The fact that the iPhone is (specs-wise) significantly faster than any Android phone out right now is a surprise to almost everyone.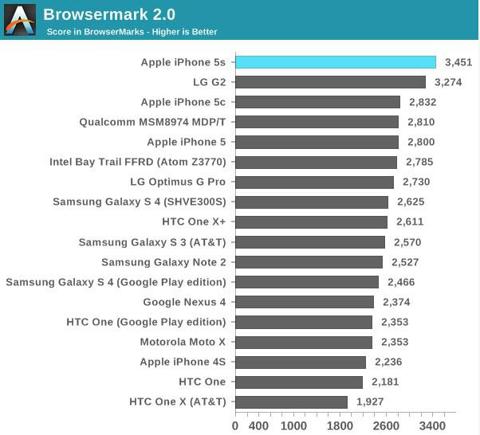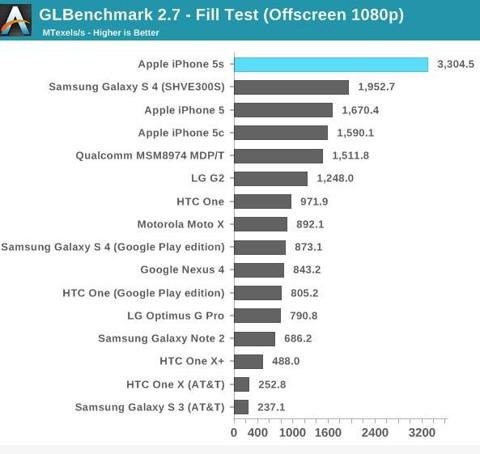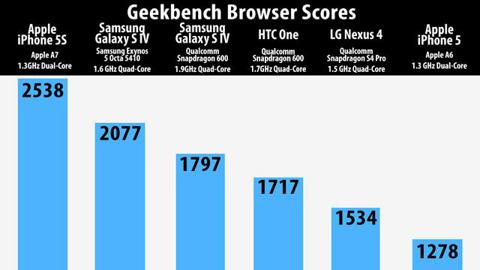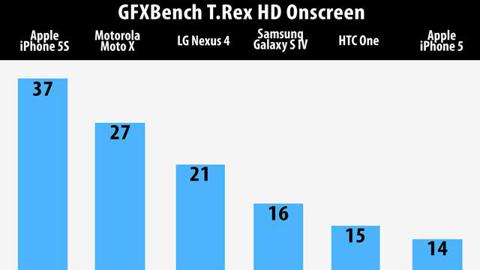 The more one looks into the iPhone 5s' development, the clearer it becomes that it has absolutely no need for Intel's more expensive chips in the foreseeable future. This becomes even more evident when one analyzes how Apple achieved this.
Apple started with licensed architecture from ARM (NASDAQ:ARMH) - Intel does not license its architecture.
Apple designed its chip in-house, then outsourced the manufacturing to Samsung, most likely for miniscule margins. This kind of foundry business is not an appealing business for Intel - but even if it was, Apple has shown that it does not need the latest foundry tech (Intel's biggest strength) to create the most advanced mobile chip.
Apple's new chip is 64-bit. This poses another danger to Intel, as it most likely marks the rest of the industry's move to 64-bit for mobile. With this, mobile chips based on ARM's architecture will increasingly encroach on Intel's business.
Perhaps most importantly, Apple was only able to do this by integrating vertically. I mentioned earlier that at first glance, Apple's chip does not seem very powerful. However, because Apple designs its chips along with its software, it is able to optimize them more effectively than all of its competitors. This likely marks a trend in which leaders will imitate this model (if they can). Samsung already manufactures its own chips, and will most likely be working hard to produce something that competes with the A7, not just through hardware, but by optimizing the hardware to their own software.
Intel Going Forward
From the points above, I can draw two big consequences for Intel: (1) Apple will never switch to its chips for mobile devices, and may begin to design its own laptop chips in the next 2-3 years (now more believable), and (2) the industry needs to improve hardware-to-software optimization, which will pressure Samsung into increasing investment into its own chip designs and foundries. Intel's one advantage may be cost - advanced foundries are more cost effective. However, Intel is already used to selling at much higher margins than the mobile industry permits.
The industry is flowing away from Intel, and swimming upstream has become harder than ever. Intel may make inroads with cheap phones in developing countries, but that will not contribute much to revenue growth or profitability. The world's two largest smartphone manufacturers, Apple and Samsung, design their own chips, and Samsung manufactures both. Neither has any incentive to let Intel in on the business.
Making appropriate adjustments to my model, which involves a very slight decline in margins and low-mid single-digit growth over the next five years, along with a 4% terminal growth rate and a discount rate of 11.6% results in a share price of $22.65. To me, Intel is currently more or less fairly valued, and a 20% rise in share price is unlikely in the next year. Even more importantly, the company's long-term fundamentals look weak, with a continued decline in PC OEMs, Microsoft's continued push of the Surface RT (ARM chips), and the continued dominance of mobile devices.
Following this development, I have sold my Intel shares, for which I had an average cost basis of about $19.80, and reallocated the capital into better tech opportunities that I highlighted in my previous articles, including Synaptics (NASDAQ:SYNA) and Xerox (NYSE:XRX), and added to my macro play in General Motors (NYSE:GM).
Conclusion
The release of the iPhone 5s symbolizes the smartphone industry's continued transition towards vertical integration. Apple, Microsoft (acquired Nokia), Google, and Samsung all design/will design their own smartphones. In my previous model, I had not fully accounted for the vertical integration of chip design. I now believe that this will be a major trend going forward. With the two largest smartphone manufacturers already deeply involved in designing their own chips, and Google and Microsoft possessing the resources and the incentive to do so, the market is harder than ever to break into for Intel. The risk-reward proposition is unfavorable for holding Intel stock without inroads in mobile, so I recommend staying out of the stock until further developments change the dynamics.
Disclosure: I have no positions in any stocks mentioned, and no plans to initiate any positions within the next 72 hours. I wrote this article myself, and it expresses my own opinions. I am not receiving compensation for it (other than from Seeking Alpha). I have no business relationship with any company whose stock is mentioned in this article.