Fast food giant Yum! Brands (NYSE:YUM) once again posted weak same-store sales results in China. Same-store sales in August declined 10% year-over-year driven by a 12% decline at KFC and 5% growth at Pizza Hut. For the third quarter, Yum! estimates that total same-store sales fell 11% with KFC down 14% and Pizza Hut's same-store sales up 4%.
This isn't the first time Yum!'s same-store sales in China have moderated. After falling 19% year-over-year in May, Chinese same-store sales declined 10% in June, and then fell 13% year-over-year in July. Management noted that it believes same-store sales growth will be positive in the fourth quarter, implying Chinese sales may finally have bottomed.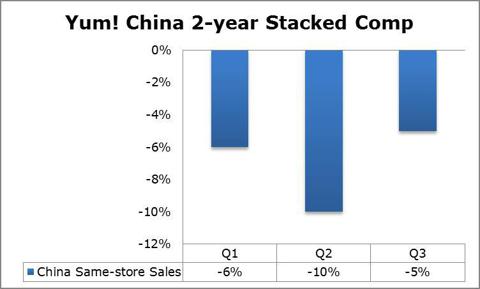 Image Source: Valuentum, Company Filings
However, we would avoid making such a proclamation. Though we haven't seen same-store sales declines of more than 15%, a level KFC China experienced earlier in the year, the company hasn't been able to reverse the declines. Not only does the firm have to deal with its poultry scandal and the avian flu, but reports from China Central Television released information that ice cubs at KFC are dirtier than toilet water. KFC is having some quality control issues in the country, and it is unclear, in our view, if management has taken the actions necessary to rectify the issues.
The fourth quarter should reveal where Yum! is heading in China, and whether or not the company has actually recovered from the myriad issues impacting the firm throughout the year. The weaker-than-anticipated macroeconomic environment does not make us any more confident.
Valuentum's Take
Overall, comparable sales trends at Yum! China appear to be improving as sales declines at KFC moderate. The market cheered the news, and shares of the firm continue to trade near all-time highs. We're not feeling quite as confident, and we continue to avoid adding shares to the portfolio of our Best Ideas Newsletter at this time.
Disclosure: I have no positions in any stocks mentioned, and no plans to initiate any positions within the next 72 hours. I wrote this article myself, and it expresses my own opinions. I am not receiving compensation for it (other than from Seeking Alpha). I have no business relationship with any company whose stock is mentioned in this article.