Hewlett-Packard (NYSE:HPQ) was brand name once synonymous with innovation. This company that traces its beginnings to a 1939 Palo Alto garage has brought advanced oscillators, electronic test equipment, calculators, servers, and inkjet printers to market. In 2002, Hewlett-Packard closed out its $25 billion acquisition of then rival firm Compaq. The move ultimately catapulted HP to the world's leading personal computer manufacturer. Over the past decade, however, Hewlett-Packard has largely ruled as Manchurian Candidate above a dying Empire. The personal computer is now a commodity product. To add insult to injury, Hewlett-Packard was removed as a component stock from the Dow Jones Industrial Average on September 20, 2013.
Microsoft (NASDAQ:MSFT) and its Windows operating system are what actually drive results at Hewlett-Packard. Over the years, the Hewlett-Packard corporate culture has grown averse to risk. As such, shareholders have now grown accustomed to typical executive suite talking points calling for debt restructuring, layoffs, and general cost cutting programs. Hewlett-Packard shareholders have unwittingly hitched their wagons to a dying personal computer industry, at a time when mobile has assumed leadership. Windows 8 has failed to turn back the hands of time and progress. Hewlett-Packard stock, as an integral part of this PC supply chain, is dead money and should be sold immediately.
Hewlett-Packard Business Model
CEO Meg Whitman's 2012 letter to Hewlett-Packard shareholders summarized recent turnaround efforts at this company. An upbeat Whitman claimed 2012 to be the year that Hewlett-Packard began to "tackle the structural and execution issues" plaguing the firm. In an attempt to rectify these structural issues, Meg Whitman and her management team ordered the consolidation of personal computer and printing divisions together, while also creating a new Enterprise umbrella category above global sales, servers, storage, and networking businesses. Whitman intimated that these cost-cutting measures would free up capital that could be spent upon research and development, and ultimately, bottom line growth. A more thorough analysis of the numbers, however, would have revealed that these Hewlett-Packard restructuring initiatives were simply arranging chairs upon the sinking Titanic.
Hewlett-Packard 2012 financial results may be described as ugly, at best. Hewlett-Packard racked up $12.7 billion in losses upon $120.4 billion in revenue during fiscal year 2012. In 2012, HP wrote off $18 billion as an impairment of goodwill and intangible assets, in addition to $2.3 billion worth of restructuring charges. $20.7 billion in total charges, net of taxes, were the primary factor behind this latest collapse. Without the charges, Hewlett-Packard may have posted roughly $8 billion in profits upon the same $120.4 billion in 2012 total net sales. In 2008, Hewlett-Packard took down $8.3 billion in profits off of $118.4 billion in revenue. By all measures, HP has failed to achieve real growth over the past five years. The stock market, of course, is a pricing mechanism that discounts future growth, and offers little to no alpha premium for stagnation. Be advised that Hewlett-Packard fiscal years typically end on October 31.
Further analysis may prove that Hewlett-Packard shareholders literally remain shackled to the personal computer. Taken together, the Personal Systems and Printing operating segments combined for $60.1 billion of the $120.4 billion in 2012 total net sales at Hewlett-Packard. During this latest fiscal year, HP Personal Systems revenue declined by 9.9%, upon a year-over-year basis. In fiscal 2012, Personal Systems banked $1.7 billion in operational income off its $35.7 billion in operating segment revenue. Personal Systems, which HP defines as personal computers and workstations, averaged a meager 5.2% in annual operating margins (earnings from operations divided by net revenue) between 2010 and 2012. Interestingly, Hewlett-Packard executives have only allocated 2.6% of average annual net revenue towards research and development, throughout this very same time frame. For the sake of comparison, Silicon Valley neighbor Intel (NASDAQ:INTC) made the commitment to put $10.1 billion, or 18.9%, of its $53.3 billion in 2012 net revenue to work in research and development. Intel has been making the attempt to branch swing away from personal computers and towards establishing itself as a real player within mobile devices.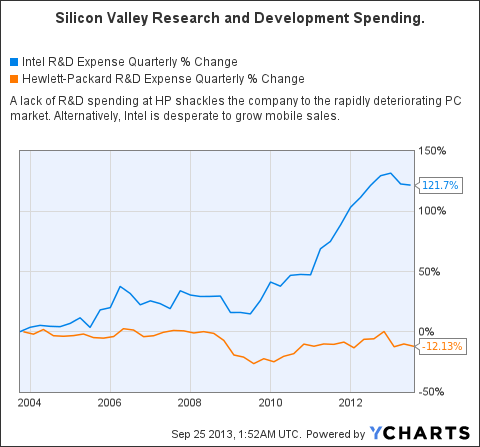 INTC R&D Expense Quarterly data by YCharts
For mobile, HP salesmen may direct consumers to the iPAQ, which is a nearly unheard of extension of the defunct Palm brand. Hewlett-Packard classified mobile devices via its $1.2 billion 2010 Palm acquisition as Corporate Investments. HP Corporate Investments staggered through $238 million in operational losses upon $108 million in 2012 net revenue.
The Personal Computer Market
On October 26, 2012, Microsoft launched its much-anticipated Windows 8 operating system. Microsoft engineers designed Windows 8 as a fusion of traditional smartphone, tablet, and personal computer interfaces. As such, Windows 8 is notable for its touch screen controls, alongside the conspicuous absence of the iconic Start Menu button. Notable computer geeks, however, were not all too pleased with the original Windows 8. Within his December 9, 2012 Tab Times piece, Dan Rowinski has already dismissed Windows 8 as a "boondoggle." Rowinski also went on to rip Microsoft as an "arrogant tech company that believes it should succeed just because is put a lot of work into a product, throws a lot of money behind it." In response to the criticism, Microsoft is set to launch the Windows 8.1 upgrade on October 17, 2013, with the Start button back intact. According to a Tech Radar review, Windows 8.1 will offer slightly smoother transitions between tiles, applications, and desktop settings than its Windows 8 predecessor. Windows 8.1 is a free update for Windows 8 users, only.
Unfortunately for Hewlett-Packard, Windows 8.1 will prove to be far from revolutionary. On July 10, 2013, research firm Gartner released a report that estimated the size of the global PC market during the second calendar quarter of 2013. According to Gartner, the global PC market declined by 10.9% during Q2 2013, in terms of units sold. A more recent Gartner analysis, released on August 7, 2013, suggested that the Western European PC market collapsed by 25.8%, during the same time frame. Broken down further, Hewlett-Packard has rapidly lost ground to Chinese rival Lenovo, over the past year. Lenovo (12,677,265 for Q2 2013 PC) recently surpassed Hewlett-Packard (12,402,887 for Q2 2013) as the top global PC vendor, according to unit shipments. Hewlett-Packard year-over-year personal computer unit shipments declined by 17.4% at the same time that Lenovo ramped up sales in the region by 18.9%.
The passing of the torch from Hewlett-Packard to Lenovo further confirmed that the PC market has entered the stage of decline, where cost cutting reigns supreme above innovation. Windows 8 and its subsequent suite of upgrades will fail to turn back the inevitable. According to Meike Escherich, Gartner principal research analyst, the Windows 8.1 launch "will not fully compensate for the ongoing PC decline." Although Windows remains the dominant PC operating system, multiple reports have suggested that Windows 8 sales lag far behind those of the much-maligned Vista at similar points within both product life cycles. Recent Net Market Share data has suggested that consumers have preferred to maintain older Windows 7 machines, instead of upgrading to Windows 8. This bottleneck within the supply chain will ultimately manifest itself as another train wreck of inventory write downs upon the Hewlett-Packard balance sheet.
The Bottom Line
On August 21, 2013, Hewlett-Packard released financial results for the third quarterly period ended July 31, 2013. HP did post $1.4 billion in Q3 2013 earnings, which is a significant improvement upon the $8.9 billion in losses reported during the year-over-year quarter. Hewlett-Packard top-line revenue, however, actually declined slightly from $29.7 billion to $27.2 billion between Q3 2012 and Q3 2013. The seemingly dramatic upswing in profits is largely due to the lack of expensive inventory write-downs, alongside significant reductions in restructuring costs. Be advised that Hewlett-Packard has also trimmed research and development and selling, general, and administrative expenses. In effect, Hewlett-Packard turned a small profit due to financial engineering, rather than real growth. Going forward, HP financials will be marred by another round of heavy asset write-downs, as these latest Windows 8 and 8.1 launch parties wind down.
On September 20, 2013, Hewlett-Packard closed out the trading session at $21.22 per share, which did calculate out to $42 billion in market capitalization. At best, HP will complete the 2013 year with $5 billion in net income. This performance calculates out to a valuation slightly above 8 times trailing earnings. On paper, HP may appear relatively cheap. In reality, however, empirical evidence signals that Hewlett-Packard is a value trap. Legendary investor Peter Lynch argued that stocks maintaining one to one price-to-earnings to growth ratios were fairly valued. Hewlett-Packard will now grow annual earnings at an 8% rate, in the aftermath of the unceremonious Windows 8 launch. If anything, earnings will collapse, after HP Windows 8 machines pile up at the Best Buy (NYSE:BBY) bargain bin.
At $21.22, Hewlett-Packard stock does trade at a significant premium above its $12.88 per share intangible book value. The $105.8 billion HP balance sheet does list $52.5 billion worth of inventory, goodwill, intangible assets, property, plant, and equipment, above $80.8 billion in liabilities. This business is caught between a proverbial rock and a hard place, where future prospects are clouded by burdensome debt and forced reliance upon Windows to re-ignite the dying personal computer industry. Hewlett-Packard is a strong sell.
Disclosure: I have no positions in any stocks mentioned, and no plans to initiate any positions within the next 72 hours. I wrote this article myself, and it expresses my own opinions. I am not receiving compensation for it (other than from Seeking Alpha). I have no business relationship with any company whose stock is mentioned in this article.