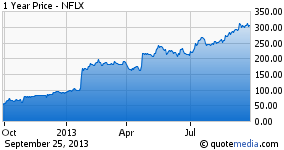 Since it successfully transitioned from a DVD rental service to a content streaming powerhouse, Netflix (NASDAQ:NFLX) is now viewed as a major threat to pay TV. The story goes that consumers will eventually "cut the cord" and abandon pay TV while relying exclusively on Netflix and online video service Hulu for content. Though there are many reasons why we think this trend is overblown, Liberty Global's (NASDAQ:LBTYA) Virgin Media has taken another step toward eliminating this competitive threat: Virgin subscribers will be able to access a Netflix app via TiVo set-top boxes.
Liberty Global is controlled by none other than media mogul John Malone. Malone is best known for his bold M&A deals throughout the years and has various holdings throughout the media distribution space, including a sizeable position in Best Ideas Newsletter portfolio holding DirecTV (DTV). Though he no longer sits as chairman of DirecTV, this deal could signal that other content distributors are viewing Netflix as a network partner rather than a competitor.
We think Virgin Media's move is a significant development. Netflix could begin to position itself closer to the likes of Time Warner's HBO (NYSE:TWX), becoming a premium Internet TV station (content producer) rather than a content distributor (purchaser). We've already seen Netflix take strides toward becoming a content producer with the likes of Arrested Development, Orange is the New Black, and House of Cards. Gaining access to TV audiences could give Netflix a broader reach and increase the firm's legitimacy as a content creator.
On top of lifting Netflix's fortunes, the integration with pay TV could help content distributors. With Netflix included, a pay TV offering becomes even more compelling, and more importantly, decreases the incentive for consumers to cut the cord. Importantly, if distributors help Netflix grow, Netflix may become even more interested in fighting content cost inflation.
Valuentum's Take
Though the situation isn't receiving too much press, we think Virgin Media's move could mark an interesting turning point in content distributors' view of non-pay TV competitors. Instead of distributors bidding endlessly for content, turning Netflix into a partner could help the cohort contain content costs. We hold shares of DirecTV in the portfolio of our Best Ideas Newsletter and continue believe Netflix is one of the most expensive stocks on the market today.
Disclosure: I have no positions in any stocks mentioned, and no plans to initiate any positions within the next 72 hours. I wrote this article myself, and it expresses my own opinions. I am not receiving compensation for it (other than from Seeking Alpha). I have no business relationship with any company whose stock is mentioned in this article. DTV is included in the portfolio of our Best Ideas Newsletter.