There is a lot going on with BlackBerry (BBRY) lately, including a delay in the launch of its BBM messenger, the launch of the new smartphone Z30, and a 40% reduction in the workforce. The latest being the letter of intent signed by BlackBerry to be acquired by Fairfax Financial Holding for $4.7 billion. Just a week before its earnings result it delivered a shock to its investors by announcing preliminary second-quarter results, which showed an operating loss of $950-$995 million.
Launch of new smartphone
BlackBerry introduced its biggest, most advanced smartphone, the Z30, last week, which will run on BB10 OS version 10.2. Z30. It will launch in the U.K and Middle East next week and worldwide during the upcoming holiday season. Z30 is launched to boost the falling sales of its BB10 phones. It has shipped only 2.7 million BB10 phones out of 6.8 million units manufactured in the second quarter. With declining demand, and rising inventory of phones, it is expected to write-off $960 million. It also decided to reduce its smartphone portfolio from six phones to four.
Worldwide Operating System market share
2Q, 2013

2Q, 2012

Units(in thousand)

% of total

Units (in thousand)

% of total

Android

177898.2

79

98664

64.2

iOS

31899.7

14.2

28935

18.8

Microsoft (NASDAQ:MSFT)

7407.6

3.3

4039.1

2.6

BlackBerry

6180

2.7

7991.2

5.2
In such conditions, it is unlikely that the Z30 will be able to push BlackBerry sales. iPhone and Android based smartphones have been increasing their market share over the last few years. BlackBerry's competitiveness lies in its keyboard smartphones; its touch screen has been unable to compete against the iPhone and Android based phones. The BlackBerry OS lacks a competitive app platform compared to Android and iOS, which have a wider base of applications available. In order to push phone sales successfully, BlackBerry must expand its app platform. Though BB10 launched with 70,000 apps this year, and this figure is growing as more developers enter the BB10 platform, but still there is a long way to go to compete with the behemoths.
BBM for all
BlackBerry will roll out its BBM messenger service on Android and iOS platforms. This is the first time BBM will be available on third-party platforms. It planned to launch BBM on the Android platform on September 21, and iOS on September 22, but it delayed the launch since someone leaked an unreleased version. The leaked version had 1.1 million active users in the first 8 hours without even launching the official Android app.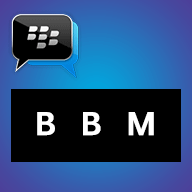 In a press release, Executive Vice President for BBM Andrew Bocking said:
BBM is a very engaging messaging service that is simple to use, easy to personalize and has an immediacy that is necessary for mobile communications. With more than a billion Android, iOS, and BlackBerry smart-phones in the market, and no dominant mobile instant messaging platform, this is absolutely the right time to bring BBM to Android and iPhone customers.
Apart from offering messaging facilities, BBM is also known for offering voice and video features. These features will be missing from the Android and iOS versions, but as new versions come out, they will include these features. BlackBerry's BBM will pose a threat to not only the WhatsApp, but also to voice and video apps such as Skype and Voxer.
App

Users

Subscription

BBM

60 million

Free

WhatsApp

250 million

Free/$0.99 (after 1st year)

Skype

299 million

9 cents/message (U.S)

1.9 cents/min (60 min)
BBM's advantage is that it's free; WhatsApp is a subscription-based model. BBM also boasts privacy and quick delivery of its messages. The company says that its messages can be read within seconds, with "D" and "R" status. "D" means the message has been delivered, and "R" means the other person has read the message. WhatsApp also has this functionality, denoted with ticks. One tick means the message has been delivered to the server, and the second tick means the message has been delivered to the device.
BBM will also be coming out with video features, which is absent in WhatsApp. Skype still has a very limited presence in mobile messaging, so it may not be fair to compare BBM with Skype. However, due to BBM's voice and video facilities, combined with seamless messaging facilities, we think that it can impact Skype.
Although BBM is far behind WhatsApp and other messaging apps in terms of users, we believe that it can increase its user base after the roll-out of its app on the Android and iOS platforms. One big question remains; how will BBM generate revenue for BlackBerry as a free app. BlackBerry is not looking at BBM as a revenue source, but it will leverage on it for monetizing BBM channels. BBM channels, a social networking platform within BBM, will serve as a marketing platform to promote businesses and celebrities.
Executive Vice President for BBM Andrew Bocking said:
What we are talking about is enabling and facilitating those brands and businesses to enable BBM users to follow them … and those types of interactions would be paid-for interactions
As more and more advertisers are looking for new ways to grab consumers' attention, mobile advertising is becoming the most popular. As more users start using the messenger service, BBM channels will become more engaging and will drive up the value of these channels. BlackBerry is looking to reach more users through its messenger service, and then monetize this opportunity using BBM channels. Previously, BBM was an exclusive product for BlackBerry, and users were drawn towards BlackBerry phones due to BBM. Now that BBM will be available on other platforms, BlackBerry may lose its exclusivity, and users may opt for other operating systems.
Who's in the race for bidding?
There has been a lot of speculation on what companies might bid for BlackBerry after the company announced to explore a "strategic alternative" for itself in August 2013. Many of the big players, such as Microsoft, Lenovo, and private equities were considered potential bidders. Mike Lazaridis, the co-founder of BlackBerry, is also considering a bid for the company. Now at least it has a buyer, Fairfax (OTCPK:FRFHF), which is willing to give $9 a share, and take the company private. The deal is still subject to approval by regulators and its shareholders.
Last month, Microsoft (MSFT), one of the potential bidders bought Nokia's (NOK) devices and services business and patent licenses in a deal worth $7.2 billion. This deal is also subject to shareholder approval and is expected to close in the first quarter of 2014.
We believe Microsoft can accelerate the growth trajectory of Windows smartphones by taking control of product development and marketing its Windows phone. The deal will ensure that windows phones remain an emerging third competitor in the smartphone OS market, ahead of BlackBerry. Also, Microsoft will have its hands full in the near term with Nokia integration and other restructuring initiatives. Therefore, acquiring BlackBerry is out of the cards.
Bottom line
The two struggling phone makers have depicted a completely different stock price movement. While Nokia has given around 67% positive return, BlackBerry has declined 31% since the start of the year.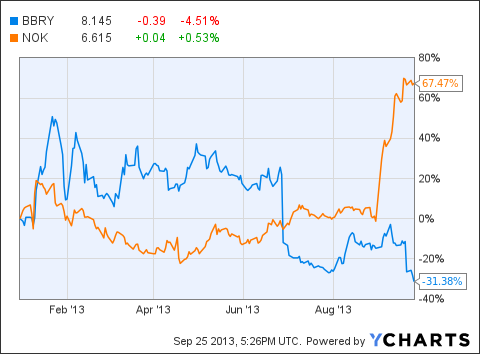 BBRY data by YCharts
From a valuation angle, the EPS of both companies are similar, but going forward Nokia is much more likely to post a positive figure after selling its loss making handset business. The same can't be said about BlackBerry, as its preliminary quarterly results were very disappointing.
Price to book, or P/B, ratio is used to compare a stock's market value or price to its book value and determines how many times the book value the investors are ready to pay for a stock. A low P/B ratio could mean that the stock is undervalued, but this is not the case with BlackBerry. BlackBerry is currently struggling and is giving negative return on its assets.
| | | |
| --- | --- | --- |
| Company | EPS | P/B ratio |
| BlackBerry | -0.41 | 0.48 |
| Nokia | -0.44 | 2.53 |
(Source: Yahoo Finance)
Although the company is releasing its new flagship phone, Z30, in the market, it is becoming very difficult to compete against the likes of Android and iOS. The company is also taking initiatives to expand its presence in other platforms, but it needs more than the launch of new products to overcome the current situation.
Disclosure: I have no positions in any stocks mentioned, and no plans to initiate any positions within the next 72 hours. I wrote this article myself, and it expresses my own opinions. I am not receiving compensation for it (other than from Seeking Alpha). I have no business relationship with any company whose stock is mentioned in this article.
Additional disclosure: Fusion Research is a team of equity analysts. This article was written by Rohit Gupta, one of our research analysts. We did not receive compensation for this article (other than from Seeking Alpha), and we have no business relationship with any company whose stock is mentioned in this article.