So the end-game for BlackBerry (BBRY) is upon us and the polarity of feelings on this name is apparent all over Seeking Alpha.
I have had a long held belief that BBRY was a non-viable business in the long run (you can read my many comments) and have held the belief that break-apart value of $7 - $9 is where the company is headed.
Despite hating the business, the game has now changed on whether or not Prem Watsa can complete his $9 per share buyout of the company or alternatively if other buyers begin to circle the carcass, or upon due diligence, PW realizes that there is simply nothing of salvageable value.
As many will know, the deal allows PW and Fairfax to conduct integral due diligence and also allows BBRY to find other interested parties but the deadline for the more serious work to begin is November the Fourth.
Although the market played briefly around $9, the news regarding lack of arranged financing has sent the stock down a further 10% which seems to me more fear than logic.
Before I tell you why you should be using options to go long this company, let me tell you first that this is in no way based upon the company, its operations, the competitive landscape etc., etc., etc. This position is based solely on the belief that PW will complete his deal at $9 and market fear has cast a shadow over a man who has made more than $2bn from successful investments (not every pick is a BlackBerry!)
The November options expire in 51 days on the 16th of November. In this period, the $8 calls trade for 68 cents while the $9 calls trade for 31 cents.
I advocate buying an 8/9 1x2, which is simply purchasing an $8 call whilst selling 2 times the amount of $9 calls.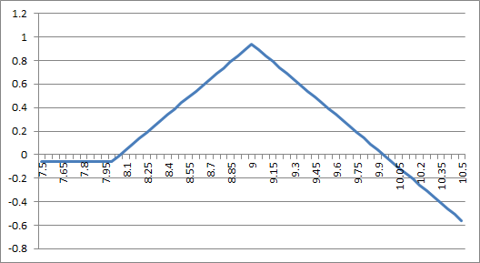 Putting this trade on (excluding your spread and commission costs) will cost 68 cents for the $8 call while you receive 62 cents for selling two lots of the $9 call), meaning you buy the strategy pre-commission for 6 cents.
If the stock moves to $9 for expiry, you will pocket 92 cents or just over 13.5 times your initial stake. Your downside losses are limited to the 6 cents you paid for the shape, while your upside losses are UNLIMITED.
Let me just repeat this last part, you have unlimited downside losses and you can lose significantly more than your initial stake if a bidding war ensues and the closing price goes past $9.90.
If you want a less risky shape, you can purchase an additional $10 call at 14 cents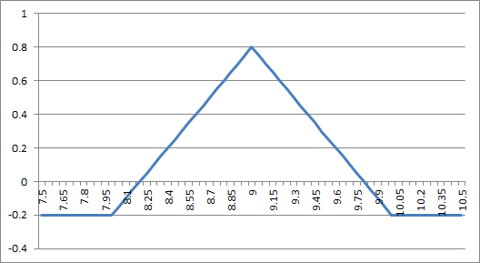 Here, your initial outlay is 20 cents and your max upside (at $9 settlement) is 80 cents, or a 400% return. Here you will lose money if the stock settles below $8.20 or above $9.80, but there is profit everywhere else baby!
The Strategy In A Nutshell
We are of the belief that Prem Watsa will complete (or it will become more likely over the course of the next 6 weeks) his deal at the current price of $9 a share. We limit our downside (deal falling apart and panic ensuing) through the use of derivatives. 1) Buying 1x the $8 call and 2) Selling 2x the $9 call...
Risk Takers: I am pretty confident there will not be a bidding war that will push the price above $9.94 before expiry.
Risk Aversers: I am reasonably confident a deal will be completed but I still absolutely 'lurve' BBRY and it's not unfeasible that there will be a bidding war to $40 per share and so I will purchase an additional call at $10.
Please remember that the current premiums will be impacted by your broker. He will charge you a higher spread and so it is likely you will be spending more than 6 cents to put on the 1x2 and more than 20 cents (higher premium because more options are involved) to put on the butterfly (1x2x1).
Please use the PnL charts I have given you above to make a rational decision as to how risky you want to be. In the meantime, I am going 1x2!
Disclosure: I have no positions in any stocks mentioned, but may initiate a long position in BBRY over the next 72 hours. I wrote this article myself, and it expresses my own opinions. I am not receiving compensation for it (other than from Seeking Alpha). I have no business relationship with any company whose stock is mentioned in this article.