With the ever-increasing popularity of debit and credit cards due to their ease of use, companies that offer these financial services are expected to face a rising demand curve for their services. The rising security concerns in carrying solid cash will also play a major role in the higher demand for debit and credit cards. I have chosen Visa (NYSE:V) to study the impact of ever increasing cashless transactions on the company's performance in the future.
Visa replaced Hewlett-Packard (NYSE:HPQ) in Dow Jones Industrial Average Index on 23 Sept 2013. The company has a wide network that connects consumers, financial institutions, banks and governments in 200 countries. Visa is capable of handling more than 24,000 transactions in a second with fraud protection for its customers and guaranteed payment for merchants. Visa derives its revenue from fees paid by financial institutions based on payments and transactions that Visa processes.
Historical Performance
Visa was able to post strong third quarter results and beat the earnings estimate. Its revenues increased by 17% to $3,001 million during the third quarter of fiscal 2013 from $2,565 million in the third quarter of fiscal 2012. As shown in the following table, the adjusted operating margin for the third quarter of 2013 stood at 81.21% compared to 79.06% in the same quarter of 2012.

SOURCE: Morningstar
Excluding non-recurring items, Visa's operating expenses decreased as a percentage of sales from 20.84% to 18.79% during the third quarter of the current fiscal compared with the same period last year. Adjusted net profit margin stood at 40.82% in Q3 FY 2013. This was well above the company's net margin of 28.80% in Q3 fiscal year 2012.
Visa reported adjusted diluted earnings per share of $1.88 during the third quarter of fiscal year 2013, which is pretty high as compared to $1.10 during the third quarter of the last fiscal.
Let's take a look at the earnings quality of Visa; because cash flows are difficult to manipulate as compared to earnings, therefore, I will analyze the company's operating cash flows and net income.

As shown in the table above, Visa has higher operating cash flows than its reported net income. This indicates that no artificial means were used to manipulate net income. Visa has consistently reported higher operating cash flows as compared to its earnings over the years. This shows that Visa is generating sufficient cash which can be reinvested in the business to achieve organic growth. The following table compares operating cash flows with net income over the last three-year period.

Operating cash flows have consistently increased over the last three years. Cash flows from operating activities increased at a compound annual growth rate (OTCPK:CAGR) of 36.43%. Net income increased in 2011 but deteriorated significantly in 2012 owing to the non-recurring expense of $4,098 million in the third quarter of fiscal 2012.
I have derived the cost of Equity of Visa by employing CAPM model. Visa's cost of equity is 4.43%. The company's ROE (NYSE:TTM) is 20.50% as compared to the industry average of 18.4%. Furthermore, ROA of Visa is 14.7% which is well above the industry average of 2.70%. Since Visa is operating at zero debt level, a higher ROE reported by the company is due to the higher net margins of Visa rather than its financial leverage.
Future Prospects And Growth Opportunities
With the US economy on its road to recovery, the credit service industry is also heating up as consumers and businesses start spending once again. Therefore, I strongly believe that Visa will report handsome results in the future. Management of the company is quite confident that it will be able to meet the earnings consensus forecast for fiscal year 2013. Visa has been consistently beating its consensus estimates in the last few quarters, as shown in the following graph.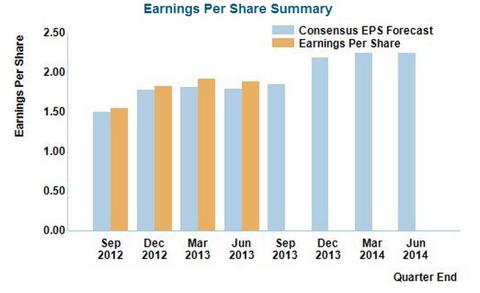 Visa has many opportunities for growth in emerging markets like India, China, and Brazil etc. Visa is currently focusing on its goal of achieving more than 50% of global revenues from international markets. Visa has a lot of growth opportunity in India and Russia, where most of the transactions are carried out through cash and checks.
Lack of competition and a global network will help Visa generate high revenues from India. As Visa continues to expand its network, it will be able to generate higher revenues from emerging markets which should eventually increase the company's earnings.
Visa's revenues are expected to double over the next seven years. Assessment fee is expected to witness the largest growth and account for 43.1% of the total revenues. Revenue from transaction fee is expected to decrease from 31.70% to 30% of total sales over the next seven years. Revenue from international fee is also expected to decrease slightly from 24% to 23.70% of total revenue, as shown in the following graph.

Valuation
Analysts have predicted the company's EPS to grow by 22.40% to $7.58 in 2013 from $6.20 in 2012. Earnings are expected to grow by 17.30% annually over the next two years, as shown in the table below.

SOURCE: nasdaq
The table above shows that Visa's earnings are moving in the right direction. The stock is currently trading at a P/E of 23.05 times. If the company continued to trade at this multiple until 2015, its stock price would exceed $240 which is the highest consensus estimate for this stock. Assuming that the stock of Visa continues to trade at a forward P/E of 20.90 times until 2015; in that case, Visa's stock price should be $218.41 which again is pretty high as compared to its current stock price of $193.75. Assuming a worst case scenario where the current P/E would fall to 20 times, the stock price is expected to be $208.80. This provides a capital return of 7.8%.
Conclusion
Visa has the largest credit card payment network across 200 countries. However, there is still ample room for the company to achieve growth in the future. As most transactions are conducted through cash or checks in emerging economies, such as Brazil, India, Russia, China, Mexico, and some African countries, Visa should be able to post strong results in the upcoming years.
Visa has been continuously posting higher margins in the last few years. Using the company's forward P/E multiple of 20.90 times, its intrinsic value is calculated to be $218.40 which offers an upside potential of 12.7% from its current stock price.
I strongly believe that this stock has a lot of upside potential and should outperform the market.
Disclosure: I have no positions in any stocks mentioned, and no plans to initiate any positions within the next 72 hours. I wrote this article myself, and it expresses my own opinions. I am not receiving compensation for it (other than from Seeking Alpha). I have no business relationship with any company whose stock is mentioned in this article.