Procter & Gamble Company (NYSE:PG) has seen its stock price go up by 15.5% since the beginning of this year. It is currently trading for $78.43, slightly lower than its 52-week high of $82.54. Can this increase be justified by better fundamentals, or is PG overvalued at this level? In this article, I will be trying to answer this question by looking at PG's revenues and earnings, dividends, and valuation.
Revenue and earnings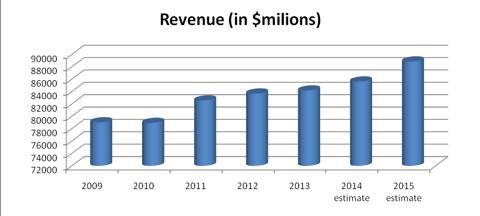 Over the past 5 years, PG has steadily increased its revenue, from $79.03 billion in 2009 to $84.17 billion in 2013. Revenue is expected to increase by 1.7% in 2014, reaching $85.62 billion. For 2015, revenue is expected to grow even further to $88.86 billion.
Profit margins going down have led to lower earnings per share in recent years despite the increase in revenues. EPS dropped from $4.26 to $3.66 between 2009 and 2012, but have climbed back to $3.86 in the most recent fiscal year. Earnings per share are expected to go up to $4.29 in 2014 and $4.66 in 2015.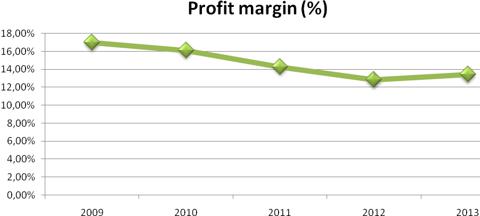 Dividends
At the current price per share of $78.60, PG's $0.60/quarter dividend yields a healthy 3.06%. This is very close to the two competitors I have chosen for comparison, Johnson & Johnson (NYSE:JNJ), which yields 3.01% and Kimberly-Clark (NYSE:KMB), which yields 3.38%.
In recent years, Procter & Gamble's dividend has increased at a very high pace, going from $1.64 in 2009 to $2.29 in 2013. However, due to the fact EPS hasn't increased at the same pace, the payout ratio has gone from 38.5% in 2009 to 59.3% in the most recent fiscal year.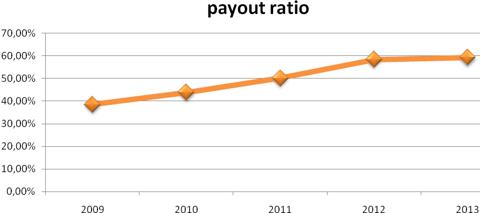 Another way to look at the dividend payments is to compare the dividends paid to free cash flow. As we can see from the next graph, the dividend/FCF ratio has also increased over the past 5 years, going from 44.3% in 2009 to 61.7% in 2013.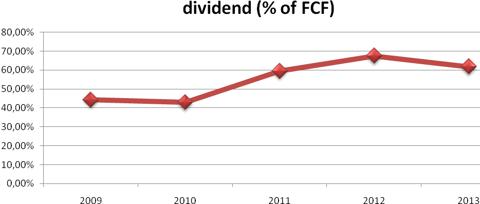 Valuation
PG currently trades at a price to earnings multiple of 20.34, which is just slightly higher than JNJ's p/e of 19.47, and very close to KMB's 20.38. While PG's price to earnings ratio is close to its competitors, it is somewhat high when compared to its historical valuations.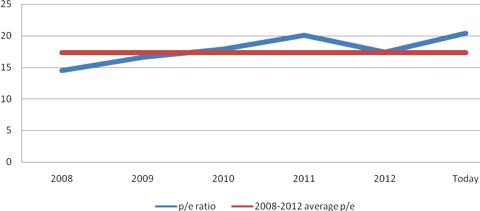 The average p/e for Procter & Gamble between 2008 and 2012 was 17.3, which is quite a bit lower than the current 20.34. PG's price to sales ratio is also historically high, at 2.7 compared to a 2.4 5-year average. KMB is trading at a much lower 1.8 times sales, while JNJ is at 3.6.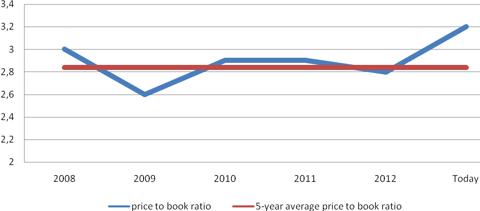 PG's price to book ratio is at the highest point its been at since 2008. The average p/b ratio between 2008 and 2012 was 2.84. PG is currently selling for 3.2 times book value.
Conclusion
Procter & Gamble's earnings and revenue are expected to go up, but considering the current high payout ratio and dividend/FCF ratio, I don't expect dividends to increase at the same high pace as in previous years. The stock is valued at a price to earnings multiple close to its competitors, but appears high when compared to historical levels. The price to sales and price to book ratios have also gone up, going well over their 5-year averages. At this point, I would prefer to wait for the valuations multiples to go back down. If the forecast for this year's earnings is correct, PG would have to drop to $74.22 to match its 5-year average p/e. I think this would be a good entry point, and will wait for an opportunity to buy.
Disclosure: I have no positions in any stocks mentioned, and no plans to initiate any positions within the next 72 hours. I wrote this article myself, and it expresses my own opinions. I am not receiving compensation for it (other than from Seeking Alpha). I have no business relationship with any company whose stock is mentioned in this article.